Huskers' Westerkamp on behind-the-back catch: 'It was all luck'
Nebraska's Jordan Westerkamp said of his amazing behind-the-back catch vs. FAU that 'it was all luck.'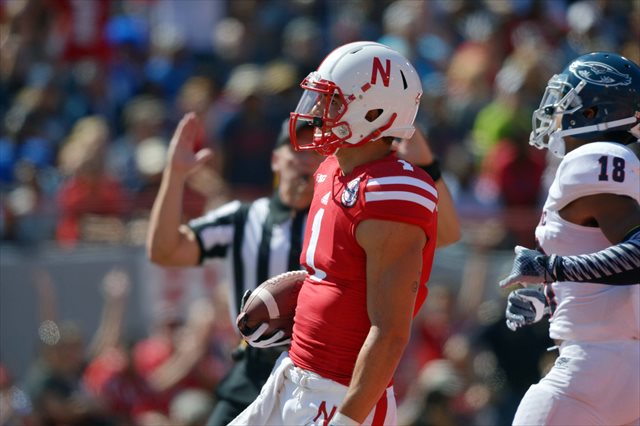 The most jaw-dropping highlight of college football's Week 1 belonged to Nebraska's Jordan Westerkamp, whose stunning behind-the-back reception in the Huskers' 55-7 demolition of FAU has been a staple of TV highlight shows since the moment he made it.
But Westerkamp himself told the Associated Press afterwards he didn't see what the big deal was.
"It was all luck," he said.
First of all: here's a guess that very, very few receivers have the kind of quick-twitch reflexes to get so lucky. Second: is it really luck when you're now making an outright habit of mind-blowing receptions? You may remember Westerkamp from a certain Nebraska play from 2013:
Just because it's fun, let's compare that with Westerkamp's catch from Saturday:
Do you have a favorite? Westerkamp says he does not.
"I try to not look too much into that stuff," he told the AP. "It was a great team win. I just want to contribute as much as possible to the team for our success."
In short: there's humble, there's super-humble, and then there's Jordan Westerkamp.
Show Comments
Hide Comments
One of the Pac-12's top teams gets an early test against a formidable SEC West foe

The Aer Lingus College Football Classic will kick off college football Saturday

Fans of the NCAA Football video game franchise have reason to be optimistic about its retu...
What would it look like if UCLA's helmet had USC colors?

Alabama tends to reward its fans for taking a leap of faith before the season

History tell us that there is a small group of teams that can actually capture the champio...