Idaho-Florida off but does Muschamp need a 12th game?
Florida coach Will Muschamp may be the biggest loser in Wednesday's official cancellation of the Florida-Idaho game. He might need a 12th game to get to a bowl and save his job.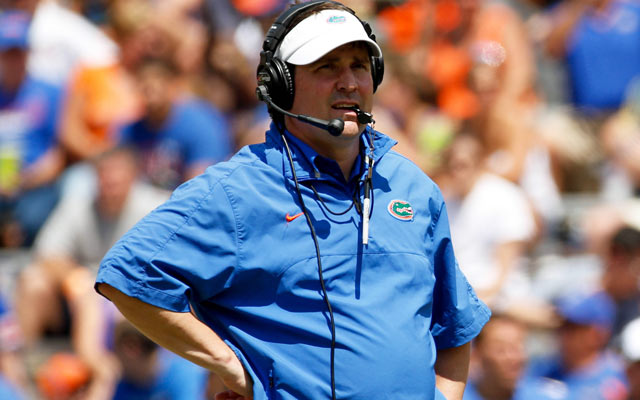 Idaho and Florida won't play after all, but don't weep so much for the soaked fans or players.
The biggest impact may be felt by Will Muschamp.
By mutual decision Wednesday, the schools agreed not to play Saturday's game that was "terminated" by weather in Gainesville. The game has been declared a "no contest" and will be played again in 2017 at Florida. 
While Idaho made out financially -- it got all $975,000 of the guarantee -- the cancellation makes for one less game for Muschamp to add to his resume. The Gators were prohibitive favorites against the Vandals and the Gators' coach needs all the wins he can get.
Put his way -- 7-5 looks a whole lot better than 6-5. And 8-4 looks better than 7-4. And now with an odd number of games (11), a 5-6 season means Florida would miss a bowl game for the second consecutive year. That would mark the first bowl-less season in consecutive years -- without NCAA sanctions being the cause -- since 1978-79.
The Gators missed bowls in 1984-86 due to NCAA penalties incurred under Charley Pell.   
There will be those who argue that a win over Idaho doesn't matter one way or another. Beat some combination of Georgia, South Carolina and Florida State and the prospects improve. But, then again, a 12th game might make a difference. Bowl eligibility -- beginning at 6-6 -- is bowl eligibility and would represent some progress from 4-8.
The meteorological signs for all concerned aren't good. This week's Florida opponent, Eastern Michigan, was delayed last week in the fourth quarter against Morgan State. The forecast for Gainesville Saturday calls for 80 percent chance of thunderstorms.
Idaho travels to Louisiana-Monroe where there is a 50 percent chance of thunderstorms.
"Like the same weather pattern in a row," said Idaho AD Rob Spear. "It can't happen two times in a row, can it?" 
Show Comments
Hide Comments
Mike Gundy and the Cowboys know there's one monster they have to contend with in their own...

The initiative has been put forth to offset the burden of declining freshman enrollment

How will the Big 12 shape up in 2017? Let's take a team-by-team look
Kush went 176-54-1 in 22 seasons at Arizona State

That's a lotta rock chalk

How will the AAC shape up in 2017? Let's take a team-by-team look