If Franklin can win at Vandy think of the possibilities at Penn State
As Penn State tries to move past the scandal, it hires native son James Franklin for a stout $28 million and eyes a return to the top 25.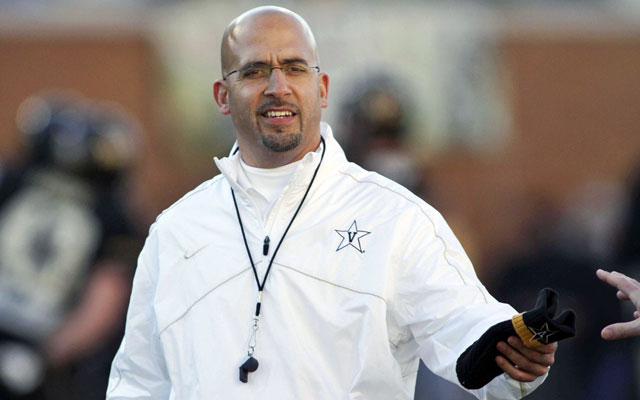 Penn State's going to make it -- make it through those crippling penalties, make it through the national dialogue about those penalties, make it to a Big Ten title -- at least -- this decade.
That's part of the takeaway from James Franklin's formal hiring on Saturday. Joe Paterno's program is going to make it through this mess without Joe Paterno. Of course, there is the argument Penn State is in this predicament because of Joe Paterno.
But that's not the discussion today.
It is about a Pennsylvania native son who -- by the looks of things -- was Penn State's first choice. It is about a young, talented coach with a vision. It is about restored scholarships that will give the Nittany Lions a chance to compete. It is about the hope of restored bowl bans.
It is about Penn State being Penn State again as the scandal fades. The Nittany Lions under Franklin should expect to be a top 25 program and win the Big Ten by 2020. Probably sooner.
Why? It's simple college football math. If Franklin can win nine in back-to-back seasons at Vanderbilt, think about the possibilities at Penn State. Better resources, better support, access to better players. In two years -- if not sooner -- access to the postseason.
There are only a handful of schools that could make it through such sanctions. USC has won 10 games twice while enduring similar scholarship restrictions. It may be that Penn State has bottomed out and is on the rise.
Bill O'Brien proved that the program wouldn't be burned to the ground in the wake of those sanctions. He won 15 games in two years. He convinced a talented freshman quarterback (Christian Hackenberg) to stick to his commitment.
O'Brien handed the keys to the next guy with the family car in good shape. It's not a Corvette but Penn State isn't playing at the Division II level either, something Barry Switzer predicted in the wake of the sanctions.
There's a reason Franklin's name popped up everywhere from USC to the NFL. He's young and good and charismatic. The if-he-can-do-it-at-Vanderbilt narrative should be the first paragraph on his resume.
It's certainly the lead of every wire story today on the hiring. It's certainly on the mind of every tortured Penn State fan.
The school stepped up with a six-year contract worth $28 million. The deal extends Franklin four years beyond the end of sanctions. That's more than fair.
That figure almost equals half of the $60 million NCAA fine the school endured in the wake of the Sandusky sanctions. Penn State has lost a lot these past 19 months. The ability to write checks for the football program is not one of those losses.
It also suggests that the NCAA inadvertently has contributed to the current salary explosion. If the association hadn't stepped in with those sanctions perhaps Penn State wouldn't be paying (overpaying?) $4.5 million per year for six years. Perhaps the school wouldn't be this desperate to restore the glory. Perhaps a school whose old coach modestly accepted a $1 million salary wouldn't be in this position. Perhaps the NCAA wouldn't be sued by the family of that former coach.
But that's a discussion for another day.
Today, it is about a Pennsylvania native son who can win at Pennsylvania's state university. Win big and win soon.
Show Comments
Hide Comments
Florida State's star wideout saw a middle schooler eating lunch alone, so he pulled up a c...

Utah State will take on Weber State live, and you can watch it for free

Ishmael Zamora will miss three games and is being forced to give up his dog
Osa Masina will not travel with the team while suspended

College football gets going this weekend, so we're ranking all 14 SEC teams heading into the...

The star quarterback will play in front of twice as many fans as he ever has in Week 1 at Kyle...