In 19.5 hours of baseball, football, Winston is nonstop, wants more
Jameis Winston wants NFL and MLB careers. Following him for 19 1/2 hours between baseball and spring football outings reveals the Heisman winner never stops and is far from satisfied.
More college football: Bruce Feldman | Dennis Dodd | Jeremy Fowler | Latest news
TALLAHASSEE, Fla. -- Jameis Winston likes his bling. Not in a prideful or boastful way. It's just that when you've got as much as the Heisman winner, it's fun to take stock.
So after two games in two different sports in two cities played within 19 1/2 hours over the weekend, Florida State 's quarterback is allowed to indulge in his ice.
The way he displayed his championship rings for the media Saturday was a sort of celebration. Winston carefully placed a gold chain necklace over his head. At the end dangled his ACC championship ring. On his left ring finger rested a national championship ring so big it needed a garage.
"We just got 'em so I'm trying to wear 'em as much as I can," Winston said.
The man had just thrown 56 passes, making a meaningless spring football game look like a pro day workout. In the previous 12 hours he had signed 100-plus autographs before playing briefly in the baseball series opener against Georgia Tech. Within the previous eight hours, he had taken a private plane from Atlanta to Tallahassee to play in that spring game.
In the previous three hours, he played all but five of the 83 snaps for the Garnet in a 31-14 victory in FSU's spring football game. The face of a school, a program and maybe college football, will not stop -- or be stopped.
"I've got to create time [off] for him," football coach Jimbo Fisher says. "The more he does, the more he likes."
Winston, of course, will have none of it. There is some instinct that keeps him giving until it hurts. At no time in those previous 19 1/2 hours -- from the beginning of baseball Friday night to the spring football game on Saturday -- did he slow down.
"I'm fighting boredom right now," Winston said. "It's good to be bored. Because when you're bored you want to do more."
Maybe that's what will allow Winston to realize his dream -- to play both football and baseball professionally. He wouldn't be the first to do it, but he would be the next to remind us how special it is.
Bo. Deion. Winston comes from the hometown of the former and attends the school of the latter.
"Whether it's playing quarterback for the Philadelphia Eagles or closing for the New York Yankees," the prodigy said in a private moment Saturday. "It's a decision that's probably going to have to be made.
"But it's a decision that can wait."
Winston is a certain first-round NFL pick -- perhaps No. 1 overall -- whenever he decides to turn pro. His baseball stock is a bit less clear because of the football factor, although the consensus among baseball observers is that he's first-round material as a pitcher or outfielder on talent alone.
Fellow Bessemer, Ala., native Bo Jackson is considered the quintessential two-sport athlete of our time. After winning the Heisman Trophy at Auburn, he played outfield for the Kansas City Royals and running back for the Oakland Raiders in the same year from 1987-90. His athletic feats -- scaling walls, throwing out runners, stealing bases -- masked the fact that he struck out at least 128 times per season during those years.
Baseball insiders at the time lamented that Bo could have been so much better at baseball had he devoted more time to it. After signing with the Royals, he called pro football his "hobby," rushing for 2,800 yards in four seasons before suffering a career-ending hip injury. His legend -- both commercially and athletically -- remains the standard.
Deion Sanders was a three-sport star at FSU. A two-time All-American as a corner, Sanders played outfield for FSU baseball coach Mike Martin Sr. and helped the track team to a conference championship. Not sure if Jameis can top this: Deion once played the first game of a doubleheader, anchored a 4x100 relay race, then rushed over to play the nightcap.
For at least parts of nine seasons (1989-1995, 1997, 2001) Sanders played with four major league teams. At the same time he was going to eight Pro Bowls and winning two Super Bowls in the NFL. Nobody knows for sure, but the term "shut-down corner" may have begun with him.
"Jameis is much further along as a baseball player at this point in his life [than Sanders]," Martin Sr. said. "Deion made himself into an outstanding baseball player, basically after he left Florida State."
Like Bo, Sanders' talents translated well in the commercial world. A generation of admirers relate to "Bo Knows" and "Neon Deion" more than any exploits they actually witnessed on the field. Winston is developing the same marketability without really trying.
When Florida fans lined up to get his autograph, he cheekily scribbled "37-7" next to his signature. As a quarterback, Winston had a hand in a Nov. 30 destruction of the Gators by that score. Traditionalists winced when halfway through the season T-shirts surfaced depicting Jameis as Jesus. They were titled "The Chosen One." FSU quickly issued a cease-and-desist letter to the unlicensed originator of the shirts.
Imagine what just a season's worth of exploits in 2014 would be worth to, say, Nike. That thought, that endorsement deal, will have to be put on hold. Winston cannot turn professional in baseball or football until 2015.
The general sense is that it's way too early to even project Winston's endorsement value. Yeah, he's got the arm, the smile, the title, the two sports. But veteran South Florida-based sports and entertainment attorney Darren Heitner said the variables are too wide at this point.
"Winston's value will not only be based on his on-field performance and off-field scrutiny, but also the location and notoriety of the NFL team that eventually selects him," Heitner said. "If forced to apply a number to a hypothetical endorsement, I would say it is where six figures meet seven figures -- $1 million."
Compare that to Drew Brees and Peyton Manning, who make between $7 million and $8 million per year in endorsements, according to Heitner. That's the top of the food chain.
Winston isn't there -- yet.
After all, he's only 20 years old and chasing two national championships within three months. (FSU is No. 1 in baseball after winning the BCS football title in January) Perhaps three titles in 12 months if the Seminoles successfully defend their football title.
CBSSports.com chronicled Winston during that whirlwind 19 1/2-hour period Saturday trying to find out what -- beyond boredom -- motivates him ...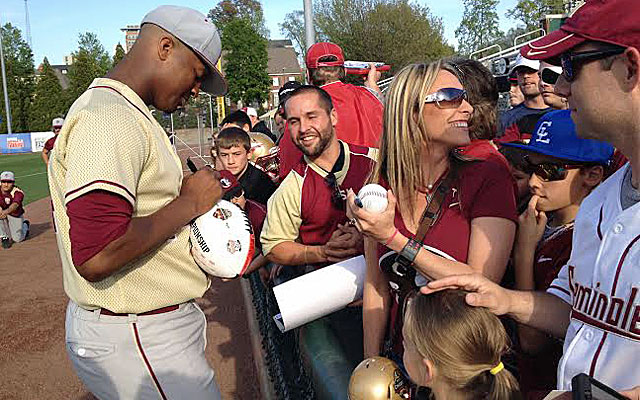 Friday, 90 minutes to first pitch: This is what they've been waiting for. On a beautiful spring night at straight-up 6 p.m., they line up about six deep near the Florida State dugout for the rite of Jameis.
"Of course, princess," he says to a small girl no more than 6, who runs off squealing, "I can't believe I got his autograph."
For the next 40 minutes, the man signs at Georgia Tech's Russ Chandler Stadium. No one goes away disappointed. Jameis is an event. It's almost too much, the whole scene. There were seven security guys guarding him when the Noles played the Yankees in spring training last month.
Two cops travel with the team assigned the Winston Detail. The kid won't say no.
"I never was able to go to a game as a kid and say, 'Hey, there's so-and-so,'" Winston said. "When I see little kids and see them look up to me, it's funny. They say, 'I'm going to take this to school.'
"I like, 'Yes, I'm going to be talked about Monday.'"
With Winston in tow, FSU has helped set attendance records at Jacksonville, South Florida and Central Florida this season. FSU's road attendance average, 3,618, would be No. 11 nationally overall.
"It's called the Winston Factor," says teammate Justin Gonzalez.
"It's like traveling with a bunch of rock stars and the lead singer is Jameis," Mike Martin Jr. says.
Florida State's recruiting coordinator is the son of head coach Mike Martin Sr. He's particularly close to Jameis. They spent four-plus hours in a car together Thursday night traveling from Tallahassee to Atlanta to meet the baseball team. After football practice, of course.
Martin Sr. says Jameis is ahead in baseball where Sanders was at this point. Winston has a nasty 95 mph fastball and an equally devastating slider.
But, just as eagerly, the football world awaits his potential. In his first season, Winston set the freshman record for touchdown passes (40) and passing yards (4,057).
Is there any doubt the Winston could flourish in the NFL right now?
"He's afraid," Martin Jr. explains, "he's going to stink at one [sport] if he just plays that."
Meanwhile, it's strange, in a way, watching all those moms and kids queue up for an autograph after Winston's well-chronicled issues in the courts as last football season was winding down. A Florida state attorney didn't find enough evidence to charge the quarterback in that alleged sexual assault. But if nothing else those investigative documents that were released were graphic.
"The worst part as a dad was when they'd talk about it on TV in front of the family," said Tim Hayse, an autograph seeker from Chattanooga, Tenn.
That family on Friday included at least three small children.
Nearby was Sharon Pepper, an FSU grad whose nephew she says is a good friend of Jameis. Pepper has read the police report, too.
"I felt bad for the girl, I feel bad for the university," Pepper said, "but I believe in the kid."
That part's easy, she says. Jameis recently danced for five straight hours at a charity dance-a-thon. Never mind a Heisman winner, who else among us has five consecutive hours to dance? For charity?
"I'm never worried about anything," Winston said. "When that [sexual assault allegation] incident came up, I was never worried."
After briefly retiring to the dugout, Winston re-emerges to sign again -- 30 minutes before game time.
"We're talking about a young man who is probably the most popular athlete in all of college sports," said Martin Sr., who is in his 35th season. "If you can name one who is not familiar with Jameis Winston then please do."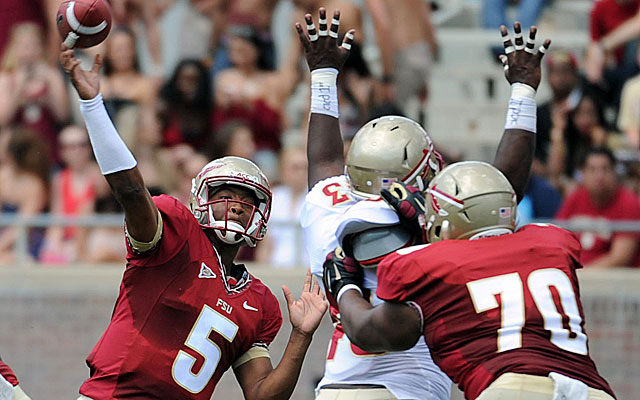 Friday, Hour 1 of 19 1/2: Winston is on the bench for the Georgia Tech opener. He is mostly a closer now. Last season, he batted .235 playing some outfield and relieving.
Now he is the hammer out of the bullpen with four saves and a 1.76 ERA to prove it.
Gonzalez predicted all of it -- in football. While at the 2013 ACC tournament Gonzalez, a Noles senior shortstop, had seen enough that season.
"We predicted maybe a future Heisman in the 2013 season," he said. "For us, that's when it really started. The fact that it happened is surreal."
Hour 2: What's it like to get the Heisman Trophy winner to fly out? Ask Dusty Isaacs.
The Georgia Tech reliever faced Winston in the seventh with the Noles rallying. That Heisman Trophy winner is now batting .133.
Still ...
The 6-foot-1 Isaacs was a quarterback, too ... in Lebanon, Ohio. He noticed how the 6-4 Winston pretty much towers over everyone on the field.
"I really respect the way he carries himself," Isaacs said. "I was a pretty good high school quarterback. Now I know why I'm playing college baseball."
Hour 3: Three Georgia Tech ball girls are giggling as they skip off the field following the Yellow Jackets' 5-3 win. With Jameis pausing to sign yet more autographs, they "totally cut in line," according to one.
Baseballs in hand, they have succeeded as well.
"This is going to be worth a lot of money someday," says Amanda Kelly, her name badge telling us she's from Marietta, Ga.
Not if she can't get that "Amanda" off her ball. Winston is savvy enough to personalize each autograph. That practice decreases the value of any item on, say, eBay. That also keeps unscrupulous types from profiting off the Heisman winner.
"I think," Fisher said, "it's starting to wear on him a little bit."
Hour 15: Chip Baker has been around FSU for 30 years. It was the duty of baseball's director of operations Saturday morning to escort Winston on a private plane back to Tallahassee.
The hourlong flight will get them back to campus in plenty of time for the formal spring celebration/game. First, though, he pulls out a couple of Sharpies.
These, he says, are Jameis' custom Sharpies. Too much risk in letting the public touch them. You know, putting the cap their mouth and pulling off the top?
Ewww!
"Where are those instruments at?" Winston is known to ask Baker.
You may have seen the video of the quarterback recreating the winning pass against Auburn during a rain delay.
Baker feels responsible for that too. The video -- or a version of it -- is stored on a school server on his phone. He's still trying to figure out who the little kid is who takes the fake hand off. It is clearly the biggest moment of the kid's young life.
Post-game: Fisher is holding court with the media after the spring game.
He believes in two things at the moment ...
"The downfall of most great players and great people is boredom."
Also, that his best player is absolutely coming back in 2015. Winston has said as much. He'll be eligible for the NFL Draft after this season.
"I think he genuinely likes being a college student," Fisher said. "I think something is going to have to push him out or run him out."
Boredom is not going to be the culprit.
"No, I want to go some more," Winston said after 19 1/2 hours. "I really wish we had a game tonight. I want to make something of myself so bad."
Shedrick Jackson is a three-star wide receiver

Nigerians are making waves in the U.S. due to their intensity, intelligence and athleticis...

Have fun with this, SEC defenders
Making plays on the over/under for all 12 teams in the Pac-12

Mike Gundy and the Cowboys know there's one monster they have to contend with in their own...

The initiative has been put forth to offset the burden of declining freshman enrollment