In the rearview: 10 most inexplicable results of the 2013 season
With the season complete, some results look a lot weirder, stranger, or otherwise disorienting than they did at the time. Which is the most inexplicable?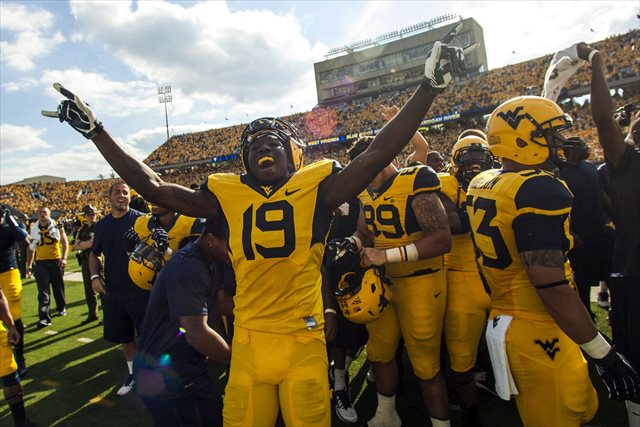 The 2013 college football season is already quickly fading in the rearview mirror, but before it disappears over the horizon entirely, it's worth retaking some stock of some of the year's biggest head-scratchers. And we don't mean upsets -- we mean the games that, when viewed in the cold light of mid-January in that same rearview mirror, make you go Huh?, that boggle the mind, that just don't make any damn sense.
Take Week 1, for example. At the time, Virginia beating BYU in Charlottesville didn't register as much of an upset -- the Cougars were only three-point favorites -- while Bowling Green beating the tar out of defending Conference USA champions Tulsa raised more than a few eyebrows. By season's end, of course, it was the latter result that made far more sense; Tulsa cratered to a 3-9 disaster while Bowling Green would go on to win the MAC. But the Cavaliers' win over the Cougars got more bizarre by the week, as Mike London's team finished the season winless in the ACC and 2-10 overall.
So with that criterion in mind -- not how strange the result was at the time, but how strange it is today -- here's our choices for the top 10 most inexplicable results of the 2013 season. In these cases, hindsight is 20/400:
10. Week 13: Arizona 42, Oregon 16. 
Why inexplicable? Because the last time Oregon lost to a Pac-12 opponent by double digits, Mike Belotti was still the Duck head coach. And though Oregon was clearly hungover from their Stanford loss two weeks earlier, were the Wildcats really the team you'd expect to trounce them by 26? RichRod's team went 3-5 against the rest of the conference, was coming off a home loss to Washington State, and wrapped up the regular season with a 58-21 beatdown at the hands of Arizona State.
So what happened? The Ducks racked up 506 yards but turned it over three times and twice more on downs, while Ka'Deem Carey did Ka'Deem Carey things.
9. Week 14: Southern Miss 62, UAB 27.
Why inexplicable? The Golden Eagles ending their 23-game losing streak -- even on the road -- wasn't a total shocker, given the Blazers' own haplessness and, in retrospect, a coach who'd likely already given up on the program. But here's USM's point totals in their 11 losses heading into this game: 15, 13, 3, 7, 23, 14, 14, 13, 13, 7, 21 ... and the high there came in a 24-23 home defeat to terrible, terrible FIU. So where did 62 points come from?
So what happened? Down by eight points at halftime, Southern Miss ripped off a 35-0 run behind three Nick Mullens touchdown passes and outscored the Blazers 49-6 in the second half. The 28 points scored by the Golden Eagles in the third quarter -- see above -- was more than they'd scored in any entire game in the season to that point.
8. Bowls: Oklahoma 45, Alabama 31.
Why inexplicable? Here's how dominant Alabama had been entering this game against BCS-level nonconference opposition: the Tide weren't just riding an 11-game winning streak in such matchups, they were riding an 11-game winning streak against the spread. Oh, and they were still the team that had been one ill-advised field goal attempt from likely playingfor a national title. The Sooners, meanwhile, were 10-2, yes. But those two losses were ugly blowout defeats to Texas and Baylor, and their quarterback position was a mess ... 
So what happened? ... right up until the point Trevor Knight -- against Alabama -- threw for only 123 yards fewer than he had the entire season-to-date. If a Sooner victory wasn't odd enough already, that Knight's performance meant Oklahoma was in control for the final three quarters and fully deserved its 14-point final margin -- two touchdowns! over Alabama! -- made things even odder.
7. Week 7: Utah 27, Stanford 21. 
Why inexplicable? Yes, the Utes were feisty as a home underdog all season long. They also actually won just one other game against Pac-12 competition, 24-17 against Colorado, and finished at 5-7 overall.
So what happened? Travis Wilson outplayed Kevin Hogan for three quarters in building a 24-14 Utes lead that reduced the Cardinal's ability to pound-pound-pound despite a healthy 4.9 yards-per-carry average. Two lost second half fumbles didn't help, and the Cardinal's fival desperation drive stalled inside the Ute 10.
6. Week 8: Tennessee 23, South Carolina 21. 
Why inexplicable? This upset didn't seem all that peculiar at the time, as the Vols had shown plenty of fight under Butch Jones, were playing at home, and had just come within a whisker of knocking off Georgia. But both teams' seasons diverged dramatically from here: the Vols were blown out of their next three games, lost to Vandy at home, and missed the postseason for the third straight season. The Gamecocks, meanwhile, ended the year on a six-game winning streak to finish with 11 wins for their third straight season.
So what happened?  Connor Shaw started 7-of-21 before leaving the game late with an injury, keeping the Vols close enough for a late Marquez North circus catch to set up the game-winning field goal on the final play.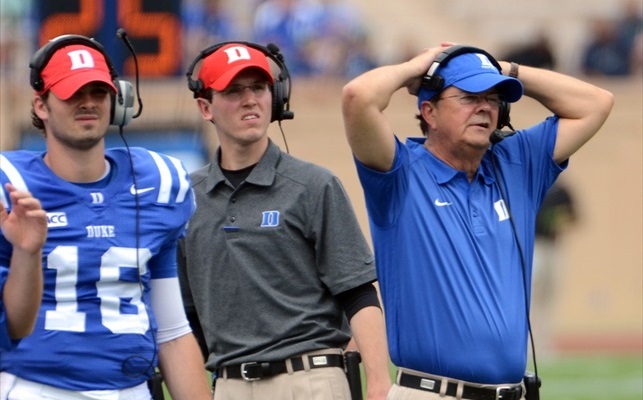 5. Week 4: Pitt 58, Duke 55.
Why inexplicable? Duke's incredible run to a 10-win season and ACC Coastal title made a few of its early-season results look bizarre, including its 24-point blowout home loss to ho-hum Georgia Tech and narrow escape from Sun Belt also-ran Troy. But none looks more bizarre than the 113-point extravanganza against the Panthers, who not only finished a predictable 6-6 but wouldn't even crack 30 points against FBS competition again until the final week of the season.  
So what happened? Tom Savage threw for 424 yards and tied an ACC record with six touchdown passes -- he wouldn't throw for more than two in any other game this season, and would only crack 300 yards on one other occasion --as the teams combined for 1,130 yards.
4. Week 1: Virginia 19, BYU 16.
Why inexplicable? It's worth repeating: from here the Cavaliers went winless against FBS competition, 0-8 in the ACC, and 1-10 overall. The insult to injury: only one of those 10 losses (a 27-26 defeat at Maryland) was even by single digits. The Cougars weren't world-beaters, but they did go 8-4 with wins over the respectable likes of Texas, Georgia Tech and Houston. 
So what happened? The visiting Cougars racked up a 362-223 advantage in total yards, but amid supremely soggy conditions -- the game also experienced a two-hour weather delay -- bogged down multiple times in the red zone, allowing Kevin Parks to score the game-winning TD with 2:36 to play.
3. Week 2: Illinois 45, Cincinnati 17.
Why inexplicable? If this list was to name its Inexplicable Team of the Year, it would be Cincinnati, which was capable of achievements like beating Houston, winning nine games, taking Louisville to overtime ... and equally capable of handing USF one of its two wins of the season, scoring a grand total of 14 points at 0-12 Miami (Ohio), and its piece de resistance, a four-touchdown pratfall at a team that would go on to win one Big Ten game -- that a four-point squeaker over equally terrible Purdue. Take a bow, Bearcats.
So what happened? Nathan Scheelhaase threw for 312 yards as the Illini built a 21-0 lead and never looked back.
2. Week 8: Georgia Tech 56, Syracuse 0.
Why inexplicable? Look at that score! Look at it! It looks like a "Future 14-0 national champion Florida State vs. FCS patsy and/or Wake Forest" score! But both these teams finished the year with the same 7-6 record, and were only a game apart in the ACC standings! The spread was only eight points, meaning the Jackets covered by 48 points! The score was 28-0 at halftime! 49-0 after three quarters! Syracuse allowed a total of three points to its next two opponents and finished a perfectly respectable 34th in total defense! How many times more would these teams have needed to play before they got this result a second time?!?!? Is there a college football equivalent of, like, Stephen Hawking who could explain this for us?!?!?!
So what happened? Three Syracuse turnovers, a blocked punt, and apparently a lot of napping during film session preparation for the Tech option. It's never easy prepping for Paul Johnson's offense, but ... 56-0?
1. Week 5: West Virginia 30, Oklahoma State 21.
Why inexplicable? If you want to quibble with our ranking, go ahead, but know the following: 1. the Mountaineers would go on to lose to Kansas, snapping the (3-9) Jayhawks' 27-game Big 12 losing streak 2. the Mountaineers would finish the season 4-8 overall, 1-8 against other full FBS members (Georgia State was on the schedule, thankfully), and 1-7 against the rest of the Big 12 thanks to a three-point upset of TCU 3. among WVU's other results were a 37-0 loss to Maryland and an eight-point home defeat to 3-9 Iowa State 4. the Cowboys finished 10-2 in the regular season, and were one play away against Oklahoma from going to the Fiesta Bowl 5. West Virginia was in control throughout the second half after taking a 24-14 halftime lead 6. read all those things again. Bottom line: no worse team beat any better team any more convincingly than the Mountaineers beat the Cowboys in Morgantown that day.
So what happened? Three Oklahoma State turnovers, a solid outing from Clint Trickett, and a poor one from J.W. Walsh conspired to keep the Cowboys at arm's length despite their 433-388 yardage advantage.
HONORABLE MENTION: Georgia Southern 26, Florida 20; Wake Forest 34, Maryland 10; Washington 69, Oregon State 27 (at Oregon State); Michigan 42, Minnesota 14; Penn State 31, Wisconsin 24 (at Wisconsin); Ole Miss 27, LSU 24; Texas 36, Oklahoma 20; Texas Tech 37, Arizona State 23.
Show Comments
Hide Comments
The ex-Notre Dame quarterback would be eligible to play immediately in 2017

Tuberville has been mulling a decision to run in 2018

Ranking the best draft-eligible college football players in the 2017 draft class
Taking a closer look at what went down during one of the biggest weekends of spring football...

The Wolverines will get a unique education in Italy, and maybe that's all that matters

Fitzerald is already the program's leader with 77 wins