Incident report reveals details in Jameis Winston crab leg theft
The Leon County Sheriff's Office released the incident report for Jameis Winston's crab leg theft that resulted in an adult citation.
• 2 min read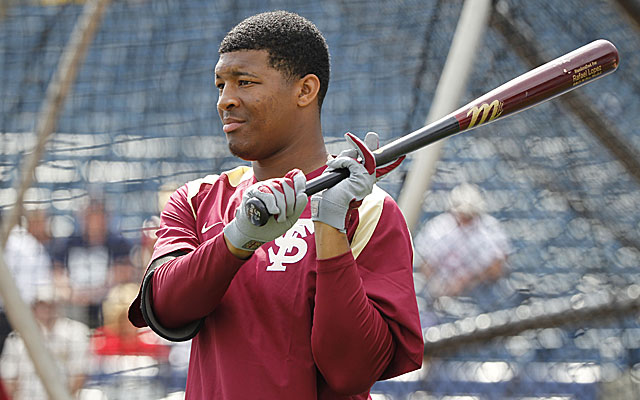 PDF: LCSO Report | Doyel: One suspension enough | Fowler: Sit Winston for opener
Jameis Winston has been reinstated to the Florida State baseball team after completing the community service, but new details from the crab leg incident have surfaced that suggest a less-than-innocent mistake.
A Leon County Sheriff's Office deputy wrote the official incident report based on the Publix surveillance video. In the report, which was posted by the Tallahassee Democrat, the officer writes that Winston "paused" to avoid walking in front of an off-duty deputy during his exit from the store.
Sgt. Benedict informed me earlier video depicted Mr. Winston placing the order and leaving the store. Mr. Winston proceeded from the seafood counter to the rear of the store. He walked north through the rear aisle, stopping at the dairy case. Mr. Winston selected a stick of butter from the dairy case and walked toward the front of the store. When Mr. Winston reached the front of the store, Deputy Graves was visible in front of Mr. Winston. Deputy Graves was working as security detail in the store in an off duty capacity at the time of the theft. Mr. Winston paused visibly near a series of sale bins and allowed Deputy Graves to pass in front of him. The pause appeared to be an attempt to avoid walking in front of Deputy Graves. Mr. Winston then walked behind Deputy Graves, passed all points of sale, and exited the store without paying for the merchandise. Mr. Winston did not approach any of the available checkout stands or complete any transaction in the store.
The report also reveals Winston's first reactions when approached by an officer regarding the theft. Winston said he realized the mistake when he got home and repeatedly said he wanted to "make it right."
In his statement last week, Winston blamed the incident on "youthful ignorance."
"As reported in the news, last night I received an adult civil citation for petty theft from a local supermarket," Winston said. "I went to the supermarket with the intent to purchase dinner but made a terrible mistake for which I'm taking full responsibility. In a moment of youthful ignorance, I walked out of the store without paying for one of my items. I realize that I am in the public spotlight and my conduct needs to be above reproach. I make no excuses for my actions and will learn and grow from this unfortunate situation." 
Show Comments
Hide Comments
Twenty-eight of 95 early entry prospects went undrafted

The SEC and Michigan each had great weekends in the 2017 NFL Draft

Rawleigh Williams III left the field on a stretcher after a neck injury
Jim Harbaugh wants more college football programs to embrace the international trip

It seems there's a lot of talent in the SEC

There are all sorts of drafts out there and these are my favorites