Infamous north end zone haunts Mizzou again in heartbreaking loss
Missouri blows a 17-0 fourth-quarter lead against South Carolina in another infamous Faurot Field moment.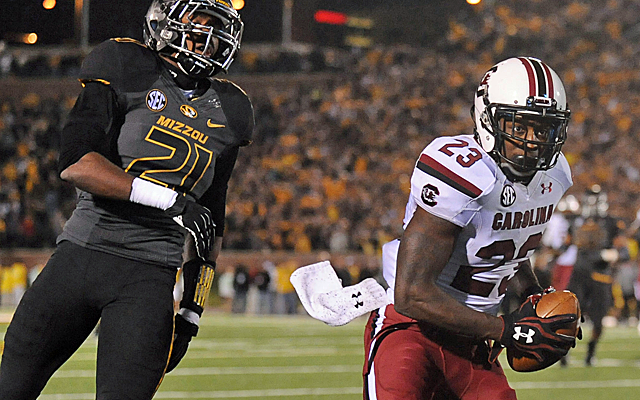 COLUMBIA, Mo. -- Faurot Field's north end zone has another story to tell, just not as good as Steve Spurrier's.
Sometimes these things happen to Missouri. Sometimes Missouri allows them to happen. It's up to the eye of the Tiger to discern which on Saturday night. That north end zone at 87-year old Faurot that has been the site of a Fifth Down (1990) and a Flea Kicker (1997) became the soul-crushing location of The Boink Saturday night.
That was the sound made by the ball launched by Missouri kicker Andrew Baggett in the second overtime as it slammed against the left upright assuring South Carolina an escape and the Tigers more national stage infamy.
Improbably, Spurrier -- the HBC -- got away with one that ended with OMG. His Gamecocks survived 27-24 in those two overtimes and that wasn't even the story.
"It was a game that I thought we were dead," Spurrier said.
And they were, pretty much. With a chance to go 8-0 for the first time in 53 years, the Tigers led 17-0 in the fourth quarter. With a chance to virtually clinch the SEC East before Halloween, they were still up 17-10 with less than five minutes left. Even when South Carolina tied it with 42 seconds left, all of it was still on the line.
But thanks to a tiring Missouri defense and just enough Connor Shaw, the East Division is in play again.  Spurrier somehow got out of town with a win despite keeping what was ultimately the game's best player, quarterback Connor Shaw, on the bench for 2 ½ quarters.
That's where the Tigers and Shaw expected him to be for the entire game after the quarterback sprained a knee last week against Tennessee. But in the final 1 ½ quarters and overtime he completed 20 of 29 throwing three touchdowns in relief of Dylan Thompson. Shaw was in for six possessions. South Carolina scored points on five of them. 
"I wasn't even supposed to be playing in this game," he said. "They said I was supposed to be out two-to-three weeks."
His fourth-and-15 touchdown pass to Bruce Ellington in the first overtime should have been a sign. It was the sign. On the do-or-die play, Missouri somehow was in man coverage. Because it was, Ellington somehow snuck behind the defense to get wide open.
"Actually I thought they were going to go zone," Ellington said.
Missouri defensive end Kony Ealy called it a "busted play."
That tied the game at 24, keeping the Gamecocks alive for a second OT where Elliott Fry booted a 40-yard field goal that was eventually the winner. 
On fourth-and-goal from the six, his team down by three, Baggett trotted out for easy kick from the left hash. Easy only in some parallel universe. In the same end zone where both Colorado and Nebraska preserved national championship runs, Baggett missed his second field goal of the game and fifth of the season (out of 17 attempts).
Since Baggett -- who was deemed good enough to kick in front of 67,000 -- was sheltered from a handful of media, we had to ask about the scene in the lockerroom.
"No comment," offensive lineman Justin Britt said.
"It didn't come down to one throw, one kick, one catch," Missouri coach Gary Pinkel said.
What else could he say? The Tigers still control their division hopes, but the whole national darling thing is on hold. On Saturday, they were just another undefeated team fallen by the wayside.
"We're very fortunate," Spurrier said, "and we're very appreciative."
Consider that Missouri had played so well that the SEC's leading rusher, Mike Davis, was reduced to becoming one of its most dangerous receivers. Davis fumbled twice in the first half, was yanked in the game and was held to a season-low 51 rushing yards. Converted to catching screens out of the backfield, Davis made 10 receptions for 99 yards.
"Those screens worked," Missouri defensive end Markus Golden said. "We felt like we let that one slip away from us."
If it wasn't for those screens, that goalpost that Baggett hit may have been torn down by the fans. Seasons like this just don't happen for SEC newbies. In its second SEC season, Arkansas was 6-4-1. These Gamecocks were 5-6. That was in 1993. Those schools still have played in only a grand total of four SEC championship games in 20 years.
There is precedent. Alabama back in 1934 did go 10-0, play in the Rose Bowl and claim a national championship.
Eight games into the season Missouri was going to be the team to beat -- for the Crimson Tide. Until Saturday night, the Tigers figured to be the most formidable hurdle for Bama. They had beaten beaten up Georgia. Florida couldn't find the end zone with the GPS. South Carolina came here with two losses and a backup quarterback.
"I don't think at one point in this game in my head, there might be a chance we might lose," Britt said. "I knew we were going to win."
Missouri backup Maty Mauk had proved his worth hitting L'Damian Washington with a  96-yard touchdown pass in the first half. The defense piled up two sacks, seven tackles for loss and three turnovers against the Gamecocks. They had harassed Thompson enough that Shaw came trotting out for South Carolina's possession with 6:46 left in the third quarter.
At that point the game was over. Except that it wasn't. Shaw led the Gamecocks on scoring drives of 13, 11 and eight plays in the final 12 minutes.  Spurrier got the first overtime win of his career.
There's a lot still out there for the Tigers. But there's a lot memories also buried in that damn north end zone. 
Show Comments
Hide Comments
Gales suffered a neck injury against Georgia in 2015

The television schedule announcements are rolling in for Week 1 in college football

Florida State's favored to win the ACC but that doesn't make it the best play
Fedora has gone 40-25 in five seasons with the Tar Heels

We ranked each of the 14 ACC teams by its strength of schedule in 2017

The three players attempted to rob a fellow student but claimed it was a prank gone wrong