'It's all business:' Jim Harbaugh and his disappearing Michigan commits
Welcome back to the ugly side of college football recruiting: The business of managing rosters. Michigan supporters and critics are learning that right now.
"It's all business."
That's how defensive end Rashad Weaver, who committed to Michigan last June, summed things up Monday when he announced on Twitter that he's no longer part of Jim Harbaugh's class. Weaver said he received "little to no contact with the staff" for seven months and was told by Harbaugh that there was only a 50-50 chance he would have a spot with the Wolverines on National Signing Day, though UM would welcome him as a preferred walk-on or allow him to attend prep school for a year.
"I just felt used."
That's how offensive lineman Erik Swenson, who committed to Michigan in 2013, described to the The Chicago Tribune his account of having his scholarship pulled by Harbaugh last week. Swenson was Michigan's longest-tenured commitment in its 2016 class, sticking with the Wolverines through the firing of Brady Hoke.
Welcome back to the ugly side of college football recruiting: The business of managing rosters. No matter where the truth resides in these stories, you don't want to be the university with multiple recruits publicly saying their scholarship isn't necessarily there a week or two before signing day.
To be fair, Harbaugh will get his chance to explain what happened. NCAA rules prohibit him from commenting at this time beyond cryptic tweets such as, "'They said' artificial sweeteners were safe, WMDs were in Iraq and Anna Nicole married for love' … 'They said'."
Here's hoping Harbaugh, the king of subtweets, directly answers questions on Feb. 3 about why these recruits feel they got left hanging at such a late date. Last year, Harbaugh lost tailback Mike Weber to Ohio State, whose running back coach promptly left for the NFL right after signing day, leaving Weber hurt. Harbaugh's "thought of the day" on Twitter that day? "What a tangled web we have when first we practice to deceive! — Sir Walter Scott."
(Apparently not one to be outdone by Harbaugh in subtweeting, Michigan State coach Mark Dantonio posted and then deleted this after Weaver decommitted from Michigan: "The righteous shall prevail ...." If nothing else, the Big Ten leads the country in moral high ground subtweets.)
Michigan's Rivals website, The Wolverine, reported that Swenson was told in November "that he should be looking around because he may not have a committable offer." Yes, in the silly world of recruiting, some players have offers that aren't committable. Multiple offers go out to players at the same position for one roster spot. The first player to accept gets the scholarship.
The Wolverine also reported Michigan coaches asked Swenson to camp at the school over the summer so they could properly evaluate him and he refused. "We were told that it was understood that Swenson's senior year would serve as an evaluation period because this coaching staff had never seen him in person and wanted to know if he was a good fit for the program," the website explained.
Translation: He's not good enough with better players available. Lost in translation: Why are two longtime committed players saying they got left hanging at such a late date if the communication was supposedly so clear?
In reality, this is how big-boy recruiting works at some major programs. It is a business. When better players become available, someone becomes a casualty. Players with more talent get longer leashes, just like employees in any business.
That's not to condone tossing aside a recruit at the last minute. It's just the reality of the monster that's college football. While Harbaugh goes around the country selling himself on Twitter with goofy pictures and quotes, he's also a fierce recruiter with a history at Stanford of stopping communication with players who later decommit.
Over-recruiting is old hat in the SEC, where signing more players than available slots became so prevalent that a website was devoted to counting oversigning schools. "Jim Harbaugh trying to bring this account out of retirement," the Twitter account of Oversigning.com posted Monday in its first tweet in nearly one year.
This is new territory for Michigan, where Wolverines fans are in the unusual position of asking themselves tough questions. They're used to mocking Nick Saban and Urban Meyer for perceived ethical recruiting lapses through the years, not figuring out how or if they should defend their Michigan Man from similar accusations as he completes his first full recruiting class in Ann Arbor.
The Big Ten and Michigan love to take the moral high ground. But the moral high ground doesn't win football games. Talented players do.
"Some [Michigan fans] are outraged that Michigan apparently didn't honor its commitments to some recruits," said John Bacon, author of Endzone: The Rise, Fall and Return of Michigan Football, which documents Harbaugh's return to Ann Arbor. "Others have pointed out the mitigating information that has surfaced in some of the stories, particularly Swenson's. Others say that's just the way it is in the modern game, Harbaugh didn't break any rules, and if you want to compete with the big boys, this is how you do it."
There's one common feeling among Michigan fans, Bacon said. "Michigan should have communicated better with the recruits to minimize the damage, the hard feelings, and the bad PR."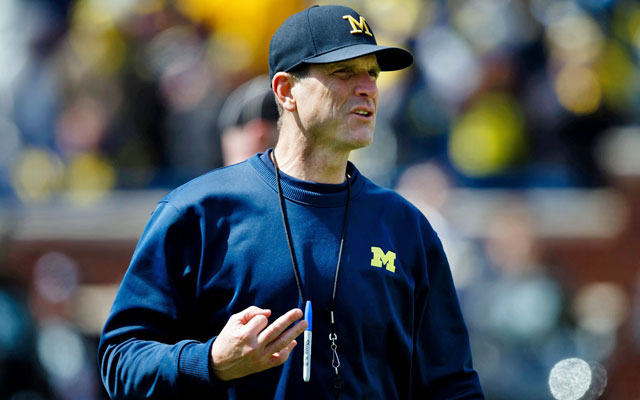 At this point, we're obligated to address the counterargument, "Yeah, but the players decommit all the time." Gee, how could they have ever learned to not honor their word? It couldn't be from coaches who over-recruit by position or scholarship limits, could it? Or from coaches who move on to their next job after selling the moon to recruits while players are unable to transfer without sitting out a year?
Newsflash: If you're banking on teenagers to honor their word as much as adults, you've lost the moral high ground.
The problem with "but the players do it" argument: You're blaming unpaid 17- and 18-year-old "amateurs" -- wink, wink, nod, nod -- for taking advantage of the last time for a while they'll have leverage in this system. It's a system university administrators and millionaire coaches created because they like to keep their jobs and you, Joe Fan, like to win games.
There is a potential remedy to this annual recruiting dance. Just eliminate signing day altogether. Let coaches sign players whenever they want. The coach would have to live with the consequences of an offer, meaning in theory he's less likely to give a scholarship too early. The player would be tied to his decision by signing.
The flip side is a young recruit, not aware how good he is or could become, will sign away his future because a lower-level school offered really early. It's a fair point. But after some coaches inevitably get fired for burning early scholarship signings that don't work out, the recruiting process might actually slow down. The market could sort itself out.
University presidents would feel queasy about signing players before their high school grades are clear. So tell your coach not to sign players early. If the NCAA wants to be serious about academics, it could make a scholarship unusable if a signed player ultimately doesn't get admitted into school. Then watch how judiciously coaches handle scholarship offers.
Life will move on for Swenson and Weaver, even if they did get thrown under the bus by Harbaugh. Their introduction to how the system works just came at a younger age than most.
Since he decommitted from Michigan, Weaver posted on Twitter that he has offers from Central Florida, Hawaii, Iowa State, East Carolina, Kansas and Toledo. He has come across looking like the adult in all of this.
"Harbaugh is not garbage or trash like u guys are calling him," Weaver wrote. "It (is) his team and he knows what he is doing."
Apparently mindful of the sport he's about to enter, Weaver also told his Twitter followers: "Please Don't feel sorry for me and at least don't unfollow me too lol."
After all, college football is just a business.
Follow and read more from Jon Solomon on Facebook and Twitter.
Show Comments
Hide Comments
Fitzerald is already the program's leader with 77 wins

Darryl Rudolph was just 55 years old

The Michigan coach nearly caused an international incident throwing a football
Using college stats and math to determine which FBS quarterbacks will be the most successf...

The LSU quarterback has been dealing with back issues for some time

Moss, a tight end, announced his decision to transfer from NC State this spring