It's time to move the Heisman Trophy to after the College Football Playoff
Christian McCaffrey's tremendous bowl performance, coupled with Derrick Henry's mediocre outing, opened even more eyes to the Stanford product and a procedural flaw: We're voting for the Heisman Trophy way too early.
Thirty-one days will have passed between the day Derrick Henry won the Heisman Trophy and kickoff of the College Football Playoff National Championship on Monday.
Has your perception of Henry's accomplishments changed? Should it?
There's the small matter of Christian McCaffrey's record-setting Rose Bowl five days ago. Clemson's Deshaun Watson still has a game left, the same one Henry is playing in.
The Heisman seems so last month in this new playoff age. If you're keeping score, that's the top three Heisman finalists playing a total of five games since the Stiff Arm was handed out.
Is this any way to decide the best player in the country? It's certainly a different way. It's certainly not the best way.
"I'm not really one to brag on myself," Henry said.
Nor do you have to be, D. We know what you've done -- four 200+ yard games, first 2,000-yard SEC rusher. But how do you compare that to an unassuming sophomore who was the nation's only other 2,000-yard rusher? It can be argued with some certainty that Stanford's Christian McCaffrey is the most complete offensive weapon in the country.
Even Henry doesn't average 31 touches per game and average almost nine yards per carry/reception/return.
And what about Deshaun Watson? He's only the third player ever to throw for 3,500 yards and rush for 1,000. If he goes off in the CFP title game, he'd be the first college quarterback to throw for 4,000 and rush for 1,000.
Sure, it would be in 15 games, but that's the point. The sport's most prestigious award should account for that -- by waiting a few weeks.
It's just getting harder to believe in the Heisman now that it doesn't -- potentially -- account for 13 percent of the season. (Two games out of 15.)
"Stupidest thing I ever heard," said Washington State coach Mike Leach. "It sounds to me like they need to have two awards."
One for the hurry-up, TV-dominated, second-week-of-December ceremony and one, you know, to decide the best player for the entire season.
"I don't know where the tipping point was," Leach said. "It seems like it was somewhere in the 80s where they said, 'Who is going to be the MVP for the national championship game? Let's give it to him.'
"Is it an award for the best player who provides the biggest contribution or the MVP?"
Leach has no skin in the game, just a fervent, informed opinion. McCaffrey changed a lot of minds -- mine included -- when he went for a Rose Bowl-record 368 all-purpose yards against Iowa. Watson was the difference against Oklahoma. Meanwhile, Henry was held to a season-low (by a Power Five opponent) 75 rushing yards against Michigan State.
I'm not disparaging Henry. I'm just saying the picture is incomplete. Heisman finalists Henry and Watson have their closing statements on Monday ... or they would if the Heisman waited until all the games were played.
The polls should still be open.
I went back and crunched recent numbers, curious what kind of impact they would if the postseason had been included. The last 11 Heisman winners are 6-5 in their bowl/playoff games. Think those results would have made a difference?
This awards rush to judgment isn't new. Because of the small sample size, college football tends to paint itself into a corner.
There is an awards show that is shown the second week of December. Why? Because that's the way it's always been done. A nice, neat bow is put on the season before it's actually over.
The NCAA has counted bowl stats for season stats since 2002. About every trophy honoring the game's best are awarded before all the games are played.
(Shout out to the Manning Trophy, which will be waiting for our final votes after the CFP National Championship.)
The reason there is no consistency is the same reason the voting shouldn't be closed. It's all a matter of taste. Do you want a kid (McCaffrey) who looks like he should be delivering pizza or a punishing tailback coming off one of his lowest rushing totals of the season?
Do you want the unassuming kid who surpassed Barry Sanders (McCaffrey) or the man-child who beat out Herschel Walker (Henry)?
Maybe you're a Watson person. It would be hard to ignore the only FBS quarterback to go 15-0. But hey, this is the way we've always done things.
That Heisman ceremony is a month old. It seems like a year. Please, can we re-vote?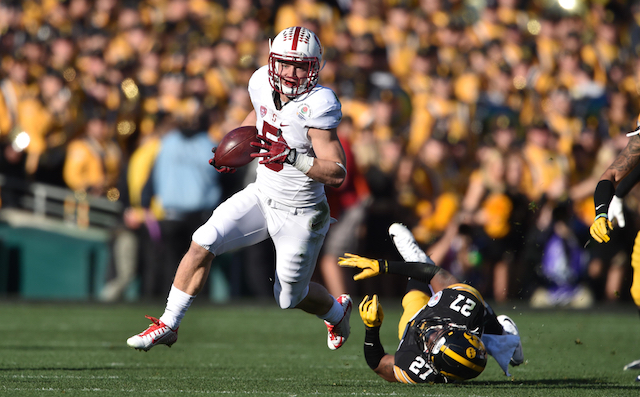 Show Comments
Hide Comments
Our Latest Stories
An early look at notable spreads for Week 5 of the college football season

Bookmaker.eu has released early odds on who will be coaching in Baton Rouge next season

LSU defensive tackle Davon Godchaux was arrested early Monday morning
The University of Florida is expected to name Mississippi State AD Scott Stricklin as the Gators...

Jimbo Fisher already has to deal with LSU and LSU rumors

Figuring out the future for Les Miles, and recapping the rest of the week that was