Jadeveon Clowney ticketed for speeding again
The potential No. 1 overall pick will pay a $455 fine after being caught going 84 miles-per-hour in a 55 mph-zone.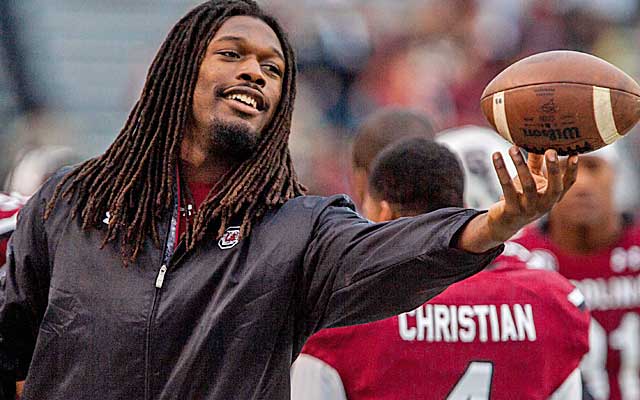 Jadeveon Clowney had best hope his draft stock isn't affected by his driving record.
The State reported that Clowney received a speeding ticket Thursday morning after being allegedly clocked at 84 miles-per-hour in a 55 mph-zone. Per information provided to The State by the Columbia police department, Clowney was pulled over near the intersection of Interstates 26 and 126, and issued a ticket for $445.
An officer told the paper Clowney "was courteous and didn't complain."
The ticket is the second for Clowney in a matter of weeks, with the future top draft pick clocked at 110 in a 70-miles-per-hour zone December 7. That ticket cost Clowney $355.
South Carolina state law allows licenses to be suspended after an accumulation of 12 points. Guilty pleas to charges of driving more than 25 miles over the posted limit -- as in both of Clowney's tickets -- are worth six points each.
And as always with all things South Carolina , we'll leave the last word to Steve Spurrier, via The State's Josh Kendall: 
Steve Spurrier: Jadeveon Clowney "needs to go to driving school, doesn't he?"

— Josh Kendall (@JoshatTheState) December 26, 2013
Show Comments
Hide Comments
Our Latest Stories
The Aggies proved against Arkansas that they are the toughest competition the Crimson Tide...

Tennessee finally beat Florida, while Auburn and LSU had one of the craziest finishes of the...

Auburn's win over LSU was cause for celebration at Toomer's Corner, but one of the trees was...
It's just about over for the Mad Hatter in Baton Rouge

The final play of the Stanford-UCLA game resulted in a whole lotta money changing hands

Jackson looked unstoppable carving up the Thundering Herd on Saturday night