Jameis Winston earns save in first pitching appearance of 2014
The reigning Heisman Trophy winner got his Seminoles out of an eighth-inning jam on his way to a save.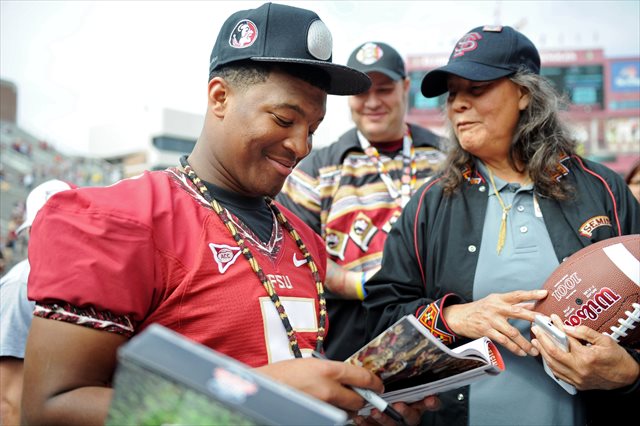 Jameis Winston's offseason isn't going to be like most Heisman Trophy winners' offseasons.
Ignoring the desires of much of the Seminole football faithful ... and pro scouts, no doubt ... and probably, secretly, his Florida State coaches ... Winston has remained faithful to his plan to play for the Seminole baseball team in the spring. A 15th-round selection of the Texas Rangers in 2012, Winston enjoyed a stellar 2013 freshman season and was named a third-team preseason All-American by Baseball America. 
Winston appeared as a pinch-hitter in the Seminoles' season-opening win over Niagara Friday, but should make his greatest contribution in 2014 as the Seminoles' closer. The sophomore made his first pitching appearance of the season Saturday in a 4-1 nightcap victory, working his way out of an inherited eighth-inning jam and retiring the Purple Eagles' final six batters for the save.
"I just wanted to get out there and pitch," Winston said at Seminoles.com. "Obviously, I was excited and when they called down to the bullpen, I was ready."
Winston needed only 20 pitches to earn the final six outs.
"Jaboo came in and of course he has been in that situation. But for him to pitch like he did was really a lift for us, because it was a tough situation," Seminoles coach Mike Martin told the Orlando Sentinel. "I was very impressed with how he wasn't affected by the situation. He was just enjoying his opportunities and really showed a lot of poise."
The good news: as long as Winston's pitching outings are limited to 20 pitches a time, the Seminoles' gridiron fanatics will breathe a little easier about a potential arm injury. The bad news: if his 2014 debut is any indication, Winston's arm is going to be relied on to make plenty such outings for a team -- one ranked No. 6 in the country in Baseball America's preseason rankings -- that has a lot of baseball ahead of it.
Freeze left a fastball over the plate and The Oxford Eagle took advantage of it

Tim Tebow joined the show right after a baseball game to chat football and more

Tebow joined the 247Sports College Football Podcast this week to discuss a variety of topi...
Some disgraced endings are a lot funnier than others

There will be options, but is anybody the right fit?

Ole Miss is teetering after its coach had no choice but to resign over a pattern of miscon...