Jim Harbaugh eviscerates Butch Jones: Worry about your own team
The latest target of a Jim Harbaugh subtweet is Tennessee's Butch Jones.
On Wednesday, Arkansas coach Bret Bielema tweeted a harmless joke about heading down to Florida to watch one of Michigan's open practices as the Wolverines spend part of their spring practice in Bradenton, Florida. Michigan State coach Mark Dantonio got in on the joke, retweeting Bielema and asking him if he wanted to get together for lunch.
On Wednesday evening, Tennessee's Butch Jones joined the party, asking Bielema and Dantonio if they'd mind if he joined them.
Mind if I join you guys for lunch? @DantonioMark @BretBielema

— Butch Jones (@UTCoachJones) March 2, 2016
Haha, lol, crying laughing emoji. It's all hilarious, right?
Well, even though Bielema tweeted on Thursday that he can't make it because the NCAA won't let him, it appears that Michigan coach Jim Harbaugh just can't let anybody else have the last word, so he responded to it all himself.
There was something weird about it, though, because Harbaugh didn't respond to Bielema, or Dantonio. He only responded to Jones.
Suggestion to my Rocky Top colleague, rather than lunch in Florida you might spend your time and focus attending to your present team.

— Coach Harbaugh (@CoachJim4UM) March 3, 2016
Jones and Tennessee, of course, are dealing with problems that are a little bigger than Michigan practicing in Florida right now.
They may be college football coaches, but this is just further proof that high school never really ends.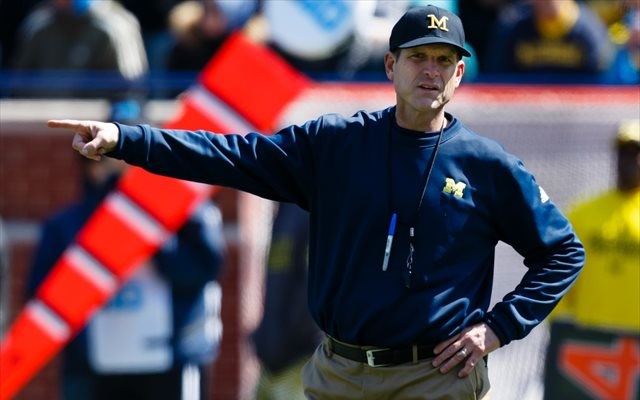 Show Comments
Hide Comments
Our Latest Stories
Louisville and quarterback Lamar Jackson travel to Huntington for a game against Marshall

The Bulldogs were a fortunate 3-0 prior to getting crushed 45-14 on the road in Oxford

After crushing the Spartans, Wisconsin is looking like the team to beat in the Big Ten Wes...
Ken Starr and Art Briles are no longer with Baylor following an offseason investigation

The Minnesota defensive end laid out Colorado State's quarterback with a clean, devastating...

The SEC East rivalry is one of the most hyped games of the young season