Jim Rome on Pat Tillman
CBS Sports Radio host Jim Rome's comments reflecting on the 10th anniversary of Pat Tillman's death.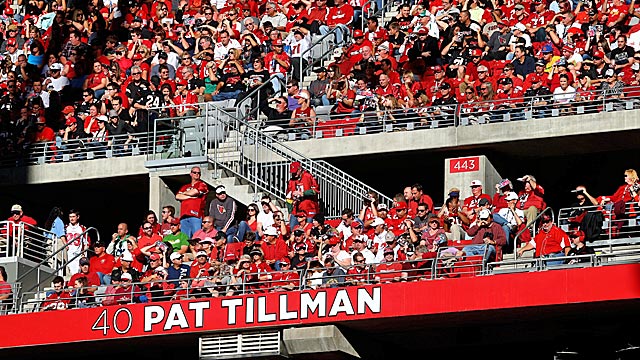 Jim Rome has a unique perspective on Pat Tillman. The nationally syndicated radio host on CBS Sports Radio was asked to speak at Tillman's memorial 10 years ago. 
Tillman had become a "Jungle Legend" on Rome's show for his insight, knowledge and bluntness. I reached out to Rome while for comments on Pat while putting together a column on Tillman this week. As you can read here, his reflections are poignant and emotional. 
Jim's not the only one who misses Pat Tillman.
"Full disclosure, I didn't know Pat Tillman very well but I knew him well enough to know that the first time I had him on my radio show, he was a very different guy.
"He was still at Arizona State and even on the phone -- crazy as it sounds -- you knew he was an outlier. Most college kids I interview, especially back then, are a little awkward and unsure of themselves. Obviously, they're college kids on a syndicated radio show. They haven't had the media reps. It's not where they live.
"And back then, there was no social media, but he was unlike any college athlete I had every interviewed -- different in how he showed up, what he said, what he thought and how his mind worked.
"He was a rock star, and when I asked what it felt like to beat ASU's arch-rival Arizona, described it as a 'nice, swift ass-kicking,' and a Jungle Legend was born. He would come on the show again and again, and even showed up for one of my tour stop appearances in Arizona.
"I'm paid to be objective but I'll say for the record I loved him as a guest and admired the hell out of him as a man. When he enlisted in the prime of his NFL career and left seven figures on the table, I was shocked but not surprised. Who does that? No one but Pat Tillman.
"But to not do so, he probably thought he would be living a lie. And if there's one thing Pat Tillman abhorred it was dishonesty. He wasn't having it from anyone else and most of all from himself.
"The only thing more shocking than Pat Tillman leaving the NFL in his prime was him not returning  home. While his sacrifice was no greater than anyone else who gave their lives for this country, it never once dawned on me that he wouldn't return home. Pat Tillman was larger than life.
"Naively, I never once considered the possibility that he wouldn't finish his tour and then return to the gridiron. I've had a pretty nice run in this industry and am grateful and proud of all the opportunities I've been afforded. But the proudest moment of my career was being asked by the Tillmans to speak at Pat's memorial.
"I remember standing in a house across the street from the [memorial] along with John McCain and Maria Shriver as we nervously awaited the start of the memorial.
"I remember what a powerful and surreal day it was as Pat's family was clearly numb and still in shock over what had happened. I remember straining to focus and make sense of everything that was swirling around me -- and all the love, awe and respect there was for Pat on that day.
"I wish I could say I knew Pat better than I did, but it was an honor to have spent any time with him at all. I think of him often."
Show Comments
Hide Comments
From graduate transfer to alcohol in stadiums, here's what's on tap for the SEC spring mee...

A roommate of Josh Smith reportedly suffered a broken nose, broken teeth, and other damage...

Looking for value picks and long shots in the SEC conference title odds
Ranking each of the 14 SEC teams by their 2017 strength of schedule

Ohio State is favored to win the Big Ten, but is it the best bet?

USC enters as the favorite, but are the Trojans the best bet?