Jim Tressel one of three finalists to become Akron president
The former Ohio State coach and Akron administrator makes the cut from 19 candidates to 3.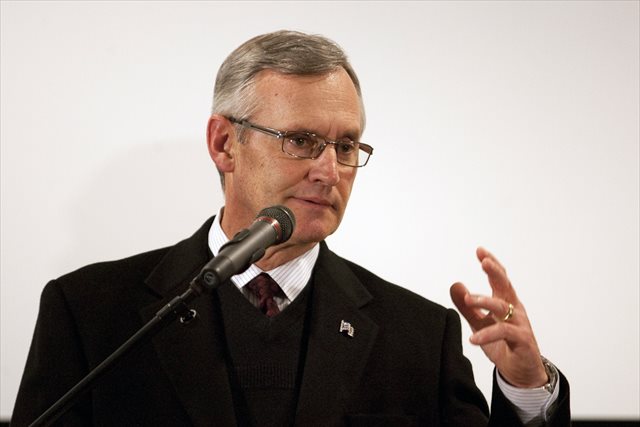 What seemed like a longshot bid by Jim Tressel to become the University of Akron 's next president suddenly seems like a much, much less long shot.
Akron announced Tuesday that the former Ohio State football coach is one of three finalists in the university's search to replace outgoing president Luis Proenza. Tressel, currently Akron's executive vice president for student success, was one of 19 applicants for the position made public in March.
Tressel has also applied to become president at Youngstown State, the FCS school he coached for 15 seasons before moving to Ohio State. Per the Cleveland Plain-Dealer, that school's presidential search committee is meeting Tuesday and will name its list of finalists Wednesday or Thursday. 
Tressel was the only one of the original 19 Akron applicants without a doctorate, but it hasn't stopped him from joining University of Maryland Eastern Shore provost Ronald Nykiel and University of Toledo provost Scott Scarborough as a finalist. The three candidates will each spend a day on the Akron campus interviewing with staff and students and attending a public forum.
"If I am selected as UA's next president," Tressel wrote in his letter of application, "I will do my level best to forge a great partnership with UA faculty to lead this University to a new era of excellence in the areas of fiscal stability, academic quality and completion excellence, and alumni and community pride."
Many, many still expect Tressel to forgo his burgeoning academic administrative career for a return to coaching when his NCAA-mandated show cause order expires in 2016. But if either Akron or Youngstown decide that Tressel's massive popularity in Ohio and fund-raising appeal outweight his relative inexperience and lack of academic credentials, that narrative might change dramatically.
Show Comments
Hide Comments
Gales suffered a neck injury against Georgia in 2015

The television schedule announcements are rolling in for Week 1 in college football

Florida State's favored to win the ACC but that doesn't make it the best play
Fedora has gone 40-25 in five seasons with the Tar Heels

We ranked each of the 14 ACC teams by its strength of schedule in 2017

The three players attempted to rob a fellow student but claimed it was a prank gone wrong