John Swofford recommends 8+1 conference schedule for ACC
ACC commissioner John Swofford officially recommended an eight game conference schedule with a requirement to play one power conference team, or Notre Dame, each season.
• 3 min read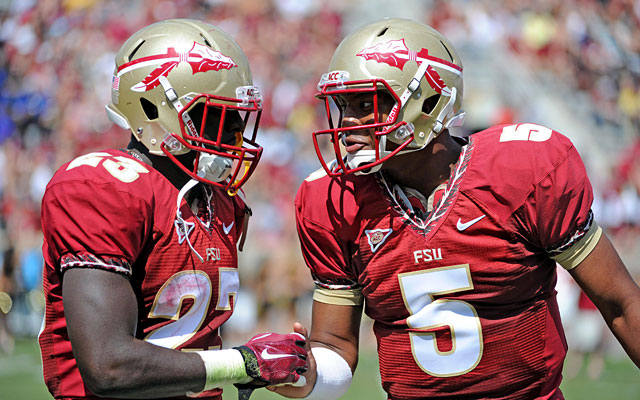 More college football: Dennis Dodd | Jeremy Fowler | Latest news
The future of the ACC conference schedule is the hot topic at the league's spring meetings in Amelia Island, Fla., this week. On Monday, commissioner John Swofford officially recommended an eight-game conference schedule with a requirement to play one power conference team, or Notre Dame, every season. 
"Our schools discussed this at great length over the last year or two. Over the two, three sessions you could see some consistency in the discussion and where this was probably leading," Swofford told CBSSports.com's Dennis Dodd.
"Our schools in recent years have probably had the strongest non-conference schdule out there. Having Notre Dame as a part of our scheduling rotation puts us in a little different situation with the other conferences. Certainly that came into play as well." 
CBSSports.com's Jeremy Fowler first reported Sunday night that league officials have been asked to consider a model simlar to the SEC, and the 8+1 model proposed by Swofford on Monday makes it sound like the ACC is headed in that direction.
Fowler noted that Notre Dame's requirement to play five ACC opponents per year make it less likely that the league will move to a nine-game schedule, and Swofford echoed that stance in his comments on Monday. This new model, in theory, still addresses the concerns of those looking to boost the ACC's strength of schedule in the College Football Playoff era. 
The new scheduling model will require very little adjustment for most ACC schools, and none at all for Florida State, Clemson and Georgia Tech thanks to their annual rivalary games against in-state SEC opponents. In fact, per David Teel of the Daily Press, 12 of the 14 ACC schools will meet the proposed requirement in 2014. 
Only #ACC teams not playing a power conference opponent or ND this year are Wake and NC State.

— David Teel (@DavidTeelatDP) May 12, 2014
Florida State coach Jimbo Fisher reacted to Stanford coach David Shaw's comments earlier this month calling out the SEC. FSU goes into 2014 with one of the toughest schedules in the country playing Notre Dame, Oklahoma State and Florida as well as the rest of the improved ACC.
"Do you tell me that us playing eight conference games and playing Oklahoma State, Florida and Notre Dame is not tougher than them playing nine conference games?" Fisher said. "I don't buy that at all."  
It doesn't hurt that the ACC is coming off a national championship and admitting Notre Dame in a football scheduling agreement. The league made another statement over the weekend finishing second to the SEC in total draft picks (42).
The model still has to be ratified by the conference faculty athletic reps on Thursday. There are still several unanswered questions. As of Monday, Swofford was unsure if other independent schools like Army, Navy and BYU would count as a power conference foe. 
Navy is joining the American in 2015. BYU is a curious case. The SEC made a point in announcing its scheduling format of saying the school would not be counted as a BCS-level opponent. The Cougars are in a unique position -- along with Army and Navy -- having no automatic access to the New Year's Six playoff bowls unless they finish in the top four. If BYU isn't considered a major opponent for the ACC, that's another blow against its independence.
The scheduling model does not rule out scheduling FCS opponents, but the commissioner said they might address that in the future depending on the results of the College Football Playoff.
It's clear now that the Big Five conferences are all over the map on schedule strength. The Pac-12 and the Big 12 are playing nine conference games. The Big Ten goes to nine in 2016. The SEC and ACC are going with the 8+1 (BCS opponent). The ACC has a head start in the schedule-strength department with Notre Dame. The Big 12 remains the only Big Five member without a league championship game.
"It is a non-factor from a TV perspective," ESPN senior vice president, programming acquisitions Burke Magnus told ESPN.com's Brett McMurphy. "There are benefits and drawbacks to both. Eight [games] gives you a slightly higher number total number of games and nine gives you more intra-conference games but a smaller total number of games overall. It is reallly a wash either way."
"Our concern is the ACC," Swofford added. "We're here to make the best decisions we can make for our league. There's nothing that mandates that every conference has to play the same number of conference games. There's nothing that mandates every conference has to have a championship game either. I respect the decisions other conferences make."
 --Dennis Dodd contributed to this report
Show Comments
Hide Comments
Twenty-eight of 95 early entry prospects went undrafted

The SEC and Michigan each had great weekends in the 2017 NFL Draft

Rawleigh Williams III left the field on a stretcher after a neck injury
Jim Harbaugh wants more college football programs to embrace the international trip

It seems there's a lot of talent in the SEC

There are all sorts of drafts out there and these are my favorites