Kent State mourns unexpected death of center Jason Bitsko
The Golden Flashes announced that starting senior center Jason Bitsko, 21, died unexpectedly Wednesday morning from an undetermined medical issue.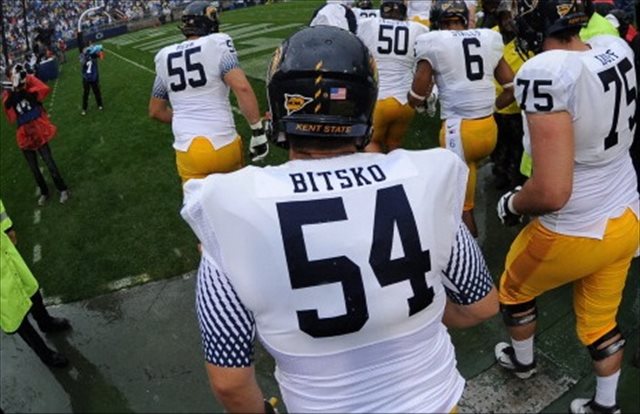 Kent State senior center Jason Bitsko died unexpectedly Wednesday at the age of 21, the school announced.
According to a statement, Bitsko was found unresponsive in his off-campus apartment at approximately 9 a.m., with police attributing his death to an "undetermined medical issue."
"Kent State University and the entire Kent community mourns his passing," Golden Flashes athletic director Joel Nielsen said. "We are heartbroken by the news of Jason's death. Our thoughts and prayers go out to his family, friends, teammates and everyone whose lives he touched."
A native of Huber Heights, Ohio, Bitsko started all 12 games for the Golden Flashes in 2014 and would have been the team's starting center for a second consecutive season. He was given the team's Gerald and Victoria Read Award in April "for exemplifying hard work and dedication beyond the call of duty."

"Our players, coaches and everyone involved with our team are hurting because he was family," said Kent State head football coach Paul Haynes. "As a team, we will come together and get through this one day at a time."
Bitsko's final, poignant tweet:
There are 86,400 seconds in a day. Make sure you use one of those to thank god for everything you have #stayfocused

— Baby Elephant (@isthatbitsko) August 14, 2014
Show Comments
Hide Comments
The three players attempted to rob a fellow student but claimed it was a prank gone wrong

Unique Brissett was pretending to be a WR with scholarship offers from multiple Power Five...

These are the players who college football coaches simply can't live without
Welcome to the world, Flynt Anderson-Foster Pruitt

Baylor should value faith over football and do what's right in the wake of seven Title IX...

The conference will adopt two divisions when it becomes a 10-team league in 2018