Les Miles gets contract extension at LSU, raise to $4.3 million per year
One of the most successful coaches in college football will be paid even more handsomely than he was before.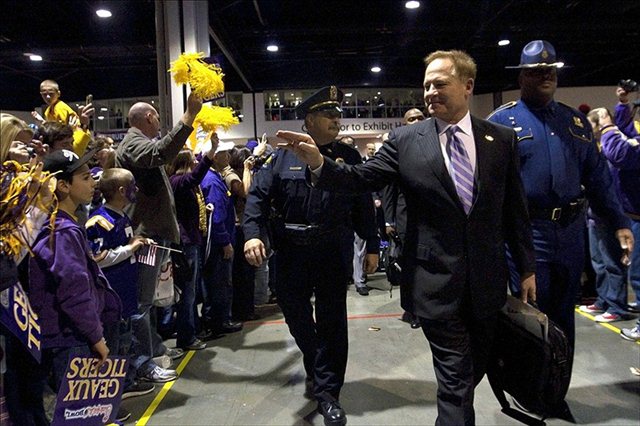 Les Miles will see plenty more of the LSU faithful in coming seasons. (US Presswire)
Les Miles was already one of the highest-paid coaches in college football, but after another 10-win season -- one that came one heart-breaking drive against Alabama from sending his LSU Tigers to Atlanta for a second straight SEC Championship game -- he's about to earn even more.
LSU announced a new contract for Miles Thursday, one that offers him a two-year extension through the 2019 season and increases his annual salary from $3.75 million to $4.3 million. The contract will be presented to the LSU Board of Supervisors for approval Feb. 1.
Per the USA Today coaching salary database, that half-million-plus raise will draw Miles even with Ohio State's Urban Meyer as the fourth-highest-paid coach in college football, behind only Alabama's Nick Saban, Texas' Mack Brown, and Oklahoma's Bob Stoops.
"Les Miles is one of the most successful coaches in America and he has the LSU program in position to compete for championships each and every year in the most dominant football conference in the country," LSU athletic director Joe Alleva said in a statement. "He recruits at an elite level, his players graduate and he is a respected member of the community. We are proud he will lead the LSU football program for the long-term future."
Miles has compiled an 85-21 record in his eight-year tenure in Baton Rouge, having won 10 or more games in six of those seasons and finishing lower than second in the SEC West just once. He is already the second-winningest coach in school history.
But even that sparkling record and the new contract shouldn't be confused for easing the pressure on Miles. If anything, the bigger dollars attached to Miles' name will likely only cause more fans to wonder why for all his accomplishments, Miles has won just one SEC West (and SEC) title the past five seasons and watched Saban's Crimson Tide become the dominant force in the conference.
That's also not to say Miles is on anything like a hot seat, of course; as the firmly entrenched company he's keeping in the $4.3 million-and-above club would indicate, it's going to take several years' worth of the kind of disappointing seasons Miles seems incapable of producing to force him out. Barring disaster, the new contract means we should still be seeing press conferences like this one for years to come ... thank goodness:
For more college football news, rumors and analysis, follow @EyeOnCFB on Twitter, subscribe to our RSS Feed, college football newsletter, and get the Eye On College Football Podcast from iTunes. You can follow Jerry Hinnen on Twitter here: @JerryHinnen.
The Buckeyes are big favorites to win the Big Ten's East division as well as the conference...

A look at the where the Nittany Lions stand five years later through the eyes of four unique...

Freeze resigned as Ole Miss coach, and the insider team at OMSpirit.com breaks down the im...
Freeze left a fastball over the plate and The Oxford Eagle took advantage of it

Tim Tebow joined the show right after a baseball game to chat about football and more

Tebow joined the 247Sports College Football Podcast this week to discuss a variety of topi...