Letter of complaint sent to Clemson over team's religious activities
The Freedom From Religion Foundation has sent a letter to Clemson citing 'constitutional concerns' over how Christianity is used in the public school's football program.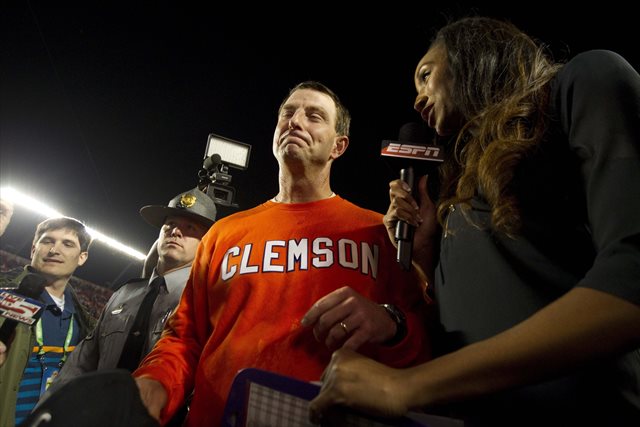 More Swinney: Names Stoudt QB | Featured in NCAA's anti-union memo
An organization dedicated to the separation of church and state has sent a letter of complaint to Clemson over what it views as the promotion of Christianity within the publicly funded school's football program.
The Greenville News reported Tuesday that the Freedom From Religion Foundation has written to the school to cite its "constitutional concerns about how the public university's football program is entangled with religion."
"While student-athletes can pray, conduct Bible studies and engage in religious activities, the coaching staff, as public employees, should not be doing that with their student athletes," FFRF attorney Patrick Elliott told the News. The organization suggested Dabo Swinney eliminate the position of team chaplain (currently held by former Tiger James Trapp), cease distributing Bibles, and stop organizing religious activities such as devotionals.
"He has every right to be a religious person and to engage in these activities. But he doesn't have the right to do that as a part of his university coaching position," Elliott said. "There needs to be a complete separation between his religious views and demonstrating that and encouraging that with people under his charge."
Clemson spokesperson Cathy Sams told the News the school had not yet completed its review of the letter, but also said -- in no uncertain terms -- that Swinney had not abused his position with regards to his faith.
"No one is required to participate in any religious activities related to the football program," Sams said. "It's purely voluntary. Religion and faith is a big part of Coach Swinney's personal beliefs, but it is in no way required. There is no mandatory participation."
The FFRF said it had submitted an open records request and also cited emails and what the News termd "published articles." Those articles very likely include this November 2013 piece from the Chronicle of Higher Education titled "With God On Our Side," which examined the prominent role of Christianity within the Tigers program.
Swinney's emphasis on religion also made headlines in 2012, when a photo of future NFL receiver DeAndre Hopkins being baptized at practice in his full practice gear -- shared on Twitter by Clemson receivers coach Jeff Scott -- went viral.
Show Comments
Hide Comments
Twenty-eight of 95 early entry prospects went undrafted

The SEC and Michigan each had great weekends in the 2017 NFL Draft

Rawleigh Williams III left the field on a stretcher after a neck injury
Jim Harbaugh wants more college football programs to embrace the international trip

It seems there's a lot of talent in the SEC

There are all sorts of drafts out there and these are my favorites