Louisville president: ACC 'would be a great conference for us'
Louisville isn't exactly tying its future to the Big East. Can you blame it?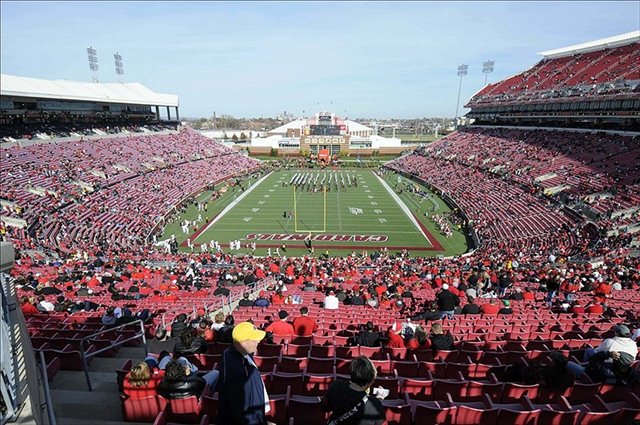 Papa John's Cardinal Stadium will host ACC football if the Cards get their wish. (US Presswire)
With Rutgers the latest team to exit the Big East and the new playoff structure officially confirming the league's status as the East Coast's Mountain West rather than a true power player, the conference's future has never looked less bright. 
So it's no surprise that Louisville is looking for a lifeline out. With the Cardinals and Connecticut the leading candidates to fill the void in the ACC left by Maryland's departure for the Big Ten, Louisville president Dr. James Ramsey left no doubt about where he would prefer his university to be affiliated in the future.
"[The ACC] would be a great conference for us, if we ever had that opportunity," Ramsey told WDRB. "It has great academic schools, great tradition and history going back to 1953. It's changing, has picked up, of course, some schools that were an integral part of the Big East. It's a wonderful conference."
As for whether the ACC was reciprocating that affection, Ramsey would only say that "there's a lot of interest" from several conferences and that he had not spoken to the ACC directly. (WDRB also reported, however, that both Ramsey and athletic director Tom Jurich had "informal discussions with parties inside the conference.")
Ramsey paid the requisite lip service to the Cardinals' current home, but stopped well short of making any sort of suggestion he wouldn't leap at the chance to move somewhere bigger and better.
"It's been a great home for us," Ramsey said. "It was a huge step up for us athletically and academically. The Big East has been good for us, we want to see the Big East be successful whether we're in the Big East or not in the Big East.
"But today we're in the Big East, and will continue to work and do everything we can do to help it be successful."
What Ramsey means by that, of course, is doing everything aside from not making open advances towards another conference. But can you blame him? With the Big East's TV contract up for renewal and the conference's power and influence as its low ebb, there's simply no arguing that membership in the ACC doesn't offer benefits well beyond what the Big East can.
If one of the "Big Five" conferences is calling, there's no reason for the current Big East members not to get out while the getting is good -- and Maryland's decision means the getting may be as good as it will get for a while.
Show Comments
Hide Comments
These five coaches will be hot names on the market after the 2017 season

The Big 12 could be wide open in 2017 ... we mean it this time

Rhule's stance on sexual violence is much-needed for a program that's been submerged in co...
The former Oregon coach was most recently the coach of the San Francisco 49ers

Gales suffered a neck injury against Georgia in 2015

The television schedule announcements are rolling in for Week 1 in college football