LSU AD unhappy with SEC 'leadership' in rivalry decision
LSU athletic director Joe Alleva made his feelings on the SEC's decision to maintain permanent cross-division rivalries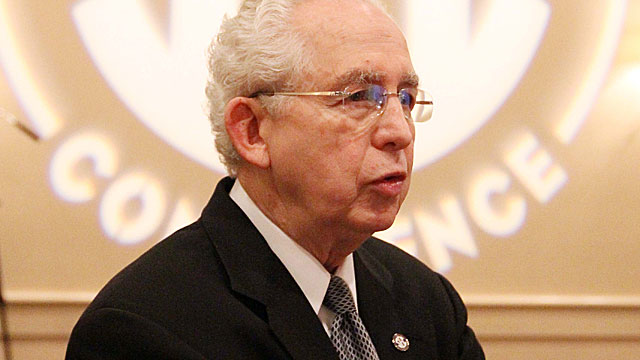 More SEC: Sticking with 8-game schedule | Dodd: Scheduling genius
For years, LSU athletic director Joe Alleva has made clear where his football program stands on its annual cross-division rivalry with Florida: It's unfair, and he wants out.
Alleva didn't get his wish Sunday, as the SEC's decision to maintain its 6-1-1 scheduling format will force the Tigers to continue playing the Gators on a yearly basis. While acknowledging the importance of the preservation of Auburn's rivalry with Georgia and Alabama's with Tennessee, Alleva made no effort to hide his disapproval Sunday night.
"I'm disappointed in the fact that the leadership of our conference doesn't understand the competitive advantage permanent partners give to certain institutions," Alleva told the New Orleans Times-Picayune. "I tried to bring that up very strongly at the meeting today. In our league we share the money and expenses equally but we don't share our opponents equally."
Alleva said that the league could have allowed Auburn, Georgia, Alabama and Tennessee to keep their series while every other team rotated both cross-divisional games, but that proposal was also voted down by teams voting for their own "self-interest" over "competitive balance."
"If I'm Ole Miss and I'm playing Vanderbilt, I'll vote to play Vanderbilt," Alleva said. "If I'm Mississippi State and I'm playing Kentucky, I'm going to vote to play Kentucky."
As we wait to hear from Ross Bjork and Scott Stricklin over those comments, it's worth noting that Alleva is correct that the SEC's scheduling has been and will continue to be unbalanced; he points out that since 2000 LSU has played Florida and Georgia 19 times to Alabama's 8, and no, that's not entirely fair.
But for starters, the cyclical nature of college football means that SEC schedules are never going to be perfectly balanced. (Would LSU really have preferred Missouri or Tennessee to Florida last season?) There's the fact that with the college football playoff's ascension, one SEC loss will very rarely -- if ever -- be enough to cost an eventual SEC champion its national title hopes. And then there's this:
Result of Florida-LSU game has kept loser out of SEC title game 6 times (since 1992). Losses cost Florida 4 SECCG appearances, LSU only 2.

— Thomas Goldkamp (@Goldkamp247) April 28, 2014
Let's take a moment and weigh up the costs of the Florida series for LSU -- 2 missed SEC title games in 21 years -- vs. the benefits of, say, this:
Alleva is well within his rights to advocate for the most frequent possible route to championships for his football program. But this is college football, and there's also something to be said for the most frequent possible route not always being the best one. The SEC's expansion to 14 teams, coupled with the decision to stay at an eight-game schedule, means that matchups between the league's cross-divisional heavyweights will be rarer than ever; Florida and Alabama will play just twice every 12 years, ditto LSU and Georgia, ditto Auburn and Tennessee. But the Tigers and Gators will still have the pleasure of one such marquee matchup every single season.
Is that worth a tougher road to Atlanta? Maybe, maybe not. (Though we'd say so.) But it's certainly worth something. 
Show Comments
Hide Comments
Kirk Merritt claims 'jock itch' was the reason he exposed himself to two tutors

The former coach weighed in on the new NCAA recruiting rules

Wiggins has played more than 30 games in the ACC and SEC during his career
Our panel of experts drafted the best sports video games that have ever been created

The players allegedly conspired to steal belongings from another student's dorm room

Harbaugh handed the Pope a Wolverines helmet and special shoes