Mailbag: Buckeyes BCS bid; Jameis ready; Trickett's travels
Here is the weekend mailbag. Among the topics covered: Ohio State's chances in 2013, Florida State and Clint Trickett's next move.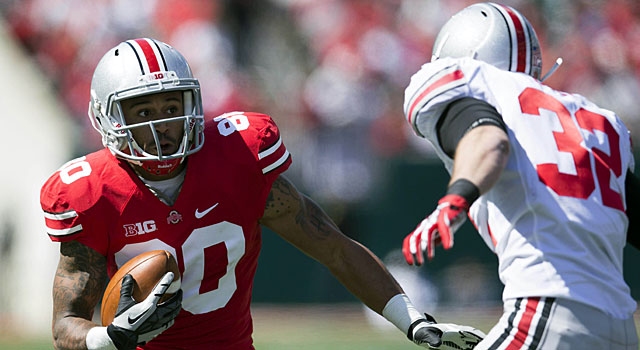 Here is the weekend mailbag. As always, you can send questions to me via Twitter to @BFeldmanCBS:

From @carlrainey89: Do you think it's possible that the Buckeyes can go undefeated and not make the title game?

Like I've said a few times before, until someone in the Big Ten beats Urban Meyer, I'm not picking against his team, especially now that QB Braxton Miller  has had another offseason to develop as a passer, refine his touch and hone his timing with his receivers, etc. They have a good stable of running backs and Meyer is high on his tight ends and the emergence of WR Philly Brown. The biggest question mark personnel-wise is replacing all the talent and experience Ohio State Buckeyes lost on the defensive line, but word is that  Noah Spence and Adolphus Washington have had great springs. They can be difference-makers. The schedule also is very favorable, and I like their chances to make it through the regular season unscathed. And if they go 13-0 (and are undefeated for the second consecutive season), I seriously doubt they'd be lower than No. 2 (behind an SEC champ) in the polls.

Of course, it's way too early to speculate with much confidence on these scenarios, but since you asked ... Judging from the other conferences' prospects, the only leagues I suspect could produce a team that may have a shot of trumping an undefeated OSU would be the Pac-12 or the Big 12, and the latter will have all its teams starting in the preseason polls behind the Buckeyes.

From @NathanWilliams: Why does FSU always have to have HIGH exception each year? Can't they have a "down year?"

Fair question. Talent can be intoxicating. We in the media, similar to coaches and personnel people, can get sucked in by potential. Of course, terms like talent and potential are pretty fickle. I know some folks tend to equate talent to how many stars a guy had as a recruit, which is a little too murky of a process to me. But I'll go back to something a few NFL writers asked me at the NFL Combine a few months ago in Indy: How can Florida State Seminoles have produced all of these guys and not have come close to winning a BCS title? (None of the Noles I asked in Indy had much of an answer.)
The sentiment is, whenever you have talent, you have a chance, and so we in the media often wonder, "Will this be the year the Noles get things figured out and finally break through?"

What seems to be missing is the leadership and a spark that enables them to battle through and find a way to win those games when they're struggling with some underdog team primed for an upset.
I'm convinced they still have the personnel on both sides of the ball to play with anyone, but at issue is this: Do they have that X-factor guy to lead them through? And that leads me to ...

From @BnkNoleBrent: Can J Winston be this year's Johnny football?

Well, folks are already comparing Jameis Winston to the Noles' old Heisman winner Charlie Ward, so why not compare him to the first freshman to win the Heisman? Winston seems to have everything a coach could want in a young QB. Trent Dilfer, who spent more than a decade playing QB in the NFL and now works with young quarterbacks with the Elite 11 camp, raved about Winston and says he has first pick in the draft-type talent. James Coley, who coached Winston last season at FSU, gushed about the Alabama native too when I visited with him in March.
My biggest takeaway from talking to Coley about him was the type of leader he said Winston is, how he connects with every type of personality he meets. That kind of charisma and leadership skill isn't very common, Coley said.

Winston has a good group of receivers and backs to rely on and some experience on the O-line. It helped Manziel that he had an excellent O-line that gave him some time to get used to the speed of the game. One big key for Manziel was how he developed as the season went on. He learned to trust the system more. He settled down and didn't get amped up as it he did last September. That's a challenge for all young quarterbacks, especially ones who are used to having so much success with their feet the way Manziel and Winston are when things appear to break down.

From @GARRETTGOIRISH: What do you think about the Irish reloading on defense? And year 2 of Everett Golson era?

Another off-season and the learning experience of playing against that Alabama defense should benefit Golson in his development at Notre Dame Fighting Irish . I do think he'll miss his security blanket in TE Tyler Eifert , but there are capable skill guys around him led by WR T.J. Jones . Golson completed under 59 percent of his passes. That needs to get up to the mid 60s.

As for the defense, as long as the front is anchored by Louis Nix and Stephon Tuitt , the Irish should be very formidable. Those guys will be a problem for any offensive coordinator, and they should make the transition easier for younger players like DE Sheldon Day and Jarron Jones . Also, the young CBs, especially KeiVarae Russell , who held up surprisingly well last season, should also be better. Obviously, they'll miss MLB Manti Te'o , but we'll see just how much. His replacement Jarrett Grace is promising. The talent around that spot is more experienced than it was last season. That bodes well. The Irish will be in my preseason Top 10.

From @EddieLeeRider: Should WVU fans be excited over FSU QB transfer, or not so much given what we have in the pipeline?

This question, and a bunch of others that I received Friday came after I reported that former Seminole QB Clint Trickett is taking an official visit to West Virginia Mountaineers this weekend, according to my sources. Trickett's dad, Rick -- the Noles' O-line coach -- used to coach at WVU. If the younger Trickett opts for WVU, he'll go into a situation where the Mountaineers have two guys battling to replace Geno Smith -- Paul Millard and Ford Childress.

Millard knows Dana Holgorsen's offense well but really hasn't done it in games, while the bigger, more athletic Childress is further behind in his time with the program. Trickett has more game experience than both. He could be a good triggerman for WVU. At the very least, he'd increase the level of competition there for the job, and if you're a WVU fan, not only would the move help depth, it should benefit the position. I'd figured Millard would be the starter for WVU in September, but if Trickett goes there that may change.

From @cresean: How does the eligibility in (Trickett's) case work? How does he avoid sitting out after the transfer?

Trickett will have graduated from FSU, so same as with Russell Wilson and others, he's eligible to go to a FBS school and play immediately. Better still, for him, since he has two seasons of eligibility remaining, not one, he can also transfer to an SEC school if he wants and wouldn't get caught up in that conference's rule that came after Jeremiah Masoli moved on to Ole Miss, so Kentucky Wildcats and Auburn Tigers also may be in play for Trickett.
It's not great, but it isn't necessarily bad, either

From bio pics to comedies and documentaries, here are the college football movies you can't...

Suspended junior Grant Perry pleaded guilty to resisting arrest
Pepsi will limit its usage of blue -- outside of its logo -- on Utah's campus for Holy War...

Will Sunderland allegedly stole and tried to sell video game systems

National powerhouse Alabama joins the throng of schools trying to lure five-star QB Justin...