Mailbag: Everett Golson's time at QB school; Fresno or Northern Illinois?
Everett Golson was the Notre Dame starting QB and plans to be the starter in 2014. The 6-0 QB has spent the past two months in California and explains how he's a different quarterback.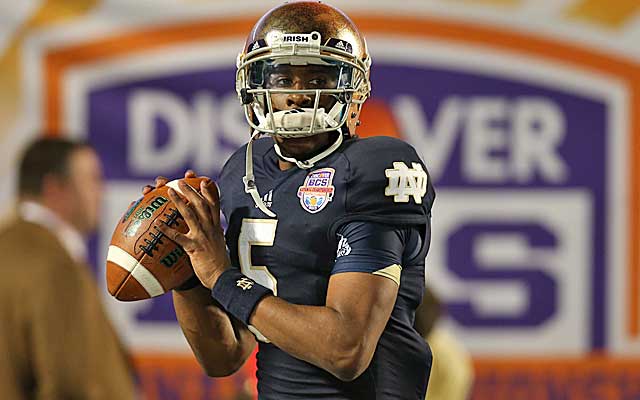 Here is the Weekend Mailbag. As always, you can send your questions to me via Twitter to @BFeldmanCBS:
From @SethDSanders: who pays for george whitfield to tutor these qbs? In particular Golson, who is not on the team. Isnt is $1000's?
It's the responsibility of the QB or his family to pay for such training, and obviously his school's compliance staff has to sort out those financial records. I watched Everett Golson train on Thursday in San Diego with his private quarterback coach George Whitfield. The former Notre Dame starter has spent the past two months in Southern California working with Whitfield after being suspended for academic reasons. (The Irish QB admitted that the suspension stemmed from his getting caught cheating on a test. He first explained that situation in an interview with Sports Illustrated.)
I asked Whitfield and Golson about the cost of the quarterbacks time in San Diego. Whitfield usually helps quarterbacks find accommodations. For lodging, it was around $60 a day for the two months. For Whitfield's training, it was about $500 a week. So combined that's between $7,500-$8,000.
"At this point, I don't know if it's politically correct to say it like this, but it's a business decision for me," Golson said Thursday. "I'm hoping that it'll pay off in the future."
During Golson's time in California, he has spent a lot of time refining his footwork, and has even come around on gripping the laces of the ball. All his life, Golson had the unconventional habit of just grabbing the ball. He has even said in the past how he used to shuffle the ball not to get the laces. But now he's using the laces. In some situations, like on jet screens, just catching the snap and chucking the ball is best but those circumstances are hardly the norm for most QBs.
"You know how much strength you have to have to throw like that all the time?" Whitfield told me with a tinge of awe, underscoring the juice the 20-year-old QB has in his arm.
"My middle finger and my ringer finger always wanted to act as one, and because I was throwing without the laces they could do that. But throwing with the laces has made me have more dexterity in my hands and I can sense a difference for the better with more control," Golson said, adding that he does get even more velocity on some throws now.
"There's still an adjustment period with touch (passes) because you do have more grip with the laces but it is for the better, and mechanically, George has really helped with my footwork a lot. For a vast period of my career I depended on my arm -- all arm. George taught me to step through and have a base, and that's where I've seen the most improvement."
Golson has also muscled up in his time in California. He played in 2012 at 185 pounds, and was at 190 this summer, but is now up to 202. He said he plans on getting back to Notre Dame around mid-January.
Golson will return to South Bend as a more mature quarterback, but he also will come back as a more mature person. Lord knows he's had plenty of time to think about what he did and how many people he let down.
While the public humiliation was one of the toughest parts of his well-chronicled departure from Notre Dame last spring, Golson said the hardest part was telling his family about what happened, especially his grandmother. "I could tell she was really heartbroken." He said that he's very eager to get back with his teammates.
From @GCarter3: No one can provide a reasonable explanation as to why Fresno is ranked above NIU, can you please shed some light on the matter?
Good question. My hunch is it has more to do with the perception of the teams the Bulldogs beat in the first month vs. the teams Northern Illinois beat. Fresno State beat Rutgers on a Thursday night national TV stage, and then a few weeks later, beat Boise State on a Friday night TV stage. Boise State, which has been so outstanding in recent years, has since proven to be in the midst of a down year at 6-3 with its two other losses by at least 17 points. That national TV awareness -- and familiarity -- is my best guess for Fresno trumping NIU.
NIU's best win may be at Iowa in the opener, 30-27. I think Iowa has proven to be a little better (5-3 with wins at Minnesota and over Northwestern) than most expected coming off a 4-8 season. Beyond that, it might've been a 43-39 win over a loaded FCS team, Eastern Illinois, which actually thumped a San Diego State team that Fresno barely beat last week.
From @benfro6: If the UM-FSU game is the blowout the press is predicting, is Jameis Winston the undisputed Heisman front runner?

If Winston plays like he did against Clemson or basically in every other game, and Florida State rolls Miami, I suspect he will come out of it as the leader on most Heisman polls. But in order to win the Heisman, he's going to probably need to have momentum from this weekend. The Noles don't have a ranked team on the rest of their regular-season schedule. Not sure how much he can prove against Wake Forest or Idaho or Syracuse. The Florida game in Gainesville can help, but Florida is beaten down right now. Assuming they hammer Miami this weekend, beating them a second time in the ACC title game probably won't carry a ton of weight.
Winston's two nearest competitors for the Heisman are Marcus Mariota, who lost a bit of momentum in a good, but not spectacular 28-point win over UCLA. But Mariota has a huge opportunity with a big Thursday night stage at Stanford up next. Stanford's D carries a lot of cred and beating the Cardinal on the road would seem a lot more significant than beating a Miami team that is undefeated but, as many believe, is still a year away from being a legit heavyweight.
The other contender is Johnny Manziel, who won it last year, but is on a two-loss Texas A&M team. In reality, Manziel's best performance came in one of those losses, to Alabama. Just how great he was that day is reflected by how little every other team has been able to do against the Tide this season. Manziel has two more chances to win voters over: at No. 13 LSU (Nov. 23) and at No. 9 Mizzou (Nov. 30). To some voters, I think it's Winston or Mariota's Heisman to lose since both their teams are undefeated.
From @ChuckTodd: Perception trumps reality in politics&CFB. So if Miami wins tmro, that mean Miami is title contender or FSU "overrated"?
Probably both. If -- and I think this is a huge if -- Miami upsets Florida State, it means the Canes' defense played its best game probably since the Coker Era. The Noles not only have a stud QB, but a great collection of receivers and an experienced O-line. I just don't see Miami having the personnel right now to slow all that down.
UM does have some firepower on offense, but Stephen Morris has been battling an ankle injury and that's affected him quite a bit in the past month. The only way I could see Miami winning is in a shootout. That said, winning this game in Tallahassee would be the most impressive win anyone has had this season and would have to merit title contender status. But there still would be plenty of skepticism. For one, because the ACC has underachieved for so long, UM plays in a league without a bunch of respect; and the other half of that is Miami, while being undefeated, has not been very impressive in those wins. (The Canes survived a visiting Florida team that isn't even ranked any more and in the past three games, has been outscored in the first half, 48-40 against Georgia Tech, North Carolina and Wake Forest -- whose combined record is 11-12.) And, of course, even IF Miami does upset a three-TD favorite, the Canes would have to prove that it wasn't fluke by probably doing it again in the ACC title game next month too.
From @PaulPabst: NFL prospect QB that will not go pro after this season?
My guess is Brett Hundley may stay. I've heard how some NFL draft analysts are saying he's a top-10 pick, but he looks like he needs at least another season before he's ready. I know he's playing behind a young, patched-up O-line, but he still has been pretty shaky the past two weeks as the competition got a lot tougher. He's thrown just two TDs to go with four INTs in the last two games and only completed one pass play over 16 yards in those games. Now, if Jim Mora leaves UCLA, that could change things, but if not I think Hundley will opt to stick around for another season rather than put his name into an incredibly deep QB pool.
From @jaredstill: if you're the new Texas AD, how do you not back-up the burnt-orange Brinks truck for Art Briles?
Only way is if you've offered $10 mil to Nick Saban and he doesn't turn you down. Briles has done wonders at Baylor. He has a dynamic system and is as "Texas" as they come with a lot of love from the state high school's coaches.
I've heard some knock his age, but at 57 (he'll turn 58 in December), he's only two years older than Saban was when he took the Alabama job. Briles also is in excellent shape and seems much younger than being in his late 50s. On Twitter I've seen some UT fans grouse that Texas can't hire the Baylor coach. That's stupid. If Baylor beats UT to cap off a perfect regular season, Longhorn fans should beg Briles to be their next coach.
From @MonstaMikeTZav: With the recent struggles of Rutgers, is Diaco a possible replacement for Flood as RU moves into Big 10?
Kyle Flood led Rutgers to nine wins in his first season and he'll probably lead the program to another bowl this season. Hardly any time to panic. He's not on the hot seat or even close to it.
From @DanRubsenstein: Non-CFB: CBS people aside, who's on your four-man NBA on TNT type CFB show? Active/retired coaches/players all on the table.
I'm going to approach this by trying to project people NOT working as TV commentators now in the national stage as the people around a host to be determined later.
To me, Charles Barkley is the biggest reason why that TNT show is a must-see studio show, but it's also the chemistry he has with Ernie Johnson and Kenny Smith. Barkley's the ultimate wild card. He's opinionated and seems spontaneous without being a complete troll or wrasslin villain. What also helps him is because the NBA isn't 125 teams with a bunch of new standouts emerging every season, it's not like it requires as much research and hustle to get up to speed on things the way it would in college football. Players/personalities are defined in a way they aren't in the college football world.
I bring the latter point up because some of the more colorful characters I've ever interviewed or seen on camera who were intriguing (Simeon Rice, Terrell Suggs, Clinton Portis, Brandon Lloyd, Barry Switzer) would have to commit to getting up and staying up on the players involved. And not just trying to get by on their personalities.
I'd also want to find my "nerdy athlete" guy, and hopefully he's got a sense of humor where he can play off the other characters on the set. I could see Kirk Cousins being good. Same for Russell Wilson, Greg McElroy, Troy Smith, Chase Daniel and Andy Dalton. I know Jordan Palmer is a really sharp guy and great quote and think he could be a gem.
As for the coach role, my first pick would be Rich Rodriguez. (Full disclosure: I worked with him in TV for a season and know how excellent he was in it.) He's really quick on his feet and self-effacing. I think Dana Holgorsen would be interesting because he's the most blunt coach out there. His no BS-persona could be a hit with viewers tired of getting coach-speak.
I'd like to see an O-line coach on there because their perspective usually is really insightful. My first pick on that would be Vandy's Herb Hand, although there's something about the vernacular of Texas-bred O-line coaches that would be awesome. My week around A&M's B.J. Anderson had me thinking I could do a book just on the one-liners and sayings of O-line coaches. Two other kind of off-the-radar people I'd be curious about are Nevada coach Brian Polian (a fantastic storyteller) and Manny Diaz. He's worked in TV on the production side and is very analytical and open to thinking about new metrics.
Show Comments
Hide Comments
Jim Harbaugh wants more college football programs to embrace the international trip

It seems there's a lot of talent in the SEC

There are all sorts of drafts out there and these are my favorites
It's time to say goodbye to so many great players

What colleges and conferences had the most first-round picks in the 2017 NFL Draft?

Myles Garrett and Leonard Fournette were top-rated prospects coming out of high school