Mal Moore steps down as Alabama AD due to health reasons
Mal Moore, the 73-year-old Alabama athletic director best known for hiring Nick Saban to end string of football hiring misfires, is retiring because of health reasons.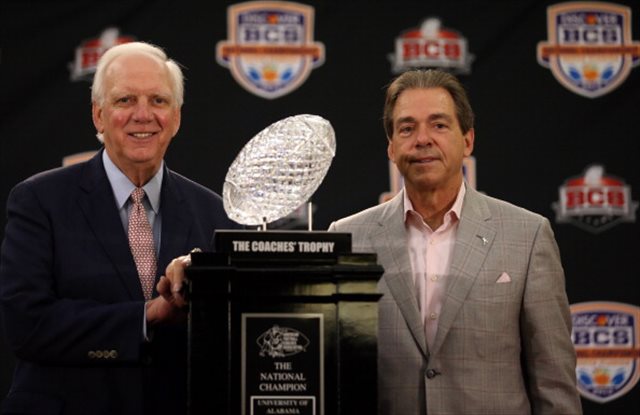 Citing health concerns that recently forced him into the hospital, Alabama athletic director Mal Moore has resigned, the school announced Wednesday.
"As many of you may know, due to factors related to my health, I am at a point that I can no longer fulfill my duties as athletics director in the true championship manner the position requires," Moore said in a statement. "While I have to focus on my health issue, I look forward to maintaining an ongoing working relationship with this great University as special assistant to [Alabama president] Dr. [Judy] Bonner ...

"I cannot adequately express what the University means to me. It has been a part of my life for more than 50 years, and I feel honored to have served the Crimson Tide as a player, coach and administrator."
Moore was hospitalized last week with pulmonary problems and transferred to Duke University Medical Center for further testing. He also spent two days in a hospital last fall with an irregular heartbeat but was cleared to return to work upon his release.
Moore, 73, is an Alabama graduate and former national title-winning player and assistant coach under Bear Bryant before being hired as athletic director in 1999. Though Moore had overseen various across-the-department successes, he was under fire in 2006 after hiring Dennis Franchione, Mike Price and Mike Shula to run the Crimson Tide football program, none with the success that Alabama fans demanded.
In one of the great what-if's of recent college football history, Moore approached Rich Rodriguez after dismissing Shula, only to ultimately be rebuffed. That paved the way for Moore to hire Nick Saban instead, forever cementing his legacy among Tide supporters.
Moore has been involved in 10 Alabama football national championships as player, coach or athletic director.
Names floated as Moore's possible replacement include Dave Hart, Tennessee athletic director and former Tide administrator under Moore; Shane Lyons, deputy director of athletics at Alabama; and Ozzie Newsome, former Tide player and Baltimore Ravens general manager, though CBSSports.com's Jason LaCanfora reports that's unlikely at this time.
Show Comments
Hide Comments
Our Latest Stories
The Deadman gave a speech to the Texas football team, which

Trent Thompson was spotted at Georgia's spring practice

The ex-Notre Dame star may have started a change in postseason college football
When asked how you win the Heisman Trophy, Watson said 'I guess lose a couple games'

Tre'von Armstead was arrested on charges stemming from 2013

The former Baylor player was convicted in August 2015