Manziel pleads guilty to misdemeanor charge from 2012 fight
Texas A&M quarterback Johnny Manziel has pleaded guilty to a single misdemeanor charge stemming from his 2012 fight and arrest in College Station.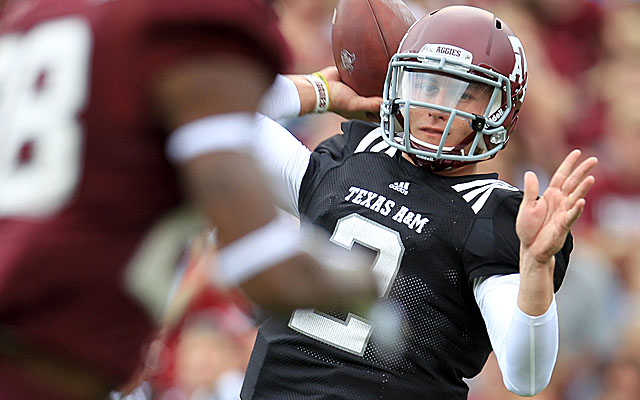 Johnny Manziel's offseason of endless headlines continued Monday as the Heisman Trophy winner pleaded guilty to a single misdemeanor charge stemming from his 2012 arrest in College Station, the Eagle of Bryan-College Station reported.
Manziel had originally been charged with three misdemeanors after College Station police found him and another man fighting on the street between 2-3 a.m. on June 29, 2012. After producing a fake ID and lying about his age, Manziel was charged with disorderly conduct, possession of the fake ID and failure to identify himself to police.
Manziel pleaded guilty on Monday to the failure to identify charge, reaching an agreement that would see him pay the maximum $2,000 fine, pay $232 in court costs and spend two days in jail. The judge ruled that Manziel had already served the jail time, however, when he was jailed following the arrest.
The other charges were dismissed as part of the agreement.
"He took responsibility for his actions that night and is ready to put what happened that night behind him," Manziel's attorney, Cam Reynolds, told the Eagle.
According to statements given to police, Manziel and a friend were walking home on June 29, 2012 when the friend directed a racial slur at a 47-year-old man. The man confronted the friend, and the incident escalated until Manziel and the man exchanged punches.
As a result of his ensuing arrest, Manziel was initially suspended for the entire 2012 season and planned a transfer. But a letter from new Texas A&M coach Kevin Sumlin helped overturn the suspension, paving the way for Manziel's historic Heisman-winning campaign as a freshman.
Manziel's guilty plea comes just days after his surprising (and much-discussed) early departure from the Manning Passing Academy in Louisiana. 
The loaded Alabama running back depth chart is losing one name

Give the first-year coach of the Tigers a little bit of time, and he'll be fine

What if, Nick Saban wonders, recruits start skipping their senior year of high school foot...
These three teams could surprise in 2017

The redshirt senior was one of just four returning starters on the Gators' defense

With changes at Texas and Oklahoma, the guys preview the Big 12 in 2017