Manziel's behavior makes game even more dangerous for Heisman winner
Johnny Manziel's obnoxious act could be inviting danger. Opposing players might want to line the Heisman winner up for a cheap shot.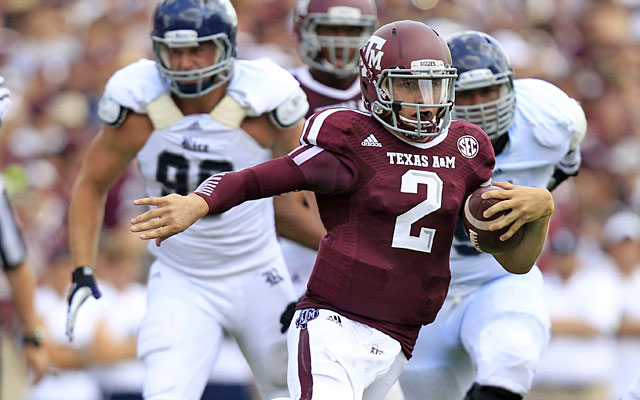 I now fear for Johnny Manziel. I fear for his safety on the field because his attitude and conduct are overshadowing his magnificent talents.
I fear that some amped-up defender -- targeting rule or not -- is going to take his (cheap) shot. You know, try to level Texas A&M's mouthy Heisman winner with a completely inappropriate and career-threatening blow. It has happened before. The NFL said the New Orleans Saints were once advocating that type of conduct. We would be stupid to think something similar doesn't go on at some level in college.
Disclaimer: That type of conduct is absolutely abhorrent and should not be advocated, but you never know.
That's why I fear for Johnny Manziel.
There it is on Page 7 of the latest NCAA football rulebook: "Every participant in the collegiate football scene shares a responsibility for ethical conduct that enhances the future of this American tradition."
We've seen both brilliance and crap from Johnny Football. The word "ethical" has rarely been attached to it. If he can't keep from getting into it with those renegades from Rice, how is he going to comport himself at Arkansas, at Ole Miss. Those are games after Alabama.
"Can you imagine Tom Brady or Roger Staubach doing something like that?" veteran NFL talent evaluator Gil Brandt said after watching Manziel get yanked from Saturday's game by A&M coach Kevin Sumlin.
Opponents have to see a mental hole now in Johnny Football's shining armor. The same guy who didn't see anything wrong with walking into the belly of the beast at a Texas frat party can't keep himself from jawing with Owls.
They call it getting into a guy's "kitchen," his head -- rattling him mentally so that his game suffers athletically. Or worse.
"I'm sure they will [try]," Brandt said of future opponents.
I fear for Manziel because -- until now -- he had an amazing ability to compartmentalize his life. Once he got on the field, it didn't matter if Uncle Nate was Captain Kangaroo. Off the field he may have been having a ball but on Saturdays he was ballin.' I'm not so sure now.
Worse, I see a loophole in the rules meant to protect him. A small one, perhaps, but still an opening. New this year is an automatic ejection for a violation of Rules 9-1-3 and 9-1-4. The rules themselves are four years old: No leading with crown of the helmet and no targeting of a defenseless player. It's the ejection for such conduct that is new.
That's where I see Manziel and those like him as somewhat vulnerable.
From that NCAA rulebook, here are the definitions of a "defenseless" player:
• A player in the act of or just after throwing a pass.
• A receiver attempting to catch a pass, or one who has completed a catch and has not had time to protect himself or has not clearly become a ball carrier.
• A kicker in the act of or just after kicking a ball, or during the kick or the return.
• A kick returner attempting to catch or recover a kick.
• A player on the ground.
• A player obviously out of the play.
• A player who receives a blindside block.
• A ball carrier already in the grasp of an opponent and whose forward progress has been stopped.
• A quarterback any time after a change of possession [i.e., interception].
Nowhere in those descriptions is there anything about a running quarterback. You already know that scrambling might be what Manziel does best. But by rule, as a runner, he wouldn't be "defenseless," one of the deterrents that is supposed to cut down on cheap shots.
"The difference being, if he [the ball carrier] gets hit in the head or neck area he's prepared for the hit," said one supervisor of officials who spoke before A&M's game and was not talking specifically about Manziel. "He knows he's going to be hit. The semantics of it is, he's not defenseless."
Wait, what? So it's actually less likely that a defender would be ejected for targeting a scrambling quarterback like Manziel than, say, a receiver going up for a pass? Sort of. Any official can call a flagrant foul and kick an offending player out of the game for any heinous act.
However, "practically speaking a ball carrier can't be a defenseless player," said Big 12 supervisor of officials Walt Anderson, "not if he's just running in stride."
To be clear: It's a personal foul if some guy wants to take a shot at Manziel as he scrambles around, but not necessarily an ejection.
Worth it?
"Defenseless," said one supervisor, "is a bad word."
You can already see the tension building on the field in regards to Manziel. To paraphrase that offending former Saints defensive coordinator, affect the head and the body withers. I fear someone, somewhere is going to try.
A bunch of us in the press box Thursday screamed foul when a South Carolina punt returner was nailed with a helmet-to-helmet hit by a North Carolina player as the returner went to the ground. Definitely a penalty, definitely not an ejection it turns out. The returner was a ball carrier and was not "defenseless." (Officials missed the play anyway.)
Through Sunday, five players had been kicked out due to the adjusted targeting rule. The list includes Manziel's teammate, A&M corner Deshazor Everett, who was ejected for hitting a Rice receiver. Last year, according to NCAA numbers, approximately 100 players in 800 games were ejected for targeting -- or one every eight games.
So there is hope that things are getting better, that an unhealthy culture is changing. To equal that rate, a total of nine players would have to be ejected in the 70-plus games that will be completed in Week 1 by Monday night.
Five ejections. That's it for now. Maybe that culture is changing. Maybe Johnny Football has nothing to worry about. But it's scary to think it only takes one brain-dead knucklehead to target Manziel's helmet-encased brain.
Show Comments
Hide Comments
Kirk Merritt claims 'jock itch' was the reason he exposed himself to two tutors

The former coach weighed in on the new NCAA recruiting rules

Wiggins has played more than 30 games in the ACC and SEC during his career
Our panel of experts drafted the best sports video games that have ever been created

The players allegedly conspired to steal belongings from another student's dorm room

Harbaugh handed the Pope a Wolverines helmet and special shoes