Mark Dantonio: 'We would have been national champions' in 2013 playoff
Michigan State's Mark Dantonio believes his team would have won a four-team playoff if it had been in place for the 2013 season.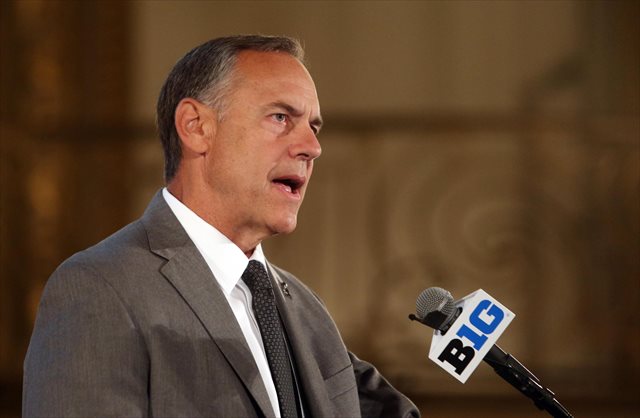 More college football: Jon Solomon | Dennis Dodd | Jeremy Fowler | Latest news
It's fair to say that with the number of teams allowed to play for a national championship doubled from two to four, most college football coaches will be delighted with the advent of the College Football Playoff. But you can count Michigan State 's Mark Dantonio as one coach who's disappointed that Playoff didn't arrive one season earlier.
"I thought we would have been national champions, to be perfectly honest with you," Dantonio told reporters at Big Ten media days Tuesday, per the Detroit News. "I think we would have had a shot to do that because I think we were playing, coming out of the end of the season -- that stretch coming out of the season -- we were playing great football and we were believing in ourselves."
It's fair to assume Dantonio's team would have been selected for a four-team 2013 playoff, with his Spartans ranked fourth in the final BCS standings after defeating previously unbeaten Ohio State in the Big Ten Championship game. 11-2 Stanford placed fifth, with 11-1 Big 12 champions Baylor sixth. 
Of course, defeating some combination of eventual BCS champion Florida State, SEC champion Auburn and likely 11-1 Alabama would have been quite the daunting task, but Dantonio told the News he wasn't "going to doubt ourselves or sell ourselves short."
With that defense, he shouldn't -- which shows that even if Dantonio's argument is entirely hypothetical, it's one he ought to make anyway, and one that shows the necessity of the Playoff. At 12-1 and fresh off a seismic win over an undefeated rival, Michigan State's 2013 resume entering bowl season was basically equivalent to Auburn's, who had the same record, the same conference title, and the same seismic win. If SEC partisans will argue Auburn played a more difficult schedule, Spartan supporters would point out their team dominated theirs, winning all nine Big Ten games by double digits. Many would argue Auburn had the nation's best offense; even more would argue Michigan State had the nation's best defense. But in the eyes of the pollsters, this wasn't even an argument, as the Spartans couldn't even pass the Tide for third in the BCS standings, much less challenge Auburn for second.
Michigan State should be very good in 2014. But putting that defense back together again without the likes of Darqueze Dennard, Max Bullough or Denicos Allen -- and riding it back to a Big Ten title and actual playoff berth -- won't be easy, and it's possible the Spartans won't ever have the chance they should have had last season back again. 
College football should absolutely be applauded for finally moving toward a system that will give more deserving teams a shot at a national title. But Dantonio's comments are a nice reminder that it shouldn't be forgotten that this move is one that still comes years too late for many.
Show Comments
Hide Comments
Unique Brissett was pretending to be a WR with scholarship offers from multiple Power Five...

These are the players who college football coaches simply can't live without

Welcome to the world, Flynt Anderson-Foster Pruitt
Baylor should value faith over football and do what's right in the wake of seven Title IX...

The conference will adopt two divisions when it becomes a 10-team league in 2018

Like his brother, Lanard Fournette will be running the ball for the Tigers