Miami AD on Golden: 'I believe he will be our coach'
Miami athletic director Blake James remains confident Al Golden will stay on as the Hurricanes' head coach.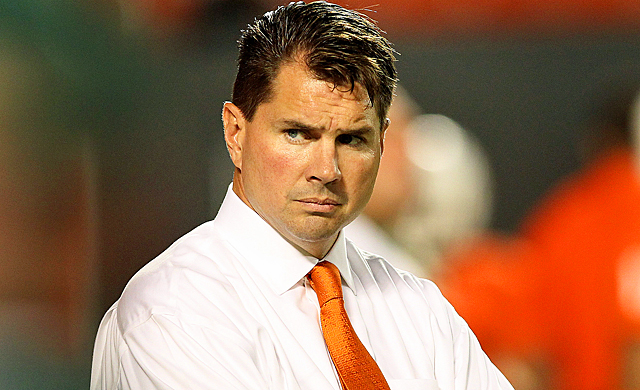 Plenty of observers in Happy Valley and elsewhere expect Al Golden to be the next head coach at Penn State, where the current Miami coach is reportedly interviewing Saturday.
But Hurricanes athletic director Blake James isn't one of those people, texting the South Florida Sun-Sentinel Saturday that he remains confident Golden will stay on as Miami 's coach for the forseeable future.
"Al and I are in regular communication," James wrote. "He is our football coach and I believe he will be our coach going forward."
Golden has been one of the hottest names for the Nittany Lions job since the moment Bill O'Brien left it for the Houston Texans, along with Vanderbilt's James Franklin and the Tennessee Titans' Mike Munchak. A Penn State alumnus and former head coach at Temple, Golden has guided the Hurricanes to a 22-15 record despite NCAA sanctions.
Golden was reportedly scheduled to interview with the Nittany Lions Friday before inclement weather delayed the meeting.
A Pennsylvania native, Franklin spent his Saturday defeating Houston 41-24 in the BBVA Compass Bowl, giving Vanderbilt its first-ever consecutive nine-win seasons.
Munchak, like Golden a former Nittany Lion player, was fired Sunday as the Titans' head coach.
Show Comments
Hide Comments
Our Latest Stories
Nebraska's Michael Rose-Ivey has received criticism for kneeling during the national anthe...

Florida State got right after defeating USF but the Seminoles still expect better from the...

These are the trends to watch as the 2016 season enters its second month
Ranking the best teams in the country based on nothing but their performances in 2016

The SEC is starting to sort itself out after four weeks as the Aggies and Vols creep up on...

News that Oklahoma is changing its mind on Big 12 expansion hurts the Cougars the most