Miami dismisses LBs Figueroa, Blue after sexual battery charges
Alex Figueroa and Jawand Blue, expected to be reserve linebackers from the Miami defense, are off the team following their arrests.
• 1 min read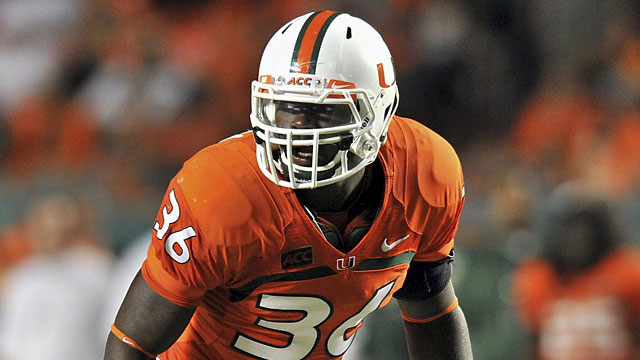 Miami linebackers Alex Figueroa and Jawand Blue were dismissed Tuesday following sexual battery charges from an on-campus incident.
According to the Coral Gables Police Department, Figueroa and Blue brought the juvenile victim back to a dorm room in the early hours of July 5. The victim reported the incident to school police, who then reached out to the Coral Gables authorities.
According to athletic director Blake James, both players have also been suspended from school and barred from campus facilities.  
"Earlier today, I permanently dismissed Jawand Blue and Alexander Figueroa from the UM football team," Miami athletic director Blake James said. "The University has also suspended the students from school and barred them from all campus facilities while the University conducts an internal investigation and continues to cooperate with local law enforcement. Any allegation of a sexual assault is extremetly serious, and the University will not tolerate conduct that threatens the sanctity and safety of our students and our campus. We hold all of our students -- especially the student athletes -- to the highest standards of a moral conduct.
"The University is committed to maintaining a safe campus environment for all." 
Figueroa, a three-star prospect coming out of Fork Union Military Academy in 2013, appeared in nine games for the Hurricanes last season. Blue recorded appearances in two games and registered one tackle.
Show Comments
Hide Comments
Our Latest Stories
The Aggies proved against Arkansas that they are the toughest competition the Crimson Tide...

Tennessee finally beat Florida, while Auburn and LSU had one of the craziest finishes of the...

Auburn's win over LSU was cause for celebration at Toomer's Corner, but one of the trees was...
It's just about over for the Mad Hatter in Baton Rouge

The final play of the Stanford-UCLA game resulted in a whole lotta money changing hands

Jackson looked unstoppable carving up the Thundering Herd on Saturday night