Miami seizes huge moment in Florida win with plenty motivation to spare
Miami Hurricanes, Al Golden needed this moment after two years of NCAA misery. Florida's play was ugly, but Miami is savoring the moment
• 4 min read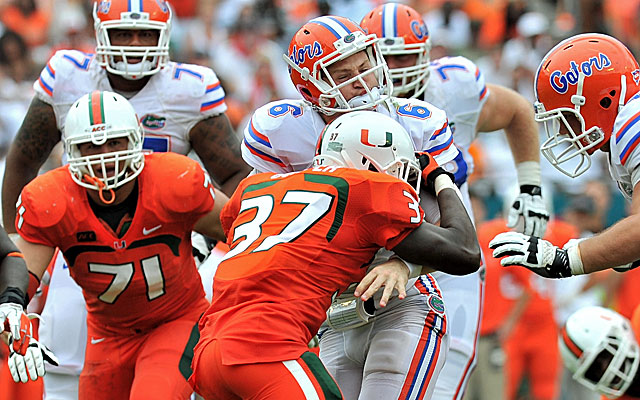 MIAMI -- In a sea of sweaty man-hugs and goofy high-fives after arguably Miami's biggest win of the last decade, Tyriq McCord was thinking about real estate. 
Well, the Hurricanes linebacker was thinking about family, which reminds him of real estate. McCord's mom, Frances, his motivation for playing, really wants a new house, Tyriq says, either in her native South Carolina or in South Florida.
The two talk about that a lot, because it's fun to dream, so much so that Frances recently sent Tyriq a South Florida real estate brochure to his dorm.
One day he'll get her the house. On Saturday, he gave her a sack-fumble.
"What are you playing for?" asks McCord, who recovered the fumble at the 4-yard line with 4:32 left to set up a Duke Johnson touchdown that sealed a 21-16 win over No. 12 Florida. "That's what I think about when I play."
Linebacker Denzel Perryman asks himself the same question. Perryman is expecting a daughter soon. He's playing for her. Got her 13 tackles and a forced fumble Saturday.
"I'm out there for them," Perryman said of his family.
Coaches and players often push the tired 'family' cliché when talking about unity within a football program, but how else could Miami have found itself here?
The way Miami knocked off the Gators was as ugly as the last three years have been in Coral Gables. As if it wasn't bad enough the Hurricanes won no more than seven games in each of the last three years and has gone 28 rounds and counting with the NCAA, Miami had to watch Florida's offense milk more than 38 minutes of clock.
They had to watch the Hurricanes offense go 1-for-11 on third down, including four consecutive three-and-outs during the second and third quarters.
If Florida quarterback Jeff Driskel was even remotely competent on this day, the Gators win and all is normal with Sunshine State football.
But when the Hurricanes' offense went dry, UM got a lift from the side of the ball that wasn't supposed to shoulder the load. When the Canes needed a lift, the defense usually delivered it, starting with Perryman popping the ball out of running back Matt Jones' hands with his helmet on the game's first drive.
The Canes had been shell-toed in the mouth for two years on and off the field. The least they can do is pick up after each other.
"It's my time to shine, you feel me?" McCord asked when explaining how UM defenders take turns making plays.
Everyone in Sun Life Stadium felt the Canes in a postgame celebration that was the most well orchestrated play Miami ran all day.
Once UM tight ends coach Brennan Carroll shouted "Go, Go, Go" shortly after the clock hit zeros, the entire team followed coach Al Golden like cattle. It was a sprint to the end zone to acknowledge fans.
That lasted about 30 seconds, until the team migrated in orderly fashion to the other end zone.
Coaches collided for hugs, but no lingering. Everything was quick. Within a few minutes, the Miami contingent was completely off the field.
It was as if Golden had been thinking about this for, oh, a few years.
"We've been through so much," said Golden, his usually unmoved hair disheveled.  "It was almost cathartic -- 26 months just unleashed there in the last 4 or 5 seconds. Proud of these guys. ... We couldn't handle this setting a year ago."
Golden then went into downplay mode, knowing it's only Week 2 and he expects more from his group.
He also knows the Golden era needed a launching point. He got it. Miami claimed its most impactful win since the 2004 Orange Bowl over Florida State.
"We've kind of been thinking about this game for a long time now," said quarterback Stephen Morris, who, save a beautiful 52-yard touchdown strike to Phillip Dorsett in the first quarter, was relatively quiet and missed several throws.
The ACC was always going to need Miami in its battle against national perception. Clemson and Florida State are doing their thing but need help. Miami has the recruiting base and the tradition to get back.
There's little reason to think Miami won't get better.
Florida's elite defensive athleticism limited Miami's offense, but the Hurricanes' offensive line is stout and should improve. Johnson won't be held to 2.8 yards per carry very often.
NFL scouts believe Morris can be special once he gets a better feel for the game.
An NFL personnel executive told CBSSports.com this week (before the game) that Morris might have more upside than Louisville's Teddy Bridgewater, who's widely considered a top pick in the 2014 Draft.
"Bridgewater is a better quarterback," the executive said. "But Morris has a power arm. He can get a lot better. Some of the quick things he can do with his arm are impressive."
Despite throwing for 291 yards and completing 22 of 33 passes, Driskel made Miami's defense look awfully good at times, namely an interception to defensive back Tracy Howard that was way behind receiver Trey Burton.
But you can't discount UM for being opportunistic. Miami has endured ugly days, and it knows how to win that way, too.
As a family.
"They had the guts to win like that," Golden said. "I just want them to enjoy this tonight though."
Show Comments
Hide Comments
Moss, a tight end, announced his decision to transfer from NC State this spring

A police report states that the future UGA offensive lineman choked his girlfriend

Clint Lewis, who has Down Syndrome, has been with the program for 22 years
Hurd left Tennessee during the 2016 season

But it worked, and that's what matters

TV viewing and live stream information for the 2017 Alabama spring game