Michael Bowie dismissed; Oklahoma State's offensive overhaul takes another hit
Returning starter dismissed for (all together now) an undisclosed violation of team rules.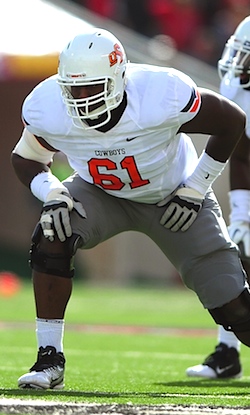 As if Oklahoma State didn't have enough to worry about offensively with the transition from a 28-year-old All-American at quarterback to an 18-year-old true freshman, now it has to go back to the drawing board to figure out who's going to protect the kid's blind side: Starting left tackle Michael Bowie has been dismissed from the team for the proverbial violation of team rules, according to coach Mike Gundy, leaving a 6-foot-4, 320-pound hole on the offensive line where a reliable starter used to be. Auditions for keeping Wes Lunt in one piece begin Friday.
"Mike was a good player for us, but it didn't work out," Gundy told reporters Wednesday as he left a local golf tournament. "And I think the one thing people have to realize that it's extremely difficult to play college football and there are certain standards and requirements that you have to meet in order to be a part of our football team, and that's coaches and players. We don't really bend for anybody at any particular time.
"The team will be fine. Another player steps in. We expect them to compete."
Of course, in the absence of three full-time starters from last year's Fiesta Bowl run, Bowie was already another player stepping in. As a part-time starter at left tackle, he played in every game and started five last year, his first out of Navarro (Texas) Junior College, and didn't allow a sack; the OSU line as a whole yielded only 12 sacks all season, and only one in the games Bowie started. This year, he was penciled in as a full-time answer to the departure of another former juco transfer, Levy Adcock, who channeled the splendor of his power mullet into back-to-back All-Big 12 nods from league coaches and a consensus All-America nod as a senior.
Adcock usually anchored the line from the right side (he occasionally moved to the left, where he was for the season-ending wins over Oklahoma and Stanford), but his departure alongside guard Nick Martinez and center Grant Garner makes rebuilding the front five a priority at least on par with replacing the more high-profile skill guys. That starts with the guards, grizzled senior Lane Taylor (36 career starts) and Jonathan Rush, a full-time starter in 2010 who was granted a sixth yearafter missing the final ten games of 2011 with a knee injury. On the outside, there's also junior Parker Graham, who started six games last year opposite Adcock, two on the left and four on the right; that experience makes him the most likely to fill Bowie's shoes on the left. But that still leaves a vacancy on one end of the line or the other, where the role of "another guy" now falls to third-year sophomore Daniel Koenig, who has the distinct virtue of having at least stepped on the field in a college game: Behind him, it's down to a redshirt freshman, Devin Davis, and incoming freshmen Michael Wilson and Greg Brantley.
The good news, as Gundy pointed out, is that he feels much more comfortable with the Cowboys' depth across the board than he was four years ago -- one of the reasons they were able to seamlessly handle Rush's knee injury, for example. Given the challenges left by natural attrition, though, it's never a good omen to have to begin dipping into the reserves so early.
Show Comments
Hide Comments
These five coaches will be hot names on the market after the 2017 season

The Big 12 could be wide open in 2017 ... we mean it this time

Rhule's stance on sexual violence is much-needed for a program that's been submerged in co...
The former Oregon coach was most recently the coach of the San Francisco 49ers

Gales suffered a neck injury against Georgia in 2015

The television schedule announcements are rolling in for Week 1 in college football