Michael Brewer to visit Virginia Tech
The transfer quarterback from Texas Tech has reportedly talked to Virginia Tech about a possible transfer.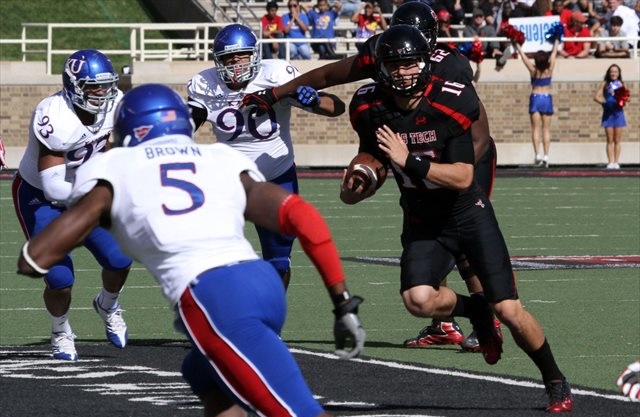 More college football: Bruce Feldman | Dennis Dodd | Jeremy Fowler | Latest news
Michael Brewer may be swapping one Tech for another.
The Texas Tech quarterback announced his transfer in January, and after being denied the ability to transfer to either Texas or TCU, Brewer has headed east.
CBSSports.com's Jeremy Fowler has confirmed that Brewer will visit Virginia Tech, The Richmond Times-Dispatch originally reported Brewer has been in contact with Virginia Tech about transferring to play with the Hokies. Brewer did say he would be visiting an unnamed ACC school earlier this month, and he also said he'd be visiting an SEC school as well.
If Brewer does end up at Virginia Tech it would be a move that made sense for him.
Since Brewer graduates from Texas Tech this spring he won't be required to sit out a season before being eligible to play. With the Hokies losing Logan Thomas to graduation, Brewer would have the chance to step right in and compete for the starting job right away. Though with spring practices opening up all over the country in the coming weeks, Brewer will have to make a decision on his future soon.
Wherever Brewer ends up, he'll still have two years of eligibility remaining.
Show Comments
Hide Comments
Jim Harbaugh wants more college football programs to embrace the international trip

It seems there's a lot of talent in the SEC

There are all sorts of drafts out there and these are my favorites
It's time to say goodbye to so many great players

What colleges and conferences had the most first-round picks in the 2017 NFL Draft?

Myles Garrett and Leonard Fournette were top-rated prospects coming out of high school