Mike Gundy says SI series helped Oklahoma St. recruiting
Is any publicity really good publicity? Mike Gundy seems to think so.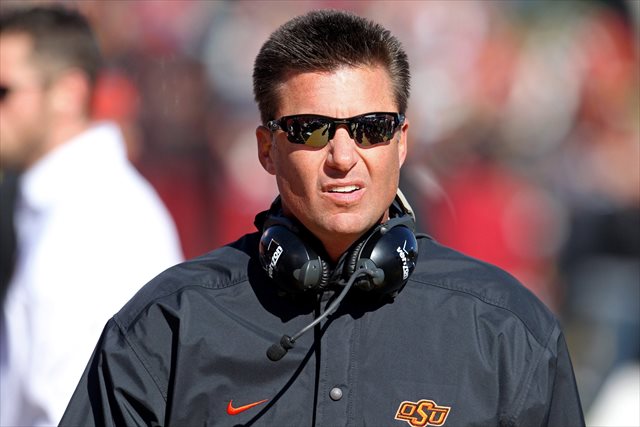 Sports Illustrated's September expose alleging NCAA violations, academic corruption, and other misdeeds at Oklahoma State generated a long series of ugly headlines and a Board of Trustees-approved independent review of the football program. Even with the buzz surrounding the series having died down and major NCAA fallout seemingly unlikely, Mike Gundy has to be unhappy with SI's report, right?
Not so much. In fact, the Cowboys coach told the Tulsa World Monday that he believes the articles were a positive for his team.
"I think it helped us in recruiting," Gundy said. "It benefited our program."
Gundy noted both that the Cowboys had added three commitments since the SI series and that "four or five players that were really good players that started calling on us and showing interest" -- interest Gundy was at a loss to explain other than the attention created by the series.
Even Gundy himself didn't seem to feel his theory was airtight ("I don't know," he said, "It was just kind of weird"). But it's not hard to imagine Gundy taking stock of the situation two months after the story's appearance -- particularly with his team 9-1 and in the BCS top-10 -- and feeling like he's entitled to something like a victory lap.
And what better way to do that than to not just claim the SI report didn't faze the Cowboys, but actually helped them?
Show Comments
Hide Comments
Our Latest Stories
The former LSU coach is looking for his next gig, but it could be tougher than it seems

TCU will have a new look for its blackout game against Oklahoma

Two of the favorites within their respective Big Ten divisions square off Saturday
The Cardinals and Tigers play what could be the game of the year on Saturday night

One of Alabama's best defenders was arrested on gun charges Thursday

Putting it all -- or just your hard-earned cash -- on the line with some confident calls for...