Mike Slive: Decision on 8-or 9-game SEC schedule coming soon
SEC commissioner Mike Slive said Monday that athletic directors will gather soon to decide whether the league schedule format for 2016 and beyond.
• 2 min read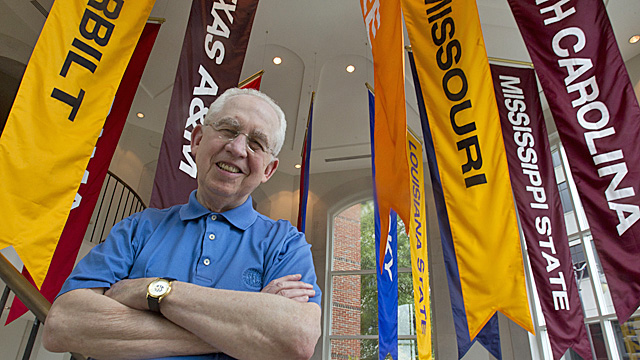 More: Slive on the future of college sports | NCAA clears Mississippi State in probe
The debate over the SEC league schedule format should end with a decision in the coming weeks, according to SEC commissioner Mike Slive.
Speaking at the Associated Press Sports Editors' Southeast Regional meeting at the Alabama Sports Hall of Fame, Slive indicated that a decision needed to be made before the creation of the 2016 league schedule. Currently, there are four formats under consideration: 
-- Eight-game league schedule with permanent crossover rivalries
-- Eight-game league schedule without permanent crossover rivalries
-- Nine-game league schedule with permanent crossover rivalries
-- Nine-game league schedule without permanent crossover rivalries
According to Slive, there may be an "offshoot" of one of those four options, "but essentially that's it."
"We tell them that all of the formats -- every one of them -- has a series of advantages and disadvantages," Slive said via the Ledger-Enquirer. "There's no one that lines up with all advantages and there's no one that lines up with all disadvantages. So people are going to have to make a decision knowing that whatever decision they make is going to have some advantages and some disadvantages."
Slive will meet with the league's athletic directors "soon," to vote and have a decision before the SEC spring meetings, which are scheduled for the final week in May.
The Big 12, Pac-12 and Big Ten (beginning in 2016) have moved to nine-game conference schedules already. The ACC is currently is set with an eight game league schedule, with Notre Dame as a partial member playing five ACC opponents per year, but has "informal interest" in exploring an "8+1" partnership with another conference.
Given the changing landscape of the College Football Playoff and the launch of the SEC Network in August, there is potential value in adding a conference game to the schedule. But losing a non-conference game from the schedule could also impact the hunt for a bowl bid for teams in the bottom half of the league. Other conflicts include the potential loss of traditional rivalries and the unbalanced schedule rotation created by those games.  
Another nugget from Slive's comments on Monday included a guarantee for the new era of autonomy for the Group of Five (SEC, Big Ten, Big 12, ACC, Pac-12). 
"If autonomy is granted to the five conferences, the full cost of attendance will be one of the priorities to discuss once we have the autonomy that we seek," Slive said. "At that point in time there has to be a process among the 65 institutions that comprise the five conferences to seek legislation."
Show Comments
Hide Comments
Rawleigh Williams III left the field on a stretcher after a neck injury

Jim Harbaugh wants more college football programs to embrace the international trip

It seems there's a lot of talent in the SEC
There are all sorts of drafts out there and these are my favorites

It's time to say goodbye to so many great players

What colleges and conferences had the most first-round picks in the 2017 NFL Draft?