Mike Slive: New benefits to athletes will be historic NCAA moment
SEC spring meetings start Tuesday with one of the lightest agendas in recent memory, but a heavy focus on NCAA autonomy. Among the issues: SEC schools agreeing on how to calculate cost of attendance.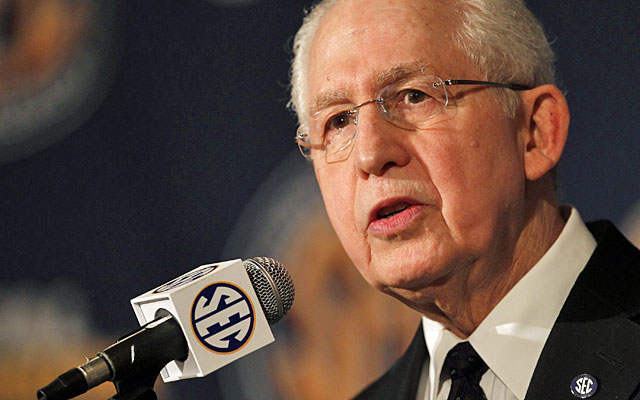 More college football: Jon Solomon | Dennis Dodd | Jeremy Fowler | Latest news
SEC commissioner Mike Slive is a history buff by nature. So when Slive considers major moments in NCAA history, he immediately thinks of Teddy Roosevelt creating the NCAA in 1906 to curb football deaths; the Association for Intercollegiate Athletics for Women folding into the NCAA in 1981; and the NCAA's football TV deal being declared illegal in NCAA v. Board of Regents of the University of Oklahoma in 1984.
In Slive's mind, the current issues about providing new benefits for college athletes can be added to that Mount Rushmore of NCAA moments.
"I consider this period of time one of the historic moments that all of us are witnesses to — an evolutionary change where we put the student-athletes first and we build our philosophies on the student-athlete rather than the so-called level playing field," Slive said. "I don't know how this comes out, but I'm optimistic the evolution will continue."
One of the lightest SEC spring meeting agendas in recent memory begins Tuesday in Destin, Fla., yet carries the heavy weight of college sports attempting to keep pace with the players movement. The SEC's meetings, like so many others across the country, will focus heavily on what autonomy means for the five major conferences if, as expected, the Division I Board of Directors in August allows them to provide unprecedented benefits and resources.
Slive said SEC schools this week will start to think about details they want included in new rules. But the most significant discussion in Destin will be about the process.
"The question to be determined is, assuming the board approves the (governance) structure, we have to develop within the 65 schools of the five conferences our own process for initiating, considering and passing legislation that relates to this," Slive said. "We really haven't focused on the details (of benefits to athletes). The right forum for that is when all of us are together. Hopefully this will pass in August and from August to January (before the NCAA convention) we would then work to develop legislation for the five conferences."
The future governance structure for the major conferences may look like "sort of a combination of the old-town hall meeting and a representative," with numerous athletic department officials speaking, Slive said.
The current proposal to create new legislation calls for two-thirds of the 65 power-conference schools and four of those five conferences. The power conferences want a simple majority and they want their league offices to be the ones to interpret those new rules.
"I don't like to guess, but I'm optimistic," Slive said of autonomy passing for the major conferences.
Providing athletes with a cost-of-attendance stipend is one of the most prominent benefits being discussed. Slive said the SEC must first determine for itself how it feels cost of attendance — the value of attending college beyond what's covered in a scholarship — should be calculated. Then once the 65 schools from the power-five conferences meet, one of the next questions becomes whether conferences mandate that their schools provide cost-of-attendance stipends and to which athletes, Slive said.
Pac-12 presidents sent a letter last week to their colleagues at the other four major conferences calling for sweeping changes to the NCAA model and autonomy for those leagues. One of the 10 proposals is a return to freshman ineligibility.
"I have not been part of any serious discussion about freshman ineligibility to this point, and I don't anticipate it," Slive said.
Boise State president Bob Kustra made noise last week with a scathing criticism of NCAA reforms. He said the NCAA has "ranged far afield" from the traditional amateur model because the five major conferences have hijacked the system to create "phony arguments about student welfare when the real goal of some of these so-called reformers is create a plutocracy that serves no useful purpose in American higher education."
Kustra specifically said Big Ten Commissioner Jim Delany and Slive  are "calling the shots for the others."
Said Slive: "There have been five conferences from the very beginning. From day one, we've said as part of our vision we want to be in Division I, we want to make sure we're all in the championships, we want to make sure the revenue distribution doesn't change, and we just need to be able to develop legislation we think is in the best interests of our student-athletes."
What Kustra's statements failed to acknowledge are the ever-increasing legal and political strains on the college sports system. There are pending lawsuits over concussions, publicity rights, scholarship values, and licensing revenue. A regional director of the National Labor Relations Board declared Northwestern football players are employees and can form a union. Hard questions are being asked by Congress.
Has Slive ever experienced a time with this much external pressure on college sports?
"Let me put it to you this way," Slive said. "I have spent a significant amount of my time working in this area this year -- more time working in this area this year than all the other years combined, setting aside being a member of the basketball committee and working with the BCS."
But Slive refuses to tie NCAA reform to what's happening in the outside world, even the O'Bannon suit, which was filed in 2009 and is scheduled for trial on June 9.
"The initial focus of O'Bannon (videogame licensing) wasn't what we're talking about now (TV broadcast licensing). That evolved later," Slive said. "Last summer we put forth a vision, long before Northwestern, before all of these current spate of lawsuits. I think those of us who have been here for a while have seen it coming. Things change. Times change. And times change for the better. The collegiate model is a valuable part of American culture."
Slive said the right question about providing new benefits to athletes should be what's best for athletes in all sports, not just football and men's basketball players.
"That's the way to think about this," Slive said, "but most of us think of it the other way."
Show Comments
Hide Comments
Twenty-eight of 95 early entry prospects went undrafted

The SEC and Michigan each had great weekends in the 2017 NFL Draft

Rawleigh Williams III left the field on a stretcher after a neck injury
Jim Harbaugh wants more college football programs to embrace the international trip

It seems there's a lot of talent in the SEC

There are all sorts of drafts out there and these are my favorites