Mississippi State adds #SNOWBOWL12 to end zone for Texas A&M game
In addition to all-white uniforms, Mississippi State will commemorate the 2000 Independence Bowl (or "Snow Bowl) in the end zone.
• 1 min read
Texas A&M's first season in the SEC has included several tributes to the past. But reuniting with old SWC foe Arkansas or renewing the annual meetings with LSU aren't the only games on the Aggies' SEC schedule with some unique history.

On Saturday, Texas A&M will play Mississippi State for the first time since the 2000 Independence Bowl -- a game later tabbed "The Snow Bowl" due to, well, all of the snow. Plenty of football games have been played in the snow, but not many of those take place in Shreveport, La.

To commemorate the meeting, Mississippi State will be wearing all-white uniforms and will likely include some tribute to the game -- a 43-41 thriller that the Bulldogs won in overtime -- during the contest.

The Bulldogs have also declared an official hashtag for the game and painted it across their end zone. The picture below (courtesy of Friends of the Program) shows the hashtag, in all it's un-snowy glory. According to Weather.com, the forecast for Saturday is a high of 81 degrees with a 0 percent chance of precipitation.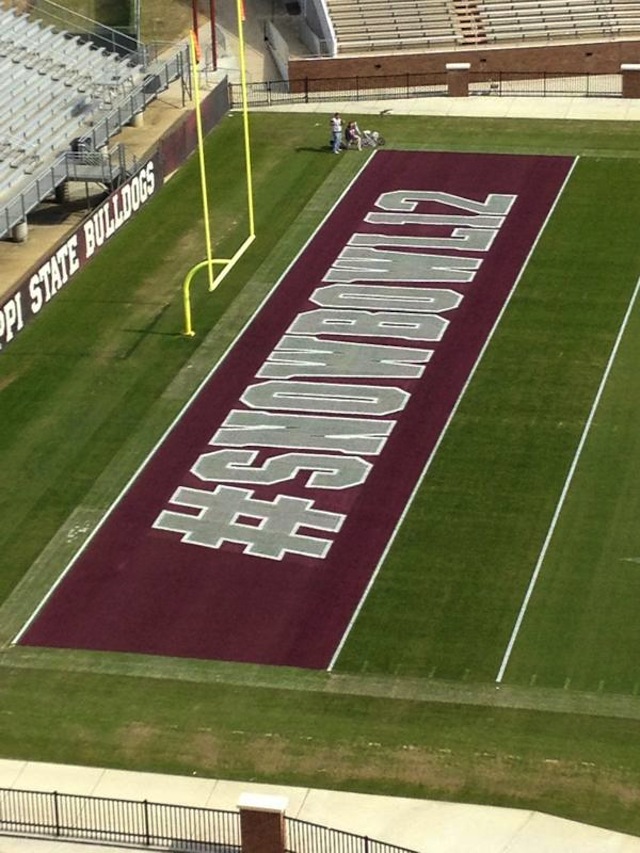 Keep up with the latest college football news from around the country. From the opening kick of the year all the way through the offseason, CBSSports.com has you covered with this daily newsletter. View a preview.

Get CBSSports.com College Football updates on Facebook
Talking season continues with the Big Ten, and Dennis Dodd sets your expectations

Corral is Florida highest-rated QB commit since Jeff Driskel

The Buckeyes are big favorites to win the Big Ten's East division as well as the conference...
A look at the where the Nittany Lions stand five years later through the eyes of four unique...

Freeze resigned as Ole Miss coach, and the insider team at OMSpirit.com breaks down the im...

Freeze left a fastball over the plate and The Oxford Eagle took advantage of it