Mississippi State fans set simultaneous cowbell-ringing record
An official from Guinness World Records made it official Thursday night at Mississippi State's 'Cowbell Yell': State fans own the record for most cowbells rung at the same time.
The Guinness World Record for "Most People Ringing Cowbells Simultaneously" couldn't really be set anywhere other than Starkville, could it? 
No, no it could not. Which is why it was set in Starkville on Thursday night at the "Cowbell Yell," a Thursday night pep rally before Saturday's showdown with visiting LSU. The Bulldogs have not beaten the Tigers in Starkville since 1999.
Thanks to the 15,000+ MSU family members for attending #CowbellYell, including the 5,748 people who broke @GWR record pic.twitter.com/cIXaGS5EtS

— MSU Football (@HailStateFB) September 11, 2015
Per the Clarion-Ledger, there should be far, far more than 5,748 Bulldog fans ringing their cowbells during Saturday's game, but the Guinness official on hand needed an exact tally of cowbells to verify the record -- a tally taken as cowbell-carrying participants entered Davis Wade Stadium for the Cowbell Yell. The logistics of taking that tally on gameday (as 55,000 fans enter the stadium) are apparently too difficult to make the record official.
The previous record according to the Guinness website was 640 cowbell-ringers in Switzerland in 2009. Approximately 1,000 ringers participated in an attempt to set the record in Royal Oak, Mich. just last month. So that Bulldogs fans were able to claim the mark Thursday doesn't come as a surprise.
Guinness World Record. Boom. RT @HailStateFB: #CLANGA #WORLDRECORD pic.twitter.com/GHrSMxgk8W

— Bob Carskadon (@bobcarskadon) September 11, 2015
And via well-named Mississippi State blog For Whom the Cowbell Tolls, yes, Dak Prescott was on hand:
ALL MY DOGS SAY? @15_DakP #CowbellYell pic.twitter.com/gu4lEk93Zo

— MSU Football (@HailStateFB) September 11, 2015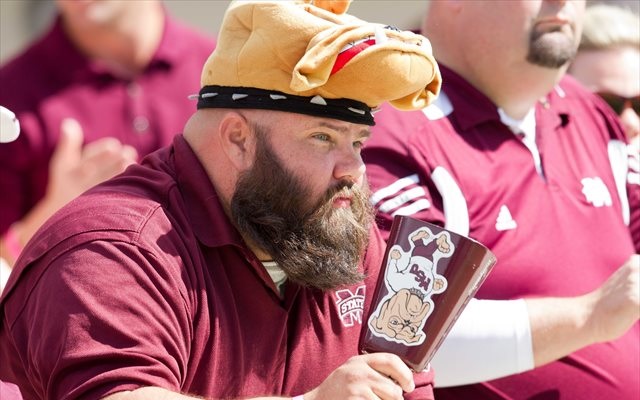 Show Comments
Hide Comments
Our Latest Stories
UNLV has been looking to upgrade its facilities

The time for South Carolina's spring game was changed for the Final Four

Sometimes, spring practice is about avoiding the negatives as much as building momentum
Paul Tyson grew up an Alabama fan but that doesn't mean he plans to play quarterback there

USF senior Hassan Childs was injured in a shooting on Saturday night

Harris chose the Tar Heels over Texas and other options