More MACtion? MAC, ESPN expected to reopen media rights deal
The Mid-American Conference, which cracked the BCS last season, has four more years left on a low-paying deal with ESPN. That could change.
• 1 min read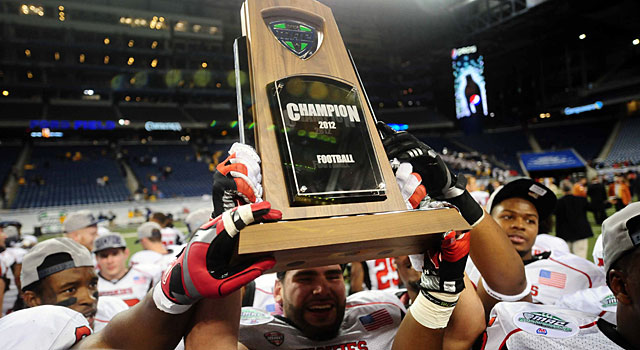 More #MACtion?
The Mid-American Conference -- fresh off a Bowl Championship Series appearance -- and ESPN are expected to reopen media rights talks at the halfway point of an eight-year deal running to 2016-17, according to sources with direct knowledge of the situation.
Though it's premature to outline potential new terms, ESPN is amenable to a possible restructure as a good business practice with its midweek football partner.
The MAC's eight-year contract with ESPN is worth roughly $1 million per year, according to a league source. Split among 13 schools, that's less than $100,000 per school. Obviously the MAC would like to increase that total.  
ESPN values the MAC's midweek appearances. The MAC is scheduled to play 11 Tuesday or Wednesday games on ESPN in 2013, plus the league title game.
Most midweek MAC games last season games had a TV rating of between 0.4 and 0.5, according to Sportsmediawatch.com, which isn't on par with power-conference numbers but enough for a handful of top-200 college football performances on the season.
MAC commissioner Jon Steinbrecher declined comment on the potential restructure when reached by phone.
Northern Illinois was the first MAC team to qualify for a BCS bowl, while Kent State finished the regular season in the BCS top 25.
Show Comments
Hide Comments
The SEC's coaches picked the league's best players ahead of the start of the season

McCaffrey was the best all-around player in 2015, but for some that's just not enough

SEC players outside the Ole Miss program will be questioned about their recruitment
The Blazers are trying to be pragmatic while restarting their football program

From best offensive player to most entertaining person, these are our thoughts on the ACC

Taking a closer look at the ACC -- and not just its top two teams -- ahead of the 2016 sea...