NCAA approves Wisconsin QB Curt Phillips for sixth year of eligibility
Veteran quarterback Curt Phillips missed the entire 2010 and 2011 seasons while recovering from three separate surgeries.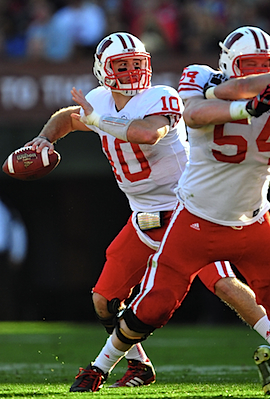 Curt Phillips started Wisconsin's final five games in 2012, including the Rose Bowl. (US Presswire)
It took Curt Phillips 4 1/2 years to become Wisconsin's starting quarterback, and he may get to keep the job a little longer. According to the school, Phillips has been granted a sixth year of eligibility to compensate for a series of major knee injuries over the course of his career, setting up a three-way QB battle this spring for the defending Big Ten champs.
A four-star recruit out of Kingsport, Tenn., Phillips was initially touted as a "dual threat," but has been better known for his bad luck: After serving as a backup in his first two seasons on campus, Phillips went on to tear the ACL in his right knee three times in the span of a little more than a year, first in March of 2010, again in November of 2010 and a third time in April of 2011. He missed the entire 2010 and 2011 seasons while recovering from three separate surgeries, making him eligible for a medical hardship waiver from the NCAA.
Last year, Phillips spent most of the season toiling as third string behind Maryland transfer Danny O'Brien and redshirt freshman Joel Stave, who split time over the first nine games. Unsatisfied, coaches turned to Phillips for the stretch run and stuck with him for virtually every significant snap through the end of the season.
Like many Wisconsin quarterbacks before him, he was at his best when asked to do the least. In his first start, Phillips attempted just seven passes in a 62-14 romp against Indiana, yielding to a ground game that rolled up 564 yards on 64 carries -- the single most prolific rushing performance by any team in the 2012 season. A few weeks later, he put the ball in the air just eight times in a thorough, start-to-finish thumping of Nebraska in the Big Ten Championship Game, where Badgers backs rolled up 539 yards on 50 carries en route to their third consecutive conference title.
For the season, Phillips completed just shy of 57 percent of his passes for 540 yards and five touchdowns, two of them coming in the final seconds of the fourth quarter to force overtime in eventual losses to Ohio State and Penn State. He was also intercepted twice, including his final pass of the season in the Rose Bowl, clinching a 20-14 loss to Stanford.
Although Phillips is technically the incumbent, the arrival of a new coaching staff under incoming coach Gary Andersen opens the door for O'Brien and/or Stave to restate their case for the starting job in spring practice. All three are similar in size and style, and all three saw roughly the same number of snaps in 2012. As usual, the winner will be the one who makes the fewest mistakes when the ground game isn't making his job look easy, which isn't likely to be very often.
Show Comments
Hide Comments
There are all sorts of drafts out there and these are my favorites

It's time to say goodbye to so many great players

What colleges and conferences had the most first-round picks in the 2017 NFL Draft?
Myles Garrett and Leonard Fournette were top-rated prospects coming out of high school

Ohio State and Washington will play in Seattle in 2024 and Columbus in 2025

Kirk Merritt claims 'jock itch' was the reason he exposed himself to two tutors