NCAA clears All-WAC transfer Jalen Saunders to play for Oklahoma, just in time for Texas
"He's played a lot of football and played it well," Stoops said. "We're hopeful that he will be able to play (on Saturday). He's quick, got a great sense of space and the ability to get open."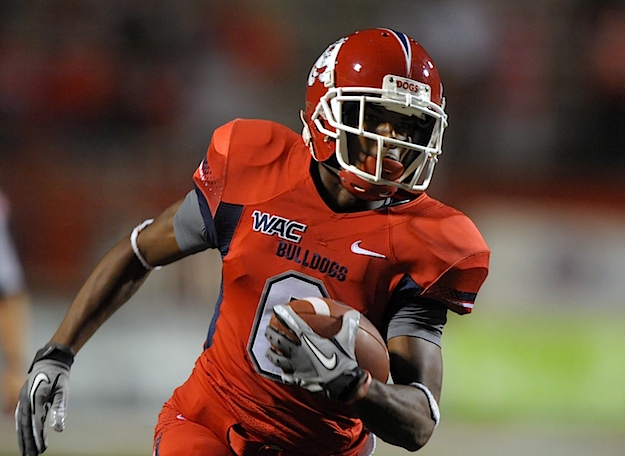 It took nearly half the season, but Oklahoma Sooners finally got the word it had been waiting for Wednesday concerning junior wide receiver Jalen Saunders , just in time for the biggest game of the year: Per coach Bob Stoops, the NCAA has declared Saunders eligible to play immediately, and will likely be in the lineup against Texas Longhorns Saturday after sitting out the Sooners' first four games. Prior to that decision, Saunders appeared to be bound for a redshirt as a first-year transfer from Fresno State Bulldogs ; instead, he'll see the field after all with two years of eligibility remaining.
"He's played a lot of football and played it well," Stoops said. "We're hopeful that he will be able to play (on Saturday). He's quick, got a great sense of space and the ability to get open."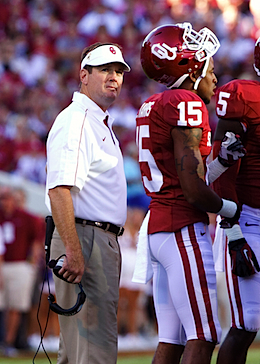 Saunders is undersized to say the least at 5-foot-9/160 pounds, but also has the potential to strike from just about anywhere on the field. At Fresno State, he accounted for 2,527 all-purpose yards in two years as a rusher, receiver and return man, and came in for first-team All-WAC honors last year after hauling in a league-best 12 touchdowns on just 50 receptions. He finished second nationally in 2011 in both yards per catch (21.3) and catches covering at least 40 yards (10), and added a pair of touchdown runs against Ole Miss Rebels and New Mexico State Aggies .
Saunders decided to transfer in the spring, reportedly over frustration with his new role in the spread scheme imported by first-year head coach Tim DeRuyter. "Fresno State is where Jalen wanted to be since high school, but there was a change of philosophy and a change of coaching staff that he no longer felt comfortable being there anymore," Saunders' father told the Fresno Bee in April. "He's been frustrated. Jalen does not fit in their new style of ball. He felt like that even if he stuck with it, he wouldn't progress."
He shouldn't be too far behind the curve: Of the six wide receivers who have caught at least one pass for Oklahoma, five of them are in their first year on the roster, including three true freshmen ( Sterling Shepard , Trey Metoyer and Durron Neal ) and senior Justin Brown , a transfer from Penn State Nittany Lions . The top receivers at tight end ( Brannon Green ) and out of the backfield ( Damien Williams ), respectively, are both new arrivals from junior college. Along with juco transfer Lacoltan Bester , those seven players have accounted for 44 of the team's 97 receptions and more than 53 percent of its total yards from scrimmage.
Fresh blood notwithstanding, the top target will remain junior Kenny Stills , who's well on his way to the expected All-Big 12 nod with a team-best 29 catches for 349 yards. Through four games, though, the offense has noticeably lacked the big-play spark that has consistently made it one of the most explosive attacks in the nation over the last decade. If Saunders provides it, he could turn out to be the missing piece the Sooners have been waiting for.
Show Comments
Hide Comments
Ohio State is favored to win the Big Ten, but is it the best bet?

USC enters as the favorite, but are the Trojans the best bet?

Jim Harbaugh's Michigan staff will be at FAU on June 5
These five coaches will be hot names on the market after the 2017 season

The Big 12 could be wide open in 2017 ... we mean it this time

Rhule's stance on sexual violence is much-needed for a program that's been submerged in co...