NCAA counters USC's Haden, says no further appeal on case
Despite comments Thursday by USC's AD Pat Haden, the NCAA says it had all the information it needed when it ruled on the Trojans case a few years ago. And that is that.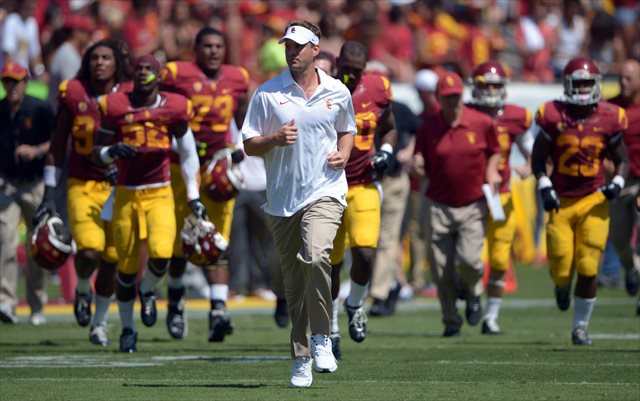 On Thursday, USC AD Pat Haden issued a statement, that coming on the heels of the NCAA this week reducing Penn State's sanctions, said "after candid discussions, the NCAA asked us to provide additional information and indicated it would study our suggestions." But less than 24 hours later, the NCAA has essentially said, No, we didn't.
"There is no comparison between the USC and Penn State cases," the NCAA said in a statement CBS obtained Friday. "In USC's case, a hearing before the Committee on Infractions was held and there was an appeal. There will be no further appeal."
Asked how the NCAA's statement meshed in the wake of Haden's statement Thursday, Meghan Durham, an assistant director of public relations with the NCAA, said her understanding is the NCAA never asked for such additional information since it had already considered USC's case.
ESPN.com first reported the NCAA's comments on the matter.
USC is still coping with devastating sanctions assessed by the NCAA after an investigation into impermissible benefits received by former star running back Reggie Bush. The Trojans' penalties included the loss of 10 scholarships per year during a three-year span, and a maximum of 75 scholarship players on the roster. Plus, a two-year postseason bowl ban that the program has already served. Haden has pointed out that USC currently has fewer than 60 scholarship players suiting up for games.
Show Comments
Hide Comments
Here's a look at the lines for a five-day slate of games for the opening week of the 2016...

One special teams contributor will don the legendary coach's number on game days for the H...

Harbaugh, who coached Kaepernick in San Francisco, weighed in on the controversy
Checking in with what you should know ahead of the start of another exciting college football...

Antonio Callaway should be ready to go for Week 1, according to Jim McElwain

Licensing officials requested that a fan site take down Alabama's O.J. killed Clemson shir...