NCAA president, ACC commissioner uneasy about Michigan's Florida trip
Mark Emmert and John Swofford have both expressed concern over Michigan's spring practice plan for Florida.
• 3 min read
Jim Harbaugh is, unsurprisingly, at the center of this offseason's biggest controversy in college football. Harbaugh is taking the Wolverines down to IMG Academy in Florida for a week of practice beginning on February 29, and a lot of people are unhappy about that move.
SEC commissioner Greg Sankey spoke out against Michigan practicing on the road last week, and you can now add NCAA president Mark Emmert and ACC commissioner John Swofford to those expressing concern about Michigan's practices in Florida. 
Emmert spoke to South Carolina's Board of Trustees on Friday, and the Michigan practices were among the topics discussed, according to The State. Emmert noted that there was concern about putting too much on the plates of the players, including having them practice over their spring break.
"There is a big debate going on among administrators right now about how to provide more time off for student-athletes so the use of spring break for practices caused a lot of people to be concerned about it, and that's an appropriate concern," Emmert said. "We are trying to find ways to dial back the demands on student-athletes, not ramp them up."
While the practices are concerning to some, Emmert did note that they were not in any way against the rules, and that changing the rules quickly, prior to when Michigan will be practicing, will not be something that could happen. Rather, a rule change would have to take place at the appropriate time with the appropriate discussion. 
"There's a difference between not being prohibited and being OK," Emmert said Friday. "There is nothing he is doing that is against the rules. If the membership wants to change the rules, they need to do so."
Emmert said that the spring break practices took away from the players time off and noted that it was something that players were not in support of. "I haven't talked to one student-athlete yet that thinks it's a good idea," said Emmert.
In an interview with ESPN.com on Thursday, ACC commissioner John Swofford also spoke out against the Michigan practices and said it needs to be seriously looked at by the NCAA for a potential rule change to prohibit them in the future. 
"I think the NCAA needs to look at that, yes," Swofford said. "I'm not sure I've ever even heard that brought up before. So that's a new twist.
"As I told someone previously, it certainly is creative thinking but I do think it flies in the face of the whole national discussion of time demands," Swofford said. "When you start considering taking a spring break away from a student-athlete and requiring a practice session wherever that might be, if we're trying to move the student-athlete experience back toward a more collegiate experience -- and it can't be totally like other students that aren't involved in intercollegiate athletics it's understood -- that would not seem consistent with the overall discussions about time demands and the student-athlete experience that's taking place right now. At least that's one man's opinion."
It seems as though one of the biggest problems that the NCAA is having with the Michigan spring break practices is that it complicates the argument that the players are students first. The NCAA's argument has always been that the athletes are being compensated with an education and the collegiate experience. 
As Swofford notes, taking away spring break from the athletes and having the practice during those times is taking away from that collegiate experience that the NCAA so often claims as part of the benefit for the athletes. While Harbaugh is operating within the rules -- and doing so to the advantage of his program (not necessarily the players) -- he is also exposing a potential pitfall for the NCAA's argument for scholarships being the sole compensation athletes receive for playing football. 
Because of that possible conflict, and the seemingly widespread outcry from those in powerful positions within the NCAA, it would be surprising if a rule change regarding practices on the road or during spring break did not come sooner than later. 
As Emmert noted, the 20 hour rule -- which states that athletes should only spend 20 hours a week on athletic responsibilities but is extremely difficult to enforce -- could be modified this April at the NCAA meetings to help ensure athletes get breaks and time off.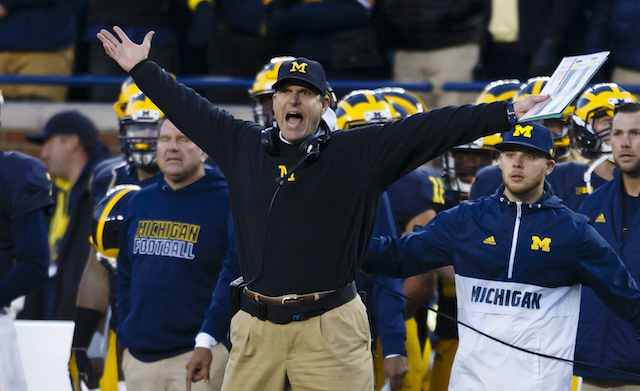 Show Comments
Hide Comments
Our Latest Stories
An early look at notable spreads for Week 5 of the college football season

Bookmaker.eu has released early odds on who will be coaching in Baton Rouge next season

LSU defensive tackle Davon Godchaux was arrested early Monday morning
The University of Florida is expected to name Mississippi State AD Scott Stricklin as the Gators...

Jimbo Fisher already has to deal with LSU and LSU rumors

Figuring out the future for Les Miles, and recapping the rest of the week that was