NCAA president Mark Emmert to testify Thursday in O'Bannon trial
NCAA president Mark Emmert is scheduled to testify Thursday in the landmark Ed O'Bannon anti-trust trial. The association's CEO made the remarks Monday night following a Collegiate Commissioner's Association reception.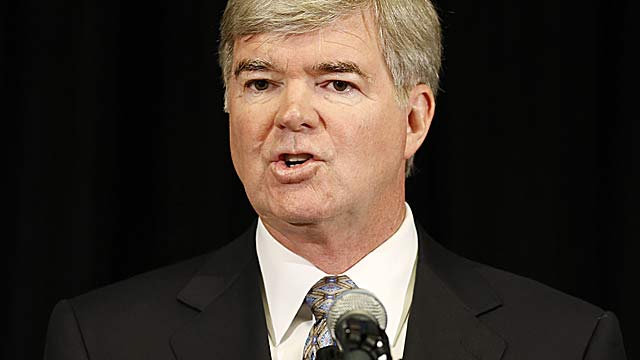 More: O'Bannon news | On CFB: Dennis Dodd | Jeremy Fowler | Jon Solomon
DANA POINT, Calif. -- NCAA president Mark Emmert said he expects to testify Thursday at the O'Bannon anti-trust trial.
Emmert made the remarks Monday night shortly after addressing a Collegiate Commissioners Association reception here at the Ritz-Carlton. The NCAA's CEO added that he has never been a witness on the stand. He was planning to leave early Tuesday to prepare for his appearance at the trial in Oakland, Calif.
Emmert's time on the stand could be one of the seminal moments in NCAA history. The association's CEO would be defending the collegiate model in one of the NCAA's biggest legal challenges in history.
The plaintiffs are attempting to prove the NCAA illegally caps players compensation in regards to their names, images and likeness.
The trial is in its second week. It is scheduled to last three weeks, unless the two sides agree to a settlement.
Big Ten commissioner Jim Delany -- also on the NCAA's witness list -- told CBSSports.com he is open to testifying.
"I think I will but I don't know for sure," Delany said. "I'm prepared to do it, if asked."
Show Comments
Hide Comments
Former Aggie Antonio Armstrong, and his wife Dawn, were shot in their home by their 16-year...

A golf career is not in Bret Bielema's future

Screw what the AAC -- created to save some of these schools -- thinks: It's Big 12 or bust...
In this week's Friday Five we rank five teams who might not be as successful in 2016

The Head Ball Coach is heading home to Gainesville, Florida, with a new role in the athletic...

From being undecided on expansion to most expecting them to hold tight at 10 to suddenly considering...