NCAA says no changes to Miami's scholarship penalties
Miami had hoped that its past self-imposed scholarship reductions could roll over into the NCAA's punishment of nine scholarship losses. The NCAA said no.
• 1 min read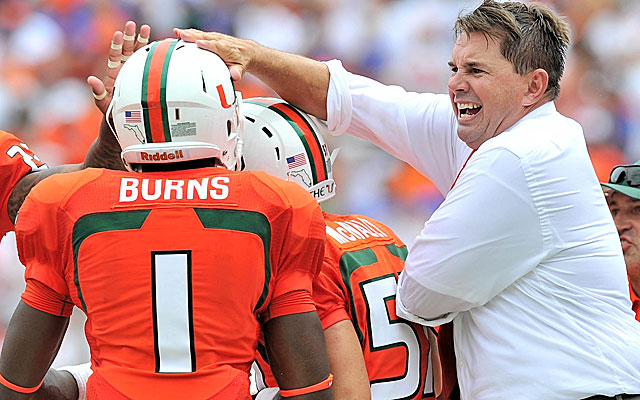 The NCAA will not be flexible with Miami's scholarship penalties over the two-plus-years-long Nevin Shapiro probe despite the Hurricanes' request to consider self-imposed scholarship withholdings from previous years, a University of Miami official told CBSSports.com.
In October, the NCAA stripped Miami of nine scholarships over the next three seasons after it concluded Shapiro, a former booster and Ponzi schemer, provided impermissible benefits to athletes, coaches and recruits from during much of the 2000s.
Miami -- which in 2013 played with 76 scholarships instead of the normal allotment of 85, according to the school -- hoped it could roll over a portion of those losses to fulfill the nine-scholarship penalty. But the Hurricanes recently got word that the NCAA would not budge, so UM's roster will move forward with 82 scholarships over the next three years.
This was not a formal appeal from Miami, but a request to the NCAA for reconsideration. In October, UM athletic director Blake James told the Miami Herald of the self-imposed scholarships: "We'll document with the NCAA the steps we took and work with them on checking on the possibility of that being included in this year's scholarship numbers."
Miami also self-imposed two bowl bans from 2011-12, which worked in the school's favor during the investigative process. Miami is free to play in future postseason action.
The case took more than two years to resolve, hindered by the NCAA after the vice president of enforcement approved a five-figure payment to Shapiro's attorney to glean information on the case.
Miami filed a motion to dismiss the case, and the NCAA eventually threw out evidence obtained from the attorney in question, Maria Elena Perez. The NCAA's actions drew the ire of UM president Donna Shalala, who said in a February statement, "we have suffered enough."
Show Comments
Hide Comments
Ousted by a school despite not being charged with a crime, Faulk is clawing his way to the...

Sometimes spring practice is about avoiding the negatives as much as it is building moment...

Baylor is moving to dismiss the lawsuit, filed in January, on a two-year statute of limita...
USF senior Hassan Childs was injured in a shooting on Saturday night

It looks like LSU is moving towards having a beer garden for its home games

HB1249 would allow Arkansans with a certain permit to carry guns almost anywhere in the st...