NCAA to allow widespread usage of eight-man officiating crews
First the Big 12 experimented with eight-man officiating crews, and now the NCAA will allow all conferences to jump from seven to eight if they want.
• 1 min read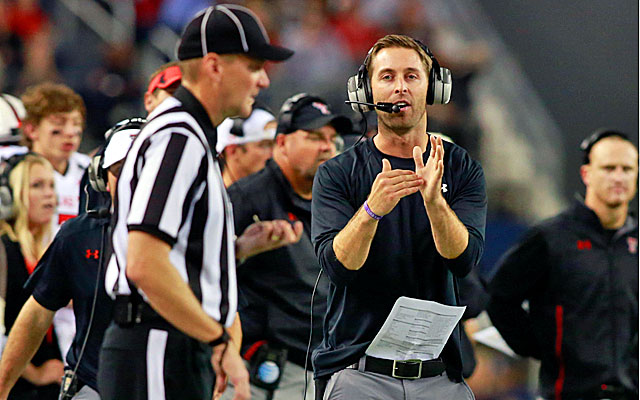 More college football: Bruce Feldman | Dennis Dodd | Jeremy Fowler | Latest news
Will bigger officiating crews be a healthy alternative to the controversial 10-second substitution proposal that seems unlikely to pass?
If so, going from seven to eight officials will be easy.
The NCAA rules committee will allow every FBS conference to implement eight-man crews if they so choose, the committee told Big 12 officials coordinator Walt Anderson.
The Big 12 was the first to experiment with eight instead of seven, getting a one-year trial approval last season from the NCAA and football officiating coordinators.
Now that approval won't be necessary.
"They feel like it's something that was a very successful experiment last year," Anderson told CBSSports.com. "It's very well-supported by other coordinators. They want to open it up to any conference." 
The Big 12 is satisfied with eight because a crew can designate the extra official to helping defenses substitute.
The SEC is experimenting with eight during spring practices, and the Mountain West will consider a full-time move, Anderson said.
Big 12 offenses averaged 74.7 plays per game last year, up slightly from 73.8 the year before, but that's with first-year head coach Kliff Kingsbury running a FBS-leading 1,135 plays for Texas Tech. Take out Kliff and the average is 73.25.
Plays per game don't tell the whole story of no-huddle offense -- plays per second are just as significant because it's about how fast you score -- but based on these stats, eight-man crews didn't thwart or enable offense. The production remained relatively stable.
"(The extra official) had a much better idea to allow appropriate substitutions for the defense," Anderson said. "It benefited the offense when appropriate and benefited the defense when appropriate." 
Then the question becomes, how often are offenses subbing? Anderson said he didn't have substitution data for his league handy but noticed many of last year's defenses didn't sub at all, waiting for the next series to make proper lineup adjustments.
Show Comments
Hide Comments
Our Latest Stories
Sunday's Arkansas Democrat Gazette featured an angry ad from a fan

David Reaves has been suspended indefinitely and will be terminated after a DUI charge

The former Arizona State play caller will replace Rhett Lashlee as Auburn's offensive coor...
Players' overloaded schedules don't need added activities but changes in how games are sch...

Ducks tight end Cam McCormick and offensive lineman Sam Poutasi were released Friday

Harbaugh will not be able to practice in Florida next season or going forward during vacation...