Nebraska fans will stalk your hotel room, and other unsettling tales from the recruiting trail
Joe Mathis meets his public in the creepiest way possible.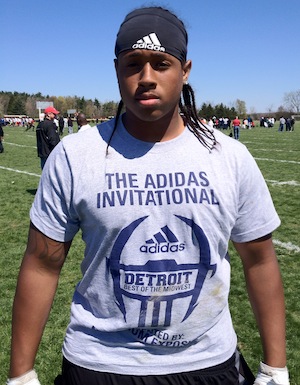 Recruiting is the lifeblood of college football. But as a subculture, unless you happen to be a
college football
coach whose livelihood depends on it, the obsession with wooing freakish teenagers is also a little weird. More than a little, actually. Most reasonably well-adjusted adults don't have to peer very far into the rabbit hole to start feeling downright creepy about it.
Then there are the Nebraska fans who fell in the rabbit hole, plummeted straight past the locked doors and DRINK ME bottles and landed just outside the hotel room ($) where Upland, Calif., defensive end Joe Mathis happened to be staying on a visit to Lincoln:
When Joe Mathis visited Nebraska, he had to change hotel rooms because fans caught wind where he was staying and kept knocking on his door telling him to join the Huskers.
[…]
"I thought out here (in California) was big with football but that stuff was big. People think you're a celebrity. I was in my hotel room and people were knocking on the door telling me to go to Nebraska. How do they know my room? We had to change rooms."
Bad news, Joe: To a relatively small but fervent subset of people, you are a celebrity. On a trip to Michigan, Mathis says, he foolishly tweeted his dinner plans at the local Buffalo Wild Wings, and was greeted by a parade of Wolverine fans. "I was treating them all with respect saying, 'How are you doing sir? How are you doing ma'am?' and they were like, 'You don't have to say that. We love you out here.'" Can't you see that they love you, Joe?
At least they're not risking a restraining order over nothing: At 6-foot-4, 254 pounds, Mathis is rated by every major recruiting site as one of the top defensive line prospects in the 2013 class, and being pursued by just about every major school. (His top three choices at the moment are reportedly Michigan, Nebraska and Washington, but he doesn't expect to make a decision until early next year.) Once you've made the conscious decision to go out of your way to track a 17-year-old high school junior to his hotel room, though, you've officially taken the "hot pursuit" metaphor way too literally.
- - -
Hat tip: Rivals, via Lyndsay Lee.
Show Comments
Hide Comments
Kush went 176-54-1 in 22 seasons at Arizona State

That's a lotta rock chalk

How will the AAC shape up in 2017? Let's take a team-by-team look
Doing well at an AAC school can lead to a big job, but it's easier to win at some than oth...

A script Ohio showed up in a Michigan fan's lawn when he needed some help with lawn care

Johnson Jr. was cited for marijuana possession and possession of drug paraphernalia in Jun...