New AP, Coaches' polls reinstate dominant Alabama at No. 1 after opening weekend
Nothing USC or LSU could have done against Hawaii or North Texas would have been enough to hold on to their preseason perches.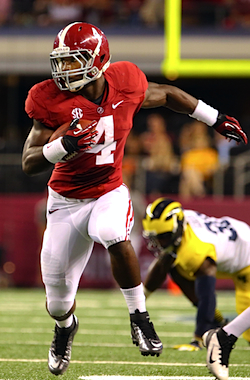 Southern California Trojans and LSU Tigers both opened their seasons Saturday perched atop one of the mainstream polls, and both pounded their opening day opponents accordingly. But nothing the Southern California Trojans or Missouri Tigers could have done against Hawaii Rainbow Warriors or North Texas Mean Green " data-canon="Texas Longhorns" data-type="SPORTS_OBJECT_TEAM" id="shortcode0"> would have been enough to hold off the rising tide of Alabama Crimson Tide , which vanquished all preseason doubts about its overhauled defense in a 41-14 bludgeoning of Michigan Wolverines , and emphatically reclaimed the top spot this week in both the Associated Press and Coaches' polls.
On AP ballots, 'Bama picked up 45 of 60 first-place votes, up from 17 in the preseason poll, compared to 11 first-place nods for USC and four for LSU. The story was the same for the coaches, who gave the Crimson Tide 37 of their 59 first-place votes while dropping their preseason No. 1, LSU, all the way to No. 3. One coach bucked his colleagues entirely and voted Oregon Ducks No. 1, but good luck finding out who it was.
Alabama returns to the cupcake tray this weekend as a 36-point favorite against Western Kentucky Wildcats , a line the Hilltoppers' coach, Willie Taggart, has already deemed "a bunch of baloney."
The rest of the top ten this week is nearly identical in both polls. In the AP, the consensus returned with Oregon at No. 4, Oklahoma Sooners at five, Florida State Seminoles sixth, Georgia Bulldogs seventh, Arkansas Razorbacks eighth, South Carolina Gamecocks ninth and West Virginia Mountaineers tenth. The Coaches' poll flips Arkansas and West Virginia in the 8 and 10 spots, but otherwise looks the same.
With the loss to Alabama, Michigan was the only team in either poll to fall out of the top ten, dropping from No. 8 in the preseason to No. 19 in both. In the AP version, the Wolverines are the only team remaining in the top 25 with a loss on opening day; the only other team ranked in the preseason that lost its opener was Boise State Broncos , which fell out of the poll from No. 24 following a 17-13 lossat Michigan State Spartans . (The Spartans come in this week at No. 11 in both polls.) Boise manages to hang on at the bottom of the Coaches' poll, dropping from No. 22 to No. 25.
The only newcomer to the AP poll: Notre Dame Fighting Irish , which vaulted from just outside the preseason edition to No. 22 this week on the strength of a 50-10 blowout over Navy Midshipmen in Dublin, Ireland. In the Coaches' poll, Louisville Cardinals moves in at No. 24, at the expense of the only exit from the preseason, Auburn Tigers .
Show Comments
Hide Comments
Kush went 176-54-1 in 22 seasons at Arizona State

That's a lotta rock chalk

How will the AAC shape up in 2017? Let's take a team-by-team look
Doing well at an AAC school can lead to a big job, but it's easier to win at some than oth...

A script Ohio showed up in a Michigan fan's lawn when he needed some help with lawn care

Johnson Jr. was cited for marijuana possession and possession of drug paraphernalia in Jun...