New contract could end Jimbo Fisher-to-Texas talk, but will it?
Jimbo Fisher can concentrate on the BCS championship with a new contract in his back pocket, but that doesn't mean Texas still won't come calling.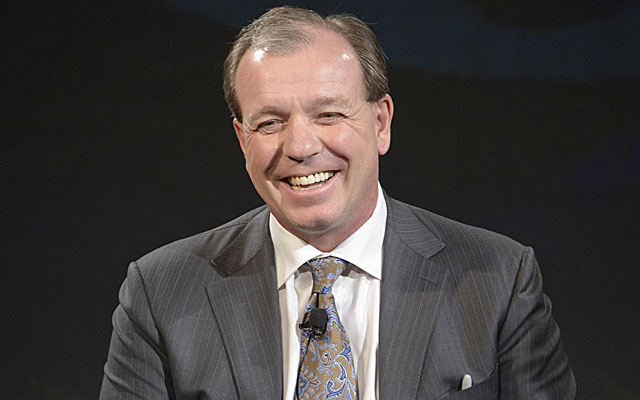 NEWPORT BEACH, Calif. -- Jimbo Fisher just bought himself a week of relief here in the California sunshine. He'll have to coach some football, for sure, but the questions about Texas will fall off him like tacklers off Jameis Winston.
That relief is otherwise known as the celebrated $4.1 million extension/raise that will take FSU's coach through the 2018 season. A bonus not included in any incentive clauses: It also get him through the portion of the media harassment of championship game week.
There was a growing fear around the flaming spear before the new deal was actually signed on Tuesday. Florida State's coach can now honestly and accurately tell roomfuls of hacks he is tied up as the Noles' coach for the next five seasons.
Next question.
He also can look the media, his president and his fans straight in the eye -- say those things this week -- and still be Texas' coach by the end of next week.
No lies will have been told. Everything will be on the up and up. Funny how this business works. Fisher just signed a long-term deal that puts him in the top 10 nationally and also puts him one buyout away from heading to Austin.
And who would blame him for leaving? He's put in seven good years at FSU, classily succeeded Bobby Bowden and led the Noles back to the mountaintop. Texas is simply a better job in a better conference with better resources surrounded by gobs of recruits.
FSU AD Stan Wilcox basically confirmed those Seminole fears during Tuesday's press conference welcoming the champ game participants to California.
"I think that there's a sense of relief that's it's done but anytime you're one of the top coaches in the country and there's a top program that's open, you're going to be on the list because that institution, Texas, can go and get basically anybody they want," Wilcox told AP.
Anybody, even a couple of weeks after signing a school-record contract.
You -- Seminole Fan -- could not begrudge him for taking perhaps the top job in the country. There's a reason a couple of Texas regents met with agent Jimmy Sexton early last year to gauge interest regarding Nick Saban. They thought they could pry Saban away from Alabama.
What hope would FSU have? There's an old saying that I have bastardized for purposes of this column: When Texas wants you, things start look eerily like the inside of Don Corleone's office. It's an offer you can't refuse.
This report says "a group of billionaire donors" is ready to make their case for Fisher.
Let's put that another way: When University of Texas billionaire donors settle on their man, "make their case" is the politically correct way to put it.
That's why we'd be foolish to think Fisher-to-Texas is over.
Yes, there's a long way to go, if you consider a hiring deadline of Jan. 15 a long way. Louisville's Charlie Strong, Michigan State's Mark Dantonio and Vandy's James Franklin are other persons of interest for AD Steve Patterson.
But no matter what we know about Fisher's new contract -- details to be released soon -- he remains among the favorites in Austin. Even with all those millions as some sort of barricade against the burnt orange hordes, consider also that Fisher is still underpaid in the current market.
That should probably be FSU's biggest fear. The man just agreed to a contract that puts him on a par with ... Art Briles. One man is playing for his second national championship. The other just won his first conference title.
That's taking nothing away from Briles, who might be the man at Texas himself. He'd be walking out on a 10-year extension, so don't think that Fisher arriving in Austin with a national championship in tow isn't out of the realm.
Still, if you haven't noticed, that market has been reset -- dramatically.
Saban is making $7 million per year. At least he and Fisher have national championships to their credit. Half of the top 10 highest paid don't, according to USA Today.
The market was been reset and no one really seems to care except perhaps the nation's newspaper. Their meticulously kept coaching salary database is meant on some level to act as a watchdog index against soaring costs. The paper recently revealed that the average FBS coaching salary had soared to $1.81 million, up 90 percent since 2006.
The nation's college presidents certainly aren't putting a stop to salary inflation. They just approved a multi-billion dollar playoff for the next 12 years. They're on the hook to reshape the NCAA which more likely than not is going to include some sort of compensation for players.
Moral judgments left town long ago. This is just another spike in a wildly uncontrollable market. Taking into account those Saban/Fisher raises alone the FBS average just went up $26,800 per coach.
Because of that market and because it is Texas, everyone on its list is underpaid. Dantonio signed a new deal Tuesday shortly before the Rose Bowl that reportedly moves him into the upper third in the Big Ten. Prior to that he was reportedly the ninth-highest paid coach in the league at $1.95 million. The mere mention of Dantonio's name in Austin no doubt ost Spartan AD Mark Hollis some headache$.
Now that Saban talk has melted away at Texas, Fisher is the best coach and most accomplished name on Patterson's list. He is playing for that second national championship -- first as a head coach -- and directly mentored a Heisman Trophy winner. He is from Saban's coaching tree. More than that, he is a Saban clone.
Just don't expect Fisher to be ambushed by any Texas questions this week. Whether he stays or goes, ultimately Fisher will be able to look at himself in the mirror.
After telling the absolute truth.
Show Comments
Hide Comments
Fitzerald is already the program's leader with 77 wins

Darryl Rudolph was just 55 years old

The Michigan coach nearly caused an international incident throwing a football
Using college stats and math to determine which FBS quarterbacks will be the most successf...

The LSU quarterback has been dealing with back issues for some time

Moss, a tight end, announced his decision to transfer from NC State this spring