New contract for ULL's Mark Hudspeth bumps salary past $1 million
Lousiana-Lafayette's Mark Hudspeth is the highest-paid coach in the Sun Belt after a six-year contract extension.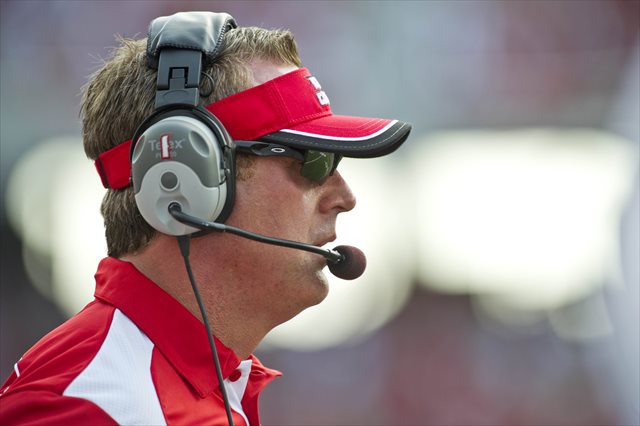 More college football: Jon Solomon | Dennis Dodd | Jeremy Fowler | Latest news
The hottest coach in the Sun Belt is now also its highest-paid.
Lousiana-Lafayette and coach Mark Hudspeth confirmed to the Lafayette Advertiser Thursday that Hudspeth has signed a new six-year contract, one that raises his base salary by $200,000 and will pay his an average of $1.075 million over the course of the total $6.45 million contract. 
"We were able to come to a really good agreement that protects both parties," Hudspeth said Thursday, per the Advertiser. "I really appreciate the work that [school president] Dr. [Joseph] Savoie and [athletic director] Scott Farmer have put into this."
The new contract was first reported in April by CBSSports.com's Jeremy Fowler, but the ironing out of its final details -- particularly regarding Hudpseth's buyout -- apparently delayed its announcement.
With the raise in place and Bobby Petrino no longer coaching at Western Kentucky, Hudpseth will be the Sun Belt's highest-paid coach.
"He deserves to be," Farmer told the Advertiser. "So it was, I think, the right thing to do. I think what he's done for our program, and the direction he has taken it, and the direction I think it's continually heading in, is worthy of that salary." 
The Ragin' Cajuns were coming off of a 3-9 season and had never been to a bowl game when Hudspeth, a former successful Division II head coach, was hired away from the Mississippi State coaching staff in late 2010. His teams have gone an identical 9-4 and won a New Orleans Bowl championship in all three seasons of his Ragin' Cajuns tenure.
Given that kind of success at a program so desperately starved for it, it won't be a surprise at all if Hudspeth is hired away early in the life of his new deal rather than later -- but that's not to say the Cajuns, of course, won't enjoy the ride while the lasts.
Show Comments
Hide Comments
Kirk Merritt claims 'jock itch' was the reason he exposed himself to two tutors

The former coach weighed in on the new NCAA recruiting rules

Wiggins has played more than 30 games in the ACC and SEC during his career
Our panel of experts drafted the best sports video games that have ever been created

The players allegedly conspired to steal belongings from another student's dorm room

Harbaugh handed the Pope a Wolverines helmet and special shoes