No beachy spring break for Murray and Petty with QB guru in Oklahoma
For the final spring break of his college life, Georgia's Aaron Murray toyed with the idea of going with friends to Cancun or Key West. Instead, Murray spent his vacation time this past week in Oklahoma working, morning and afternoon sessions with private QB coach George Whitfield. Baylor's Bryce Petty joined in too as both quarterbacks hope their extra QB tutoring will help lead to titles.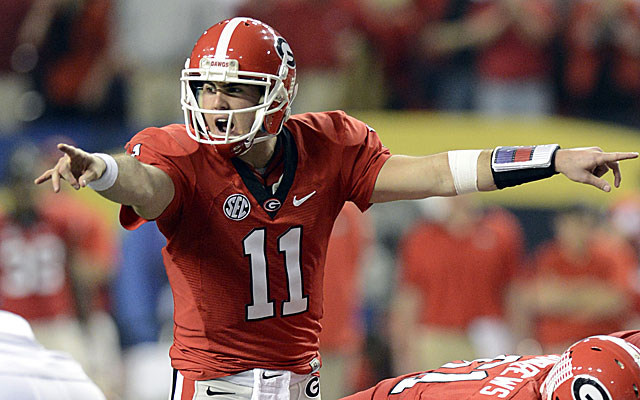 For the final spring break of his college life, Aaron Murray toyed with the idea of joining friends on a trip to Cancun or Key West. Instead, the 22-year-old Murray passed on a week hanging at the beach to spend his vacation time this past week in Norman, Okla., working morning and afternoon sessions with private QB coach George Whitfield, who had come to the Sooner State to help prep former OU quarterback Landry Jones for his pro day.
In three seasons as Georgia's starting quarterback, Murray has put up eye-popping stats. He has thrown for more than 10,000 yards and has a 95-32 TD-INT ratio. He'll probably become the SEC's career passing leader by mid-season, passing, among others, both Manning brothers and the No. 1 guy, David Greene, a former Bulldog. The 6-foot-1, 215-pound Florida native also has a good shot of eclipsing Tim Tebow's conference career record for total offense. Murray already holds the UGA record for career TD passes (95), earned a degree in psychology and is enrolled in Georgia's industrial-organizational psychology doctorate program.
But Murray's Dawgs still are looking for their first SEC title. Last December, they put a scare into Alabama but fell five yards short. While Murray has continued to improve each season in Athens -- his QB rating jumped from 146.4 in 2011 to 174.8 last season -- he's determined to do whatever he can to get his team that SEC title before he's done at Georgia. The beach can wait.

Among the things that Murray told Whitfield that he wanted to improve: his pocket protocol/pocket presence; his touch and becoming more consistent. Once in Norman, Murray realized there was something else that needed tweaking: his upper body rotation in his throwing motion.
In film study on Monday night, Whitfield showed Murray that the QB wasn't really driving through with his left elbow. "I never realized how much my body was fighting it," Murray said. "I just really wasn't coming through. And when he talked to me about it, it made a lot of sense."
To help Murray amp up his mechanics, Whitfield had the QB throwing from his knees to get him using more of his upper body. Murray said he has already noticed that he has been able to create more torque and, therefore, more velocity on his throws.
Whitfield, who has groomed QBs from Ben Roethlisberger to Cam Newton to Johnny Manziel, films his proteges with an iPad and shows them the video after every three reps. In Murray's case, Whitfield would have the Bulldog quarterback throwing from his knees in seemingly random 10-minute intervals. The distance for those throws would be no longer than 20 yards.
"From that position, it forces your upper body to create all the momentum because your hips are neutralized. So it's really gotta come from your opposite arm," said Whitfield, who first got to know Murray while the two were working at the Elite 11 QB camp last summer in Los Angeles.
Murray wasn't the only QB with BCS bowl aspirations who traveled to Sooner Country and was paying some $200 a day to train with Whitfield during his spring break. Bryce Petty, the new starter at Baylor, went up to Norman at mid-week. The 6-3, 235-pound Petty also had used his spring break time last year to visit Whitfield. Only Petty had to fly to Northern California to do it since Whitfield was in Palo Alto tutoring Stanford star Andrew Luck for the NFL Draft.
Petty admits he sometimes would get "lazy" with his mechanics and has now gotten used to hear Whitfield harp on "being in the phone booth." Meaning: Keeping his mechanics tight. Keeping his elbow in. Not over-striding.
"Chances are you're not going to have a whole lot of room to work with [in the pocket]," Whitfield said, adding that Petty is so big, strong and dynamic that he often can get away with not always being dialed-in mechanically.
If Petty is dialed in, look out for Baylor in 2013. Any remaining doubters that Art Briles' program in Waco is flukey or a one-hit wonder thanks to RGIII, their Heisman winner, only needed to see how Nick Florence led another prolific Bears attack to rank No. 2 in the nation in offense and thumped UCLA 49-26 in the Holiday Bowl last year.
Petty gushes about the speed that Baylor has at its skill positions. He said in their five-wide package, four of the receivers clocked sub-4.4 40s, and that doesn't include incoming blue-chipper Robbie Rhodes, a Texan whom some college coaches believe was the top wide receiver recruit in the country for 2013. "We have some freaks down there," he said. They also have two big-time backs in Lache Seastrunk and Glasco Martin, a stout O-line and a defense that made dramatic improvement in the second half of 2012.
"Coach Briles and his staff have built this from the ground up," said Petty. "He puts people in positions to succeed. It doesn't matter if it's Grif or Nick or me. We're gonna win. It's QB U.
"Just having these expectations for Baylor football is huge. We treasure that. We have big goals and big aspirations. The Big 12 is wide open. It seems like [the conference] always has had powerhouses, where people would think, 'They'll win the Big 12 easy,' but there is a lot of change now, and it's gonna be a fun ride."
Petty's quite the specimen himself. He has broad jumped 10 feet, 4.5 inches, squatted 545 pounds and this offseason clocked a 4.60 in the 40. When Whitfield said Petty is "dynamic," he means the Baylor QB is comfortable throwing with a base or without and excels at throwing on the run. Like a lot of young QBs, Petty also has a tendency to try to do everything 100 miles per hour and fire the ball 110 percent. "The hard part for me is to dial it down and focus on the little things, which is what we've really been doing here," he said.
Both QBs will return to their teams and their coaches this week with more film to go over, some additional drills and even a bit more passion to chase down those lofty goals. Or, as Murray puts it, "to break through that wall."
For one, it's all about an SEC championship. For the other, it's a Big 12 title. Whitfield, meanwhile, flew back to his home in San Diego on Friday night. In a few days, a new batch of college quarterbacks arrive. Tajh Boyd and Chad Kelly are expected to come in from Clemson, Munchie Legeaux from Cincinnati, Vad Lee from Georgia Tech, and Max Wittek is driving down from USC.
"It was a great week," said Murray. "I've really learned a lot."
Show Comments
Hide Comments
Jim Harbaugh wants more college football programs to embrace the international trip

It seems there's a lot of talent in the SEC

There are all sorts of drafts out there and these are my favorites
It's time to say goodbye to so many great players

What colleges and conferences had the most first-round picks in the 2017 NFL Draft?

Myles Garrett and Leonard Fournette were top-rated prospects coming out of high school