North Carolina suspends four players for one game
North Carolina has suspended four players heading into opening weekend: Des Lawrence, M.J. Stewart, Donnie Miles and Brian Walker.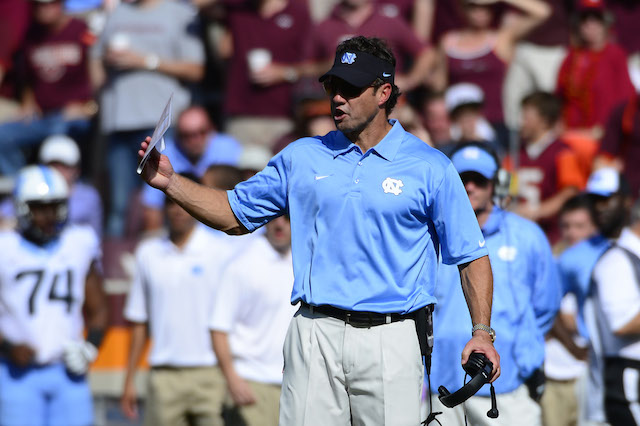 North Carolina coach Larry Fedora announced the suspensions of four players following practice on Wednesday. Desmond Lawrence, Brian Walker, M.J. Stewart and Donnie Miles, all four of whom are defensive backs, will be suspended for North Carolina's opener against Liberty.
Both Lawrence and Walker are starters in North Carolina's secondary.
"We hold our players accountable for their actions at all times," said Fedora. "These players did not meet the high expectations we have for them as members of our program and have been disciplined accordingly. They will not play on Saturday or be on the sideline with their teammates."
While Fedora wouldn't go into detail on the reason for the suspensions, saying only he had enough information to make a decision based on, you may remember the story from Tuesday about North Carolina investigating an alleged hazing incident involving multiple players that resulted in a player suffering a concussion.
Walk-on wide receiver Jackson Boyer was the victim of a "group assault" that took place in the team's hotel during fall camp, resulting in an alleged concussion.
So while North Carolina and Fedora may not be willing to go into detail on these suspensions, the math doesn't seem all that hard to do yourself.
Show Comments
Hide Comments
Rawleigh Williams III left the field on a stretcher after a neck injury

Jim Harbaugh wants more college football programs to embrace the international trip

It seems there's a lot of talent in the SEC
There are all sorts of drafts out there and these are my favorites

It's time to say goodbye to so many great players

What colleges and conferences had the most first-round picks in the 2017 NFL Draft?